Herschel Walker Reports $10M Haul for Senate Race, Far Less Than Opponent Raphael Warnock
Georgia Republican Senate candidate and former football star Herschel Walker reported nearly $10 million since announcing his campaign bid in August.
Fox News shared 44,364 individual donors from all 50 states donated to Walker's campaign over the past three months.
"This massive fundraising haul, likely the largest in the country for a non-incumbent, shows that Georgia Republicans are clearly united behind Herschel Walker and are ready to take on Senator [Raphael] Warnock," said Walker's campaign manager Scott Paradise to the Atlanta-Journal Constitution.
If Walker receives the nomination, he will challenge Warnock, a Democrat and Georgia's first Black senator, who won a runoff election last year.
He defeated Republican Senator Kelly Loeffler, who was appointed by GOP Governor Brian Kemp after former GOP Senator Johnny Isakson resigned in 2019 due to health reasons. Isakson died December 2021.
According to Federal Election Commission reports, as of September 30, Warnock has raised $44 million. The Associated Press reported he has $17 million cash on hand.
Although Walker is a political newcomer, former President Donald Trump and Senate Minority Leader Mitch McConnell publically endorsed him.
"Though I have been blessed with many amazing opportunities, running for U.S. Senate to represent my home state is the greatest honor and privilege of my life," Walker said in a statement published on Fox News. "We could not do it without your help and are looking forward to winning the primary in May and the general election in November."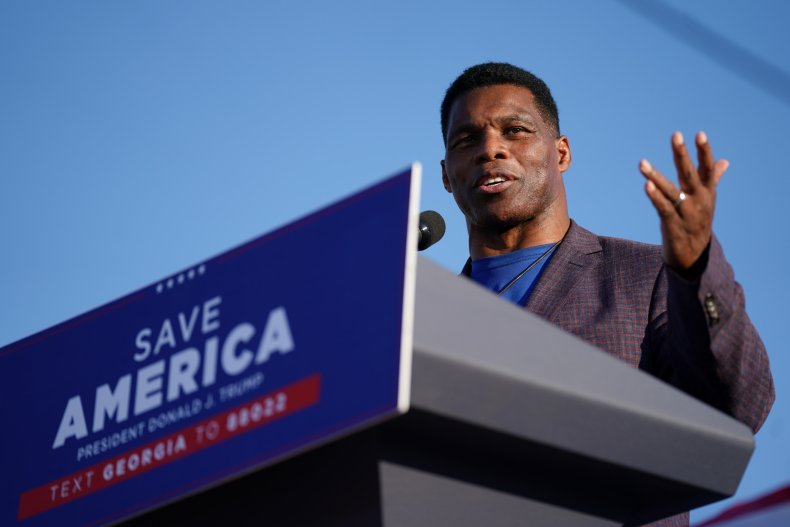 According to Fox Business, a super PAC supporting Walker, 34N22, spent more than $50,000 on a billboard campaign attacking Warnock. The billboards target inflation and gas prices, while a third reads, "Crime is killing Atlanta."
According to Warnock's campaign website, he is focusing on expanding the Child Tax Credit and voter rights legislation.
The AP reported Walker also faces at least three other GOP primary candidates, including Agriculture Commissioner Gary Black, a former bank executive and Navy SEAL veteran Latham Saddler and Kelvin King, a military veteran who owns a construction company.
In October 2021, the AP previously reported Black publically questioning Walker's history of violence, questioning whether his past actions should disqualify him from running for U.S. senator.
"If he were a member of the United States Senate today and if he had committed the acts that he's admitted to, he would be removed from office," Black said.
Walker's spokesperson Mallory Blount said in an email to the AP, this was a desperate move as his campaign is struggling.
In July, an AP investigation revealed accusations against Walker for repeatedly threatening his ex-wife's life.