Herschel Walker's First Week of Runoff Campaigning Plagued by Gaffes
With the midterms coming to a close for most candidates, the two men running for Georgia's Senate seat are buckling in for another month of campaigning, and Republican Herschel Walker's first week is off to a rocky start.
This week, Walker has made a series of gaffes in his race against Democratic Senator Raphael Warnock. Because neither candidate received more than 50 percent in last week's voting, Walker and Warnock are headed for a runoff on December 6.
Walker finished roughly 1 percent behind Warnock, but the race is still considered a toss-up. Control of the Senate is no longer up for grabs, as Democrats were able to hold on to all their seats and flip one in Pennsylvania. Still, the Georgia race is one of the most hotly contested in this year's midterms.
Throughout the election cycle, Walker's Senate campaign has been hit with controversies, most notably a series of allegations accusing him of paying for his ex-girlfriends' abortions, despite his anti-abortion stance.
Since last week's elections, Walker has made headlines for mistakenly referring to America as "the greatest country in the United States," praising cars with "good emissions" and talking about vampires and werewolves.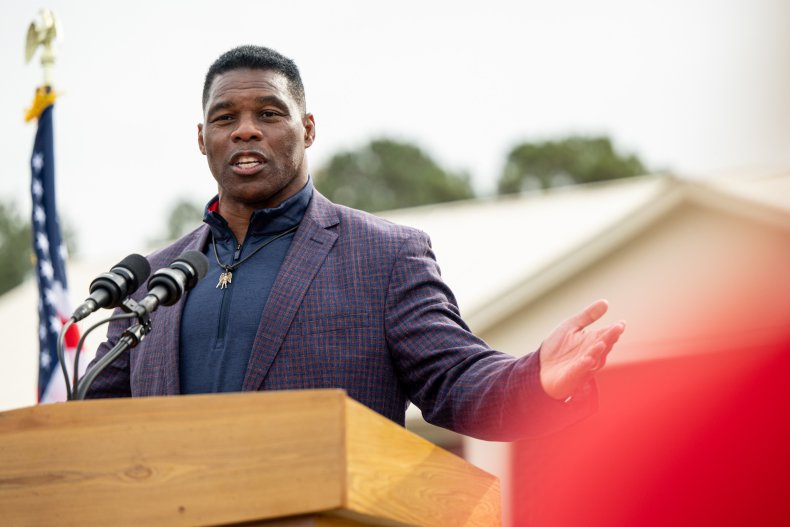 On Monday, Walker said that the U.S. is not ready for "the green agenda" and that the country needs to "keep having those gas-guzzling cars" that produce "good emissions."
Most Republicans have opposed Democratic-led legislation aimed at shifting energy policy towards renewable sources, and some have downplayed the severity of climate change. But Walker's comments contradict the scientific consensus about cars emitting various harmful gases that are a critical contributor to global warming.
Walker previously raised eyebrows on the campaign trail for his remarks on climate change, saying at one point that the nation's "good air" will "float over to China's bad air."
Then, on Tuesday, Walker seemed unaware that Georgians can vote early in the runoff election. Although voters have a shortened time frame for early voting this year because of changes in state law, casting a ballot before December 6 is still an option.
Walker seemed unsure about when voting begins ahead of the runoff when he urged a crowd in Jefferson to cast a vote early, then cut himself off by calling out to a staff member, "I don't think they have early voting, do they?"
After being told there was early voting, Walker asked, "They have one day? Two days?" before finding out there is a week of early voting in Georgia and saying that the period should be condensed, The Atlanta Journal-Constitution reported.
A day later, Walker went viral again on the subject of vampires and werewolves during a campaign speech in McDonough, Georgia.
While talking about watching the horror film Fright Night, he said that "vampires are cool people" and revealed that he "wanted to be a werewolf" because it can kill a vampire. Afterward, he was widely mocked on social media, with some comparing the incident to another bizarre campaign speech from earlier this month when he vowed to protect "Martians" because they're part of his "family."
"'Herschel Walker, Vampire Slayer' actually makes a lot more sense than Herschel Walker, United States Senator," political commentator Keith Boykin tweeted.
Despite casting doubt about the "candidate quality" of some of the Republicans running for the Senate in the midterms, Senate Minority Leader Mitch McConnell said in October he would "stick with Walker." He added that the former NFL star would "hang in there and scrap to the finish."
Newsweek reached out to Walker's campaign for comment.