Herschel Walker Is the Anti-Obama | Opinion
In 2008, African Americans ran to the polls to elect the first Black president. He was handsome, charismatic, articulate, and intelligent, but most of all, he was qualified.
There was nothing in Barack Obama's past that one could argue was enough to disqualify him from holding office. He had held office before, including in the United States Senate, so he understood government and our Constitution. He had been a law professor, so he understood our legal system. Even when he lectured Black men about fatherless households, he was coming from the position of someone who actually lived his convictions; he married his wife Michelle and was an active father in his daughters' lives.
By contrast, Herschel Walker is currently running for U.S. Senate—as the anti-Obama: His character, health, and qualifications are all in question in this election. And Walker should be rejected by all voters, but most of all by Black people.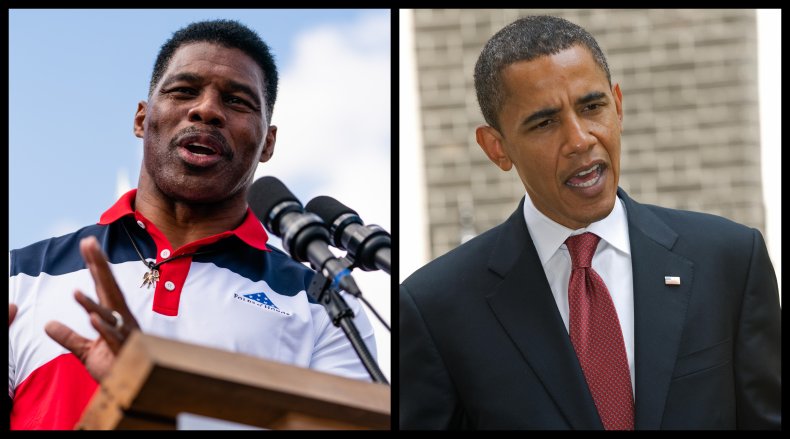 Let's start with his hypocrisy. Walker has been accused of paying for abortions by two women. And yet, he opposes abortion without exceptions for rape and incest. And this despite the fact that Georgia is a hub for sex trafficking; according to Covenant House Georgia, 100 adolescent girls are sexually exploited every night in Georgia. Black women are especially vulnerable, making up 40 percent of sex trafficking victims and 51 percent of juvenile prostitution arrests.
Walker would force young Black girls who are exploited by Georgia's illegal sex trade carry to term—something he didn't feel was necessary for the women he allegedly impregnated.
Walker has also gone out of his way to criticize Black fathers who he has said "leave boys alone to be raised by their moms." But the absent Black father is a myth that has been dispelled by research. The Center for Disease Control found that "Black fathers are "more involved with their children on a daily basis than fathers from other racial groups." 70 percent of Black men bathed, diapered, or dressed their children everyday, according to CDC data, a percentage far higher than any other male demographic.
But you know who is an absent Black father? Herschel Walker. Walker allegedly hasn't seen one of his sons in nearly seven years, and there are others that his staff and other children were not even aware of.
In many ways, Walker embodies ugly stereotypes of Black men that Black men have struggled throughout the entire history of this country to convince people is a lie. Absent father? Check. Sexually irresponsible? Check. Violent? Check: Walker's ex-wife alleged that he put a gun to her head and was physically abusive during their time together. And his son Christian said on Twitter that he and his mother had to move six times in a six month span to escape Walker's erratic behavior and abuse.
The media has made Walker's violence an afterthought, preferring to focus on the far less important issue of paying for abortions, though the violence is clearly the more disqualifying.
Some will read this piece as a partisan attack on Walker. It's anything but that. There are Black Republicans that I disagree with, like Michigan congressional candidate John James, who I still respect. James has different values than many in the Black community; he's a supporter of former president Donald Trump, for one thing, and has received Trump's endorsement. Yet one would be hard pressed to criticize his character or qualifications: He is a family man who many African Americans simply happen to disagree with.
Mostly, James has his own mind, even as a Trump supporter. Members of the Black community in Michigan asked James where he disagreed with Trump, and James had a list at the ready.
Black voters want to know that the leaders they put in place will be independent thinkers.
The opposite is true of Walker, who will be easily controlled by the GOP and Trump. That's why he's polling at 2 percent with Black voters—not because of his party affiliation but because he is everything Black men and women have been screaming for decades that we're not. He represents so little of what we are.
Walker's affairs and alleged payments for abortions are private matters that shouldn't concern voters. But his history of violence, his hypocrisy, and his absenteeism in his children's lives should be disqualifying.
We all know working class single Black fathers who go above and beyond or who are the primary caregivers for their children. They should not be made to see a man whose net worth is estimated to be as high as $62 million who hasn't seen some of his children in years as a U.S. Senator.
Black people are strong believers in redemption, but one must admit wrongdoing to be redeemed. Walker refuses to acknowledge his poor decisions. Black voters also believe in character and consistency. If you are a person of decent character who lives his or her values, you can be trusted to govern with character and integrity. Herschel Walker has proven himself to be the opposite of that.
Dr. Jason Nichols is an award winning senior lecturer in the African American Studies Department at the University of Maryland College Park and was the longtime editor-in-chief of Words Beats & Life: The Global Journal of Hip-Hop Culture. He cohosts the "Vince and Jason Save the Nation" podcast.
The views expressed in this article are the writer's own.