Hershey's Is Putting Emoji on Its Chocolate Bars and People Really Really Don't Like It: 'This Is a Terrible Idea'
Hershey's decision to add emoji to its chocolate bars has left a bitter taste in the mouths of many consumers, with many questioning the wisdom of the decision.
On Tuesday, America's largest chocolate maker announced that its recognizable logo will be replaced by 25 popular emoji in the rectangles that make up its legendary bars.
The emoji will include a smiley face, the fist pound and a thumb up, as well as a face wearing sunglasses, which is normally used to indicate something cool. The company said the emoji were chosen to "feature meanings that would help to spark a conversation."
Hershey's added approximately 25 million standard and snack-sized bars with the emoji will be distributed this summer, making them available for a limited amount of time.
The emoji bars will not, however, replace the traditional Hershey's product, which will remain on sale as usual.
While the change isn't permanent, it did not spare the company from being criticized by customers who were far from impressed with the modern makeover.
The company's milk chocolate bars have retained the same design since they first went on sale in 1900 and, judging by reactions on social media, Americans didn't think any changes were needed.
Admittedly, a number of users were pleased with the news, but they were largely outnumbered by chocolate fans who described the changes as a terrible idea.
Some suggested Hershey's attempt to get on with the times was just a bit awkward, while others were simply left stunned by the new design.
One Twitter user suggested putting emoji on chocolate bars was a particularly effective way of getting people to stick to their diet, while others threatened to switch allegiances to Cadbury and Kit Kat instead.
The emoji will also feature the "poop" emoji, an inclusion which left Twitter users almost unanimously puzzled and could drastically diminish the appeal of any food item.
Despite the criticisms, the chocolate maker said it had chosen to add emoji to its bars in a bid to encourage people to make new connections.
"By adding an emoji design to each pip of chocolate, we hope that parents and kids are inspired to share a chocolate emoji and make a connection with someone new," the company's senior manager, Kriston Ohm , said in a press release.
While the backlash on social media was almost immediate, it did not translate to the stock market, with Hershey's stock closing in positive territory on Wednesday after gaining over 0.5 percent.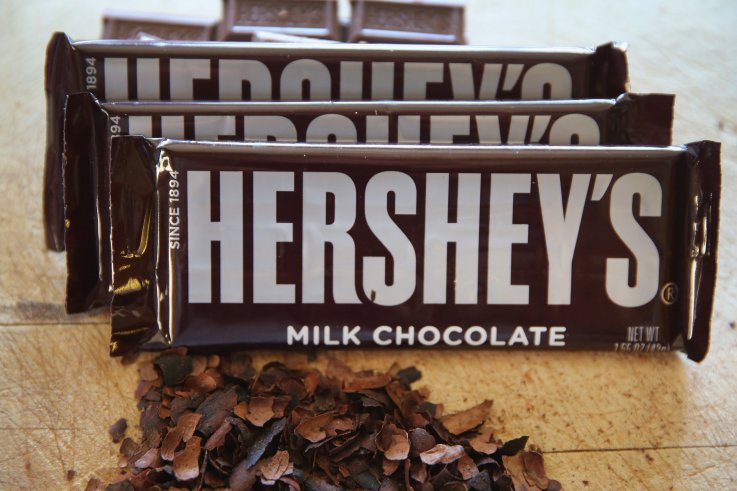 Hershey's Is Putting Emoji on Its Chocolate Bars and People Really Really Don't Like It: 'This Is a Terrible Idea' | U.S.