Hertz Bankruptcy Used Cars For Sale Near Me—Buy These Vehicles Below Market Value
Following its declaration of bankruptcy, Hertz is selling used cars on its website with low, no-haggle prices.
According to CNN, the car rental company filed for bankruptcy protection on May 22, 2020, becoming the latest casualty of the economic downturn following the coronavirus (COVID-19) outbreak. In a company press release, Hertz says that the impact was "sudden and dramatic" on the travel market and took immediate actions to prioritize the health and safety of employees and customers, as well as eliminate all non-essential spending and preserve liquidity.
"Hertz has over a century of industry leadership and we entered 2020 with strong revenue and earnings momentum," says Hertz president and CEO Paul Stone in a statement. "Our loyal customers have made us one of the world's most iconic brands, and we look forward to serving them now and on their future journeys."
Some actions taken by the company include:
Reducing planned fleet levels through vehicle sales and by canceling fleet orders
Consolidating off-airport rental locations
Deferring capital expenditures and cutting marketing spend
Implementing furloughs and layoffs of 20,000 employees or approximately 50 percent of its global workforce
As part of its vehicle sales, over 50,000 cars are available on the Hertz used cars below their market value. Newsweek has taken a look at some of the best deals to be had.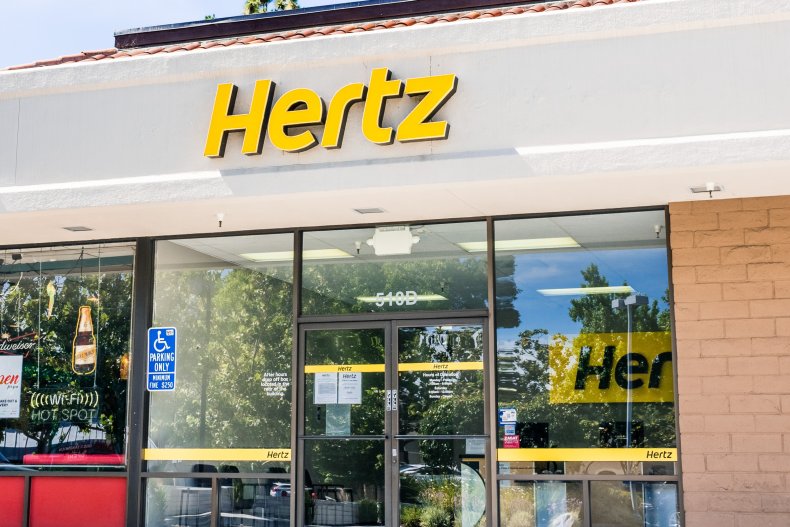 BMW 5 Series 2019: At an average of $40,000, the BMW 5 Series from 2019 is coming in slightly less than the market value. You can pick up a 530i Sudan from several Hertz showrooms for around $33,000.
2017 Lincoln Continental: With a manufacturers suggested retail price (MSRP) of $45,645, Hertz is selling these used vehicles at around $21,000 at several showrooms.
Toyota Camry 2019: Hertz is selling these popular cars for between $15,000 and $18,000 at several showrooms across the country. The MSRP is $24,765 for a 2019 model, saving buyers up to $9,000.
2017 Honda Accord: A top-line Accord Touring model sits above $35,000, according to KBB.com, meaning that car buyers can grab a used model for nearly half the price, depending on mileage and specifications. Hertz is selling used models around the $15,000 and $18,000.
Dodge Charger 2019: The MSRP for a 2019 Dodge Charger GT is $31,980, according to KBB.com, meaning that Hertz is offering these used models with a $3,000 minimum off the market value price. At some showrooms, you can get up to $6,000 off a 2019 model.
Ford F-150 XTL Supercab 2019: With a base MSRP of $34,160, car fans can pick up a used model from Hertz with a price tag of $31,000. 2020 models are also available in several showrooms across the country.
During the COVID-19 outbreak, Hertz has been offering home delivery on its used cars. The home delivery program lets buyers to purchase their vehicle without visiting the dealership, with the cost of the delivery waivered.