'He's All That': Release Date, Cast, Trailer and Plot of Remake With Addison Rae
He's All That is the remake no one knew they wanted, swapping the genders of the 90s movie She's All That. Some familiar faces return to the fold from the original movie, as the film gets a 21st-century update.
Social media sensation Addison Rae and Designated Survivor's Tanner Buchanan star in He's All That, which, judging by the trailer, seems to follow a very similar narrative to its predecessor.
This time, however, it's the girls who are making bets and trying to turn zeros into heroes, with Cameron (Buchanan) attempting to teach Padgett (Rae) that it's not all about the likes and social media shares.
We break down all there is to know about the movie so far, including who turns up from She's All That.
When Is 'He's All That' Out in Movie Theaters?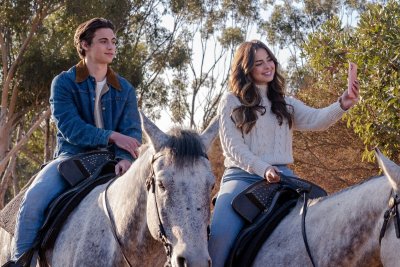 This is a Netflix movie, meaning it will only have a digital release rather than a movie theater one. The release date is August 27, 2021.
The movie was filmed over the end of 2020, which drew some criticism from locals as a COVID-19 testing site was reportedly closed to make room for filming.
After a backlash, this decision was reversed, with Los Angeles Mayor Eric Garcetti tweeting on December 1, 2020: "Working with @LAFD, @Curative & @MetroLosAngeles, my team has worked to reopen testing at Union Station on Tuesday. The 504 Angelenos who were scheduled for a test there can visit the kiosk as originally planned or any of the other 14 City sites, where we offer 38K tests daily."
Despite this, filming went on and now the movie is ready to be seen by keen fans.
What Is 'He's All That' About?
He's All That is a gender-swapping remake of She's All That, the 1999 movie starring Freddie Prinze Jr. and Rachael Leigh Cook.
As well as swapping the genders, the new version pushes the story into the 21st century, with social media playing a vital role.
The official synopsis reads: "In this reimagining of 1999's She's All That, teen social media influencer Padgett's humiliating on-camera breakup goes viral, leading her to make a risky bet to save her reputation: she swears she can turn scruffy antisocial Cameron into prom king material.
"But things get complicated when she finds herself falling for him IRL."
The trailer suggests similar events take place in this film as in the last, with Padgett (Rae) courting Cameron (Buchanan) at his job on a horse ranch and taking him to the mall to get his look revamped.
Then, the prom is the ultimate goal, with the title of Prom King at stake. It features a dance battle, which is incredibly reminiscent of the first movie.
Who Is in the Cast of 'He's All That'?
Addison Rae and Tanner Buchanan lead the cast as Padgett and Cameron.
Myra Molloy and Madison Pettis play Padgett's friends, though as the film goes on it is clear they are not really great friends to her at all.
Padgett's cheating boyfriend, Jordan, is played by Peyton Meyer, and Cameron's sister Brin is played by Isabella Crovetti.
From the original movie, two stars make a comeback: Rachael Leigh Cook plays Padgett's mother, though it does not look as though she is related to her character from the first film, Laney Boggs.
Matthew Lillard also returns to the franchise, having played reality star Brock Hudson in the first movie, though his role in the remake is unknown.
Finally, though her role is playing herself in a cameo, Addison Rae's BFF Kourtney Kardashian appears in the movie, welcoming Cameron and Padgett at a party.
Is There a Trailer for 'He's All That'?
There is a trailer, in which pretty much the entire film is shown.
It begins with Padgett finding out about her boyfriend's cheating, and being challenged to turn another boy into Prom King by her friends.
They choose Cameron for her, and she reluctantly agrees, turning up at his work to try and woo him.
Quickly she begins growing fond of him, explaining how he is not what she expected as he reveals his well-toned abs in the makeover scene.
He is ready for the 1920s-themed party, and turns heads while finding the whole thing slightly uncomfortable.
Of course, he discovers Padgett's ruse, and she tries to convince him she really is interested in the real Cameron after all.
The prom scene recreates the iconic dance battle, and a remixed version of Sixpence None The Richer's "Kiss Me" bellows over the action, harking back to the soundtrack of the original movie.
He's All That is out on Netflix on August 27.