'He's All That' Vs. 'She's All That': A Side-by-Side Comparison
He's All That has finally arrived on Netflix and it is full of allusions to the original film. Both stories show a popular person making over a less popular person in the hopes of winning a crude bet.
The new version follows Padgett Sawyer (played by Addison Rae) and Cameron Kweller (Tanner Buchanan) after the former makes a bet with frenemy Alden (Madison Pettis) following her break-up from Jordan (Peyton Meyer).
In the 1999 original She's All That—based on the play Pygmalion by George Bernard Shaw—Zack (Freddie Prinze Jr.) makes the bet with frenemy, Dean (Paul Walker) when Taylor (Jodi Lyn O'Keefe) dumps him for reality star Brock Hudson (Matthew Lillard).
Cameron lives with his younger sibling, Brin (Isabella Crovetti) after they were forced to move in with their grandmother after their mother's death.
Laney (Rachael Leigh Cook) lives with her father (Kevin Pollak) and little brother Simon (Kieran Culkin), who is himself a target for bullies, like in the famous "Hoover It" scene, which is missing from the update.
The Meet Cute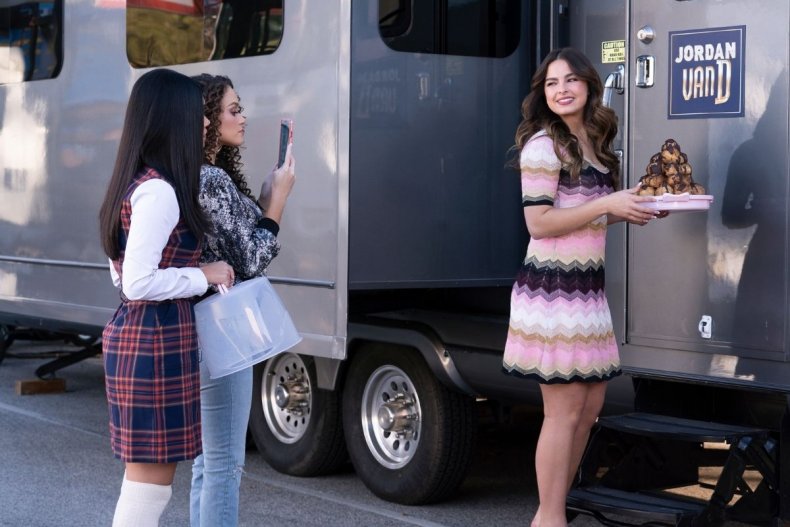 These two films follow a pretty similar line at the beginning of the movie with a breakup and a bet
The main difference here is the gender-swapping, as this time the girls are making over the boys. Their friends choose the person to make over and both go for a similar unsociable artist with just one friend, who has no interest in being popular.
Both Padgett and Zack accost their prey in front of everyone in both movies, only for them to be ignored and pushed to one side.
The next line of action is to find them where they work: for Laney Boggs it was the pizza joint, while for Cameron it is a horse-riding school.
In both instances, this works a little better, but it's the next step in their plan that cements a relationship.
The Embarrassing Performance
She's All That fans will remember the cringe-worthy Hacky Sack performance.
To try and win Laney's affections, Zack watches her odd performance art and, in a slightly mean-spirited twist, Laney gets Zack on stage to perform.
He utilizes the utterly 1990s fad, a Hacky Sack, expressing the pressure he applies to himself in school, though Laney brands it "terrible" as they start to connect.
This time round, Cameron attends a karaoke party (in completely the wrong clothes) at Padgett's behest, but it is she who embarrasses herself.
As she rocks out to Katy Perry's "Teenage Dream," her concentration is broken when Jordan arrives with his new squeeze.
Feeling sorry for her, Cameron jumps on stage and turns the performance into a duet, gaining millions of views on TikTok.
The Makeover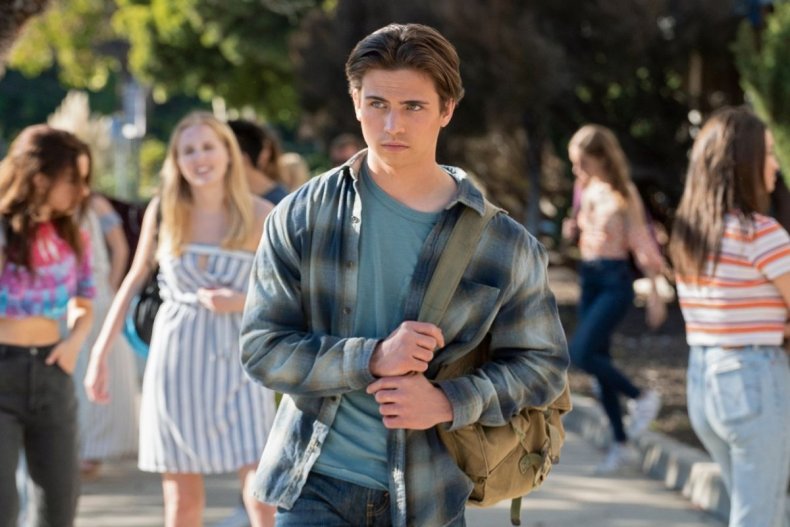 In She's All That Laney and Zack hanging out at home with Laney's family and on the beach, where she joins the whole group for a bit of volleyball.
Over time, Zack and Laney's relationship grew, leading her to open up before the makeover moment, where Zack enlists sister Mac (Anna Paquin) to help out.
In contrast, the reason for the makeover in He's All That sees Padgett helping Cameron, Brin and friend Nisha (Annie Jacob) prepare for a Great Gatsby-themed party, during which there is also a haircut.
The two do still bond throughout this time, taking a trip to Union Station where they open up about their lives.
The Fall-Out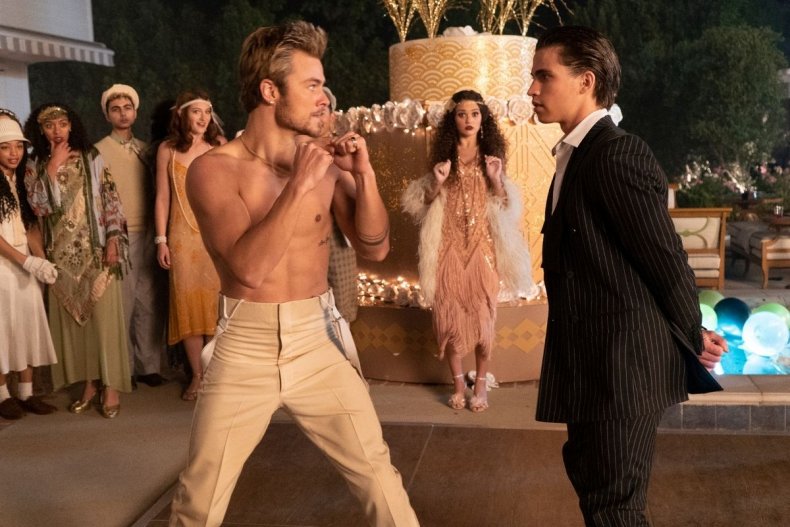 As with She's All That, He's All That shows the boyfriends old and new getting into a fight, though in the original Taylor and Laney had more of a meeting of words than of fists.
Cameron, in contrast, beats up Jordan after hitting on his sister, which goes viral.
Of course, the moment comes when the popular person must reveal the truth about making a bet, and this is performed beautifully in both films.
In the original, Laney becomes furious, asking if she was a "f****** bet" after Dean forces Zack to reveal all.
In the remake, it is pretty much the same, with Alden forcing Padgett to tell the truth which elicits those immortal words from Cameron: "Am I a f****** bet?!"
The repetition of this line is an incredibly nostalgic moment for fans.
The Prom and That Dance Number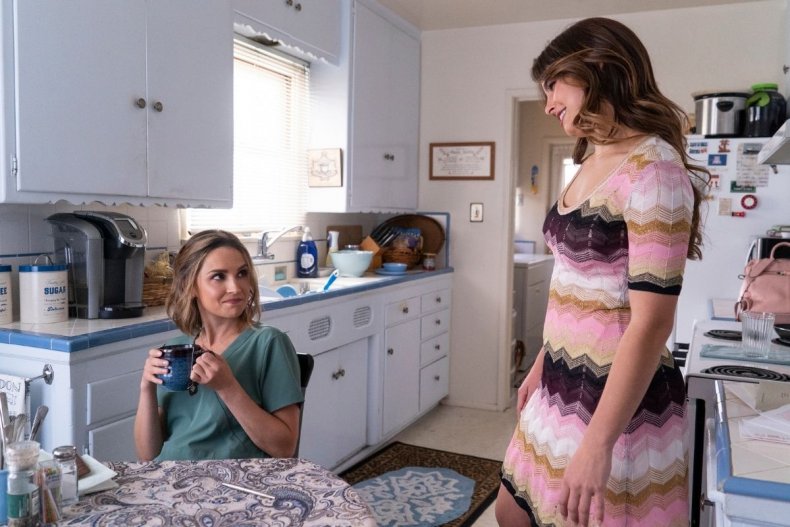 She's All That fans will remember how Dean swoops in and snakes Zack's girl, taking Laney to the prom while Taylor waits at home.
This time, Cameron's sister gives a heartfelt speech of why he needs to reunite with Padgett, while the influencer goes it alone.
The principal is none other than Matthew Lillard, who played Brock Hudson in the original and busts out some Brock-like moves in the new movie.
He's All That pays homage to that dance sequence, which sees two sides of the dancefloor erupt in an almost-competition.
The new movie does not have Usher on the decks, and instead it's a young man with his phone.
Alden and Jordan have started their own dance troupe to rival Padgett, so there is a full-blown competition to kick off the prom.
In the original, it's more a boys vs. girls performance, but the new version adds genuine competition as well as some impressive moves in heels.
Of course, the whole affair is watched by Padgett's mother, played by the queen of She's All That, Rachael Leigh Cook.
The Reconciliation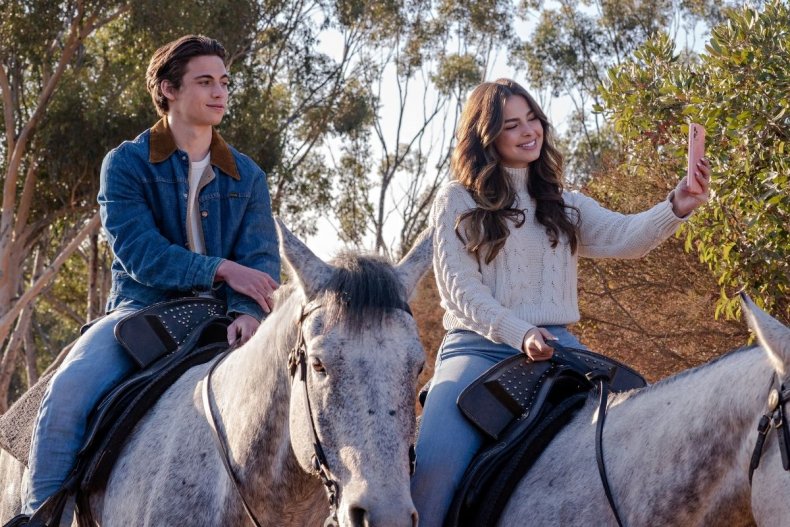 After Padgett's touching speech, not dissimilar from Zack's at the prom, she runs outside, desperate to leave.
Before the reconciliation happens, an Easter egg moment occurs when Sixpence None The Richer's "Kiss Me" starts to play.
Mrs. Sawyer realizes she knows the song and heads to the dancefloor, leaving She's All That fans reeling at the meta-moment.
Outside Padgett finds her knight in shining armor riding on a horse, quite literally, and the pair reconcile with his sister watching.
In the original, Zack finds Laney after she has turned down Dean, and the pair reconcile by the pool.
The final scene is also different than in the first movie, where the students are seen graduating, while the new version shows Cameron and Padgett head off on Cameron's trip around the world, riding horses together in Portugal.