'He's Gone From Awful to Alarming': N.C. Newspaper Demands GOP Censure Madison Cawthorn
A leading North Carolina newspaper has called for Republicans to join with Democrats to censure Representative Madison Cawthorn after he made controversial "bloodshed" remarks earlier this week.
During a Republican event in North Carolina on Sunday, Cawthorn suggested there would be "bloodshed" if elections continue to be "rigged" in the U.S.—promoting former President Donald Trump's baseless claims that the 2020 election was "stolen" in favor of President Joe Biden. Cawthorn said that he would not want "to pick up arms against a fellow American," but suggested this could be necessary if Trump's baseless election concerns weren't addressed.
In a Wednesday opinion article, the editorial board of The Charlotte Observer—which has the second-largest circulation of any newspaper in the Carolinas—blasted Cawthorn, who represents North Carolina. The newspaper's editorial team wrote that the GOP congressman's actions have "moved from awful to alarming."
"Cawthorn has veered from awful to even more alarming. It's time to pay attention again," they wrote.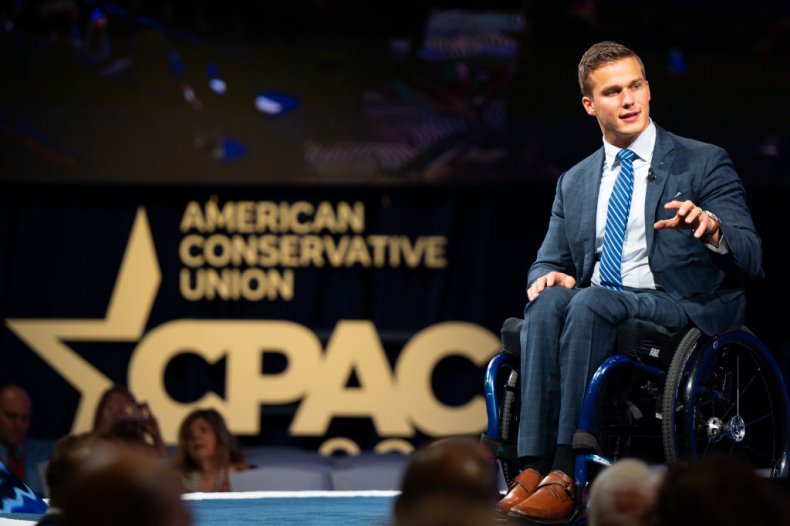 "At a county GOP gathering in Western North Carolina on Sunday, Cawthorn repeated false claims that the 2020 election was rigged, then suggested that there could be 'bloodshed' if such election fraud continued. Video from the Macon County event shows Cawthorn telling a small gathering that 'we all know it was a stolen election.' That apparently includes North Carolina's race for governor, which Cawthorn suggested was won by Republican Dan Forrest, although election results showed Gov. Roy Cooper with a 250,000-vote margin of victory," the article explained.
The editorial team said that Republicans should be concerned about Cawthorn, just as many Democrats are.
"His fellow Republicans, including those in North Carolina, should respond. They should join Democrats in condemning Cawthorn and, in a bipartisan effort, censuring him in the U.S. House. Republicans surely would rather not target one of their own and face the possible wrath of their base, not to mention the former president. But Cawthorn can no longer be dismissed as a silly Congressman braying from the mountains of North Carolina. His rhetoric is dangerous, not only to his party but his country," they wrote
Many Democratic lawmakers, as well as some Republicans, have strongly condemned Cawthorn over his controversial remarks.
"This is insane. Based on a total lie. This must stop," Representative Adam Kinzinger, an Illinois Republican, tweeted on Monday in response to Cawthorn's remarks.
Representative Liz Cheney, a Wyoming Republican, slammed the freshman lawmaker as well.
"I think every member ought to condemn that, and I'd like to see [GOP House] Leader [Kevin] McCarthy very clearly condemn it and explain how dangerous that is," Cheney told a reporter on Wednesday.
Cawthorn's press secretary has argued that his remarks were taken out of context, claiming that the GOP congressman was actually criticizing political violence.
"He fears others would erroneously choose that route and strongly states that election integrity issues should be resolved peacefully and never through violence," the congressman's spokesperson Luke Ball said in a statement.
The North Carolina lawmaker also said Wednesday that he will introduce a broad resolution condemning political violence in the wake of the backlash he's received for his "bloodshed" remarks.
"It is the sense of the House of Representatives that political violence, violent speech, and inciteful language have no place in our political discourse and should be wholly condemned," the resolution said, according to a press release.
It also said that political will of Americans should be expressed "at the ballot box."
Newsweek reached out to Cawthorn's press representatives for further comment, but did not immediately receive a response.