'He's The Only Reason You're Alive': Man Recounts Saving Ungrateful Neighbor In Viral Post
Commenters were left in disbelief after the bizarre story of how one man saved his neighbor's life went viral on a popular internet forum.
Posted on Reddit's r/tifu ('Today I F****d Up) subreddit, the viral post is titled "TIFU by saving my neighbor's life" and has received nearly 30,000 votes and over 1,300 comments. Authored by Redditor u/Hapxax, the post has received 92 percent upvotes and includes a detailed recount of a scary situation between neighbors.
Explaining that his neighbors are loud and often party from 4 a.m. until 2 p.m., u/Haxpax said that he and his fiancé both work from home and that the constant music is bothersome. Yesterday, the Redditor said they could hear the neighbor's smoke alarm going off, but that they didn't smell anything, and their neighbor's door was cold to the touch. After twenty more minutes of ringing, however, u/Haxpax said they went to investigate the alarm again and encountered a much different scenario.
"I go back to the hallway, smell smoke, and courageously bang on the door," he wrote. "No answer. I continue banging on the door but no one is responding."
According to the New York City Fire Department, apartment fires occur at a similar rate to house fires. However, apartment fires pose additional dangers to residents and neighbors because of their close proximity to other units. In an informational release provided by FDNY, it is recommended that apartment residents make an effort to learn their building's fire escape plans, and to regularly maintain all interior and exterior exits to ensure a speedy route to safety in the event of a fire.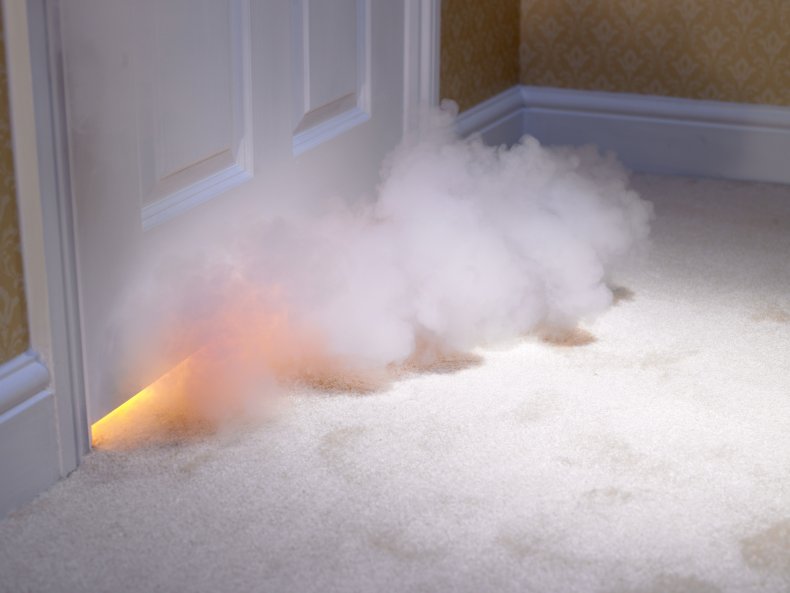 While fire safety resources are available across the country for children and adults, there are few clear guidelines outlining the proper response to a potential fire in a neighbor's apartment. In his original post, u/Hapxax said that when they didn't receive a response from their neighbor after knocking on their door, he called his building's maintenance department to request assistance.
"[Maintenance] arrives, goes to the neighbor's apartment, and does his maintenance thing," he wrote. "When no one answers he goes in and the horrid smoke detector finally stops. I am just about set to go back to my work when all of a sudden there is a knock on my door."
"I open it to find [the maintenance person] there on the phone telling another member of maintenance to get the police and ambulance on their way over because he thinks 'the kid next door is dead,'" he added.
Aftermath, labeled the nation's premier crime scene cleanup and biohazard remediation company, recommends that when a potentially dead body is encountered, nobody touches the body and that emergency personnel are contacted immediately. u/Hapxax said he and the maintenance person helping him did the exact opposite.
Writing that the source of smoke was a burned pot covered in foam from a fire extinguisher, the Redditor explained how the maintenance person shook and nudged his neighbor's motionless body, and that he thought his neighbor had died, before the 23-year-old man regained consciousness and became aggressive towards the maintenance person.
u/Hapxax said that his neighbor demanded he and the maintenance person leave his apartment and began waving a kitchen knife at the maintenance person. According to the original post, the maintenance person calmly left, and the neighbor stood outside the Redditor's door screaming "I know where you live you piece of sh*t"' amid threats of taking legal action for "unlawfully" entering his apartment.
The viral Reddit post, posted just one day after an apartment fire in New York City's Bronx borough claimed the lives of 17 people, garnered the attention of other Redditors — many of whom offered advice to the original poster. In the post's top comment, that received 9,400 votes, Redditor u/AllanfromWales1 said that the Redditor's neighbor was out of line for reacting aggressively to two people saving his life, and predicted they wouldn't be living in that apartment much longer.
"He's committed so many crimes in that incident I don't see him staying around there," they wrote.
Agreeing with u/AllanfromWales1, Redditor u/cathedral68 simply wrote: "Yea this is eviction city."
Redditor u/Ghost-Sushi, advised u/Hapxax to take legal action as a way to protect himself, as well as to open his neighbor's eyes to the severity of what happened.
"You need to call the police. Tell them what's up and to come and talk to, or arrest that guy for threatening you with a knife after you saved their life," they wrote. "That way at least he will get a wakeup call that he almost died."
Amid thousands of comments encouraging u/Hapxax to take action against his neighbor in a myriad of ways, one Redditor provided the perspective of a maintenance person, and said occurrences like this happen more often than anyone would think.
"Maintenance man checking in," Redditor u/VornskrofMyrkr wrote. "Most people wouldn't believe the sh*t we see."
Newsweek contacted u/Hapxax for comment.