'Hey Buddy!': Adorable Exchanges Between Dogs, Delivery Drivers Captured in Viral Videos
The relationship between dogs and delivery people has long been portrayed in popular culture as one of hostility, with the stereotype being that overprotective dogs act irrationally aggressive whenever mail carriers come near.
However, countless videos and photos across social media platforms attest that the opposite is very often true. Delivery workers for the United States Postal Service (USPS), UPS, FedEx, Amazon and other companies have been captured in clips showing not only can they co-exist with dogs, but they very often find incredible joy together.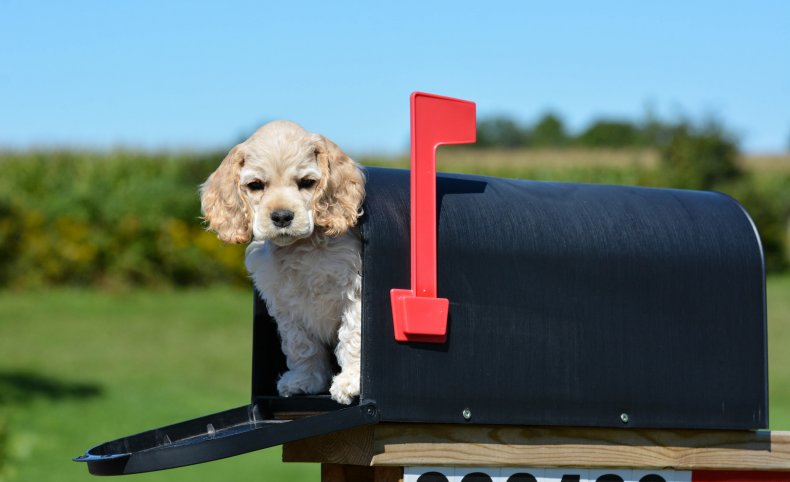 The popularity of such media has even led to accounts that collect videos and photos of such interactions. These include the Facebook page "UPS Dogs" (which has more than 1.8 million followers) and the Facebook private group "USPS Dogs," as well as numerous personal Instagram and TikTok accounts of delivery drivers sharing moments with dogs along their routes.
Many of these videos show dogs becoming downright ecstatic when they spot their neighborhood USPS delivery person.
Doug Coleman, a senior public relations representative for the USPS, explained to Newsweek that the agency trains their carriers to be cautious around dogs, no matter how cute they may appear.
"Every year the Postal Service launches a National Dog Bite Awareness Week to educate the public about carrier safety while delivering the mail," Coleman, who oversees the campaign, said.
USPS letter carriers are trained to observe areas where they know dogs may be found, be alert for potential danger and to respect a canine's territory. Carriers are also told to never assume a dog won't bite, behave in a friendly manner around dogs and never pet or feed animals.
The agency takes dog attacks seriously and has reported that more than 5,800 USPS employees were attacked by dogs in 2020.
Nonetheless, while dogs can present danger to postal workers, they can also be a source of help. Many do this with their friendliness, but the dog below literally helps out by fetching the mail for their owner from the USPS carrier.
TikTok user Jake Gracey boasts more than 283,000 followers, many of whom comment enthusiastically on his posts of the many dogs he encounters on his FedEx routes.
"The animals are for sure the best part of the job. It's always something different," Gracey told Newsweek. "Cats, dogs, horses, lizards. You name it, I've pretty much seen it. There's a bearded dragon that guards the front door at one of the houses I deliver to. It's cute."
Gracey added that his time spent bonding with dogs isn't limited to working hours.
"When I get home from work, my dogs are right there at the door waiting for me, always turning my day around," he said. " I will continue to rescue dogs until the day I die."
Like many animal-loving delivery workers, Gracey knows the secret to instant dog affection is to come bearing treats.
Once a delivery worker earns a dog's trust, they can often expect the canine to feel comfortable enough to hop right into their trucks.
Another delivery person with a special connection to dogs goes by "Chris the Dog Guy" on his social media accounts. The FedEx employee has more than 1.3 million followers on TikTok, where he often posts clips of his numerous canine buddies he encounters during his work day.
It should be noted that FedEx also doesn't encourage its employees to interact with dogs.
A spokesperson from the company told Newsweek, "There is no higher priority for FedEx than the safety of our team members. Couriers and service providers are encouraged to operate as safely as possible when making deliveries, which includes remaining aware of their surroundings and using discretion to avoid potentially harmful situations."
Below are some additional videos of delivery workers willing to bend company rules in order to take advantage of some dog affection.
Dogs aren't the only friendly animals who have been known to greet delivery workers. Despite their aloof reputations, cats have also been known to buddy up to carriers.
Delivery drivers don't just encounter cats and dogs, though. They come across all types of animals, including some unexpected species.