This article first appeared on the Atlantic Council site.
In the past four years, Hezbollah's has played a primary role in Syria alongside forces loyal to the regime of Syrian President Bashar al-Assad to gain back control of over 60 percent of Syrian territory and over two thirds of its population.
The organization's success can be attributed to its strategy in the Lebanese and Syrian theaters: capture, consolidation, and combat preparation.
The first prong of Hezbollah's strategy is capturing as much territory as possible.
In recent months, Assad and his allies have been focusing on Deir Ezzor, and Iran--Hezbollah's backer— has bet large stakes in the region.
On November 3, the regime took over the city of Deir Ezzor, while its forces were a mere 45 kilometers (28 miles) from Abu Kamal, the last bastion of ISIS in Syria. The race for Deir Ezzor governorate witnessed an escalation between regime forces and the US-backed Syrian Democratic Forces (SDF).
Russia targeted the SDF in several instances while forces loyal to the regime crossed the Euphrates river on September 16, violating a "de-confliction line" agreed between Moscow and Washington, increasing the chances of clashes between their proxy forces.
For Syria, Iran and its proxy, Hezbollah, the importance of the region is threefold. First, the region holds many of the country resources. According to Carnegie's Diwan, by 2011 production in the region had fallen to a mere 100,000 barrels per day.
In addition, through its proxies in Iraq and Lebanon, Iran voiced its decision to create a viable trade route that would connect Tehran to Damascus via Baghdad and for Lebanon to be used as an important transit route for trade and military purposes.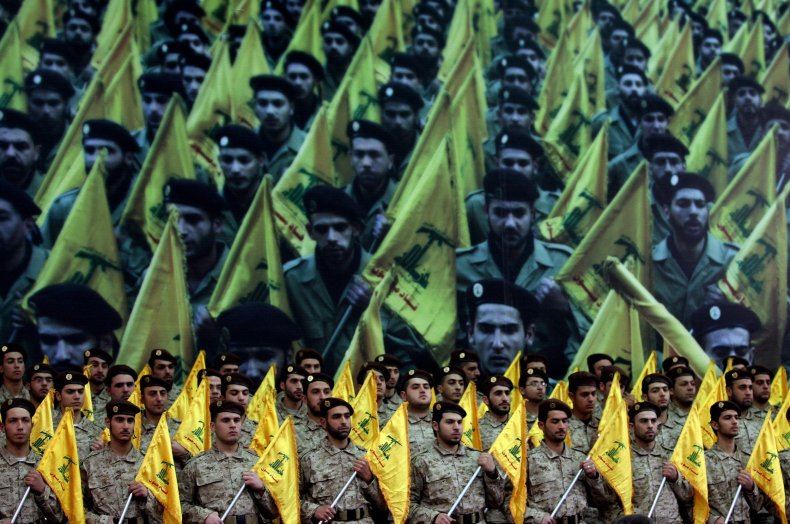 "The importance of Mayadeen and Abu Kamal is the strategic depth these areas provide, and the border security for Iraq and Syria as well as for Hezbollah," underlines a Hezbollah commander speaking on condition of anonymity.
The organization has deployed over 8,000 fighters to these areas. With some changes to previous theaters of conflict, Hezbollah is spearheading the offensive with other factions, namely Iraqi and Yemeni groups, leaving the stabilization to the Syrian army.
The second part of Hezbollah's strategy is consolidating its power in Lebanon, which is necessary for its deployment in Syria.
Lebanese President Michel Aoun, elected in October 2016, has made sure not to take any steps that would antagonize the group and destabilize Lebanon, but such a policy has also ensured a new level of closeness and cooperation between Hezbollah and Lebanese institutions.
At the end of September, Lebanese President Michel Aoun told the al-Monitor newswire that any solution to "the problem of Hezbollah" would have to come as part of a wider solution to the crises plaguing the region. In the interview, President Aoun declared that Lebanon cannot ask the latter to disband as long as the country still faces threats.
"You cannot say to Hezbollah, 'We have to dismantle your organization,' since Israel is provoking Lebanon and it is attacking," he explained. In 2006, Hezbollah signed a memorandum that removed the sectarian isolation of the organization, deepening its entrenchment in the Lebanese political system.
Hezbollah's summer operations against terror groups on the eastern border with Syria have suspended any serious talk about the group disarming by positioning the organization as the prominent Lebanese counter terror force.
In August, an operation by the Lebanese Armed Forces (LAF) against ISIS in the Qaa and Ras Baalbeck area was dovetailed by a Hezbollah offensive on the Syrian side of the border, resulting in a controversial deal that allowed ISIS fighters to be transported to western Syria.
Earlier, Hezbollah launched an operation against Hay'at Tahrir al-Sham (HTS), which is the Islamist coalition dominated by the former al Qaeda affiliate, the Nusra Front.
With the approval of the Lebanese president, and in the silence of a complacent opposition, the organization successfully positioned itself as the prominent military and counter-terrorism force in Lebanon, shifting from its previous raison d'être of a resistance movement against the Israeli occupation.
In recent weeks, Hezbollah's Lebanon consolidation process has nonetheless been put to test, with the sudden resignation of Prime Minister Saad Hariri from Riyadh accompanied by Saudi Arabia's war of words on Lebanon.
However, the crisis appears to have been mitigated for now, with Hariri saying he would withdraw his resignation if all of Lebanon's parties adhered to a policy of non-involvement in regional conflicts, a reference seemingly to Hezbollah's involvement in Syria.
A third dimension of Hezbollah's strategy has been its combat preparation operations against Israel. The Hezbollah commander, who boasted the organization had 10,000 fighters in South Syria (which is highly unlikely), said the organization was currently engaged in reconnaissance and infrastructure building in southern Syria, by the border with Israel.
Besides Syria, Hezbollah appears to be reinforcing its military presence in Lebanon. The organization has built a wide infrastructure on the western mountain chain of Lebanon, in the Bekaa valley, according to a source close to Hezbollah fighters.
Ground cover appears to be hiding a network of tunnels and bunkers as well as training camps. Hezbollah sources say they have recently been shifting troops back to southern Lebanon, out of concern that Israel may be preparing for a new conflict there.
Israel is watching the situation across the Syrian border with interest, with the objective that Iran and Hezbollah will not use the Golan Heights as another base to launch attacks. The Israel Defense Force (IDF) recently concluded its largest military exercise in nearly two decades.
Operation "Light of the Grain" simulated a Hezbollah offensive against Israel's northern border and saw the deployment of tens of thousands of IDF soldiers. Israel is preparing for the next war as it worries that Hezbollah has acquired new skill sets in Syria it will no doubt employ in any future confrontation with Israel.
Hezbollah strategy underlines the organization's shifting priorities. Once a non-state, mostly local actor with a foreign wing, it is now becoming a semi-state expeditionary force that can be swiftly deployed by Iran when needed. The new Hezbollah seems to be focusing on securing its existence by tying itself to its sectarian allies—Iran and the Syrian regime.
The new Hezbollah is strong as long as it can maintain a loyal constituency support, and a balance of deference on its Lebanese southern front while projecting regional influence.
The long-term success of this strategy remains linked to Hezbollah's ability to maintain its consolidation effort in Lebanon, which does not appear for now seriously jeopardized by local or regional dynamics.
Mona Alami is a nonresident fellow at the Atlantic Council's Rafik Hariri Center for the Middle East.