In a sparse, one-room hideout in Dahiyeh, a Shiite suburb of Beirut, Ali, a stout, friendly-looking man in his early 50s, sits on an iron-framed bed. A pistol is holstered on his hip, and an M-16 rests on a nearby table. His friend, a grizzled man of about the same age, stands watch at the door.
Ali, who asked to be known by a pseudonym because he is not authorized to speak with the press, pulls out his smartphone and plays a video he recorded in Aleppo, Syria. In it, he's dressed in camouflage, carrying a large machine gun and crouching behind a thicket with three other fighters. The sound of gunfire and mortars echoes in the background. "That's me," he says proudly, pointing at the video. "Look what I do next."
The video shows him stooping down and running into a clearing, where someone has erected a banner bearing the symbol of Jabhat al-Nusra, a rebel Islamist group fighting against Syrian President Bashar al-Assad's regime. Ali pulls the banner down and replaces it with the flag of Hezbollah, a powerful, Iran-backed Lebanese Shiite militia and political party that has been fighting alongside Syrian government forces since 2012.
When the video is over, Ali puts his phone away. "[The battle] is not over," he says. "We won Aleppo, but we're not finished yet."
On December 22, Assad's regime, with the help of Hezbollah and Russia, declared victory after a protracted, costly battle for the long-besieged city. The United Nations evacuated 34,000 rebels and civilians from Aleppo, amid reports that Hezbollah and Assad's army executed unarmed civilians, something both the regime and the Lebanese group deny.
This victory was far from assured, and Hezbollah's decision to enter the war didn't always seem savvy. In May 2013, when Hassan Nasrallah, the group's secretary-general, announced that it had been fighting on Assad's side, many Lebanese were angry and confused. The party's popularity plunged. Lebanon's Sunni Muslims, many of whom supported the Syrian revolution—before it was hijacked by radicals such as the Islamic State militant group (ISIS)—were incensed. The surge of outrage led to increased radicalization among Sunnis in the coastal city of Tripoli and parts of Lebanon's northern border. Worse still, over the past four years, the war has cost the self-proclaimed Party of God many fighters and military resources.
But Hezbollah has emerged triumphant. And while Syria's brutal civil war isn't over—and the group faces enemies, both from within and without—Hezbollah has solidified its standing as the most powerful force in Lebanon. Once dependent on Assad for its survival, the group is now stronger than he is.
'Fuck Those Sons of Bitches'
In another house in Dahiyeh, a tall Hezbollah commander with granite-gray eyes sits nervously on a couch while a TV blares in the background. He prefers not to be named because he doesn't have clearance from Hezbollah to speak with the press about his party's role in the Syrian war. "We didn't feel like it was a local battle," he tells Newsweek. "There was a lot of international influence in Aleppo. The terrorists are well-armed. They have lots of money and guns that have made their way through Turkey, but you name the country, they're helping [the rebels]."
Whether that's true or not, the Syrian rebels landed their share of blows. The Syrian Observatory for Human Rights, an independent organization that documents casualties of the Syrian war, estimates that Hezbollah lost 1,387 fighters in Syria. At one point, these losses were so bad that some speculated that the group's ability to combat Israel, its primary nemesis, had eroded. "Hezbollah has lost senior, seasoned and trustworthy commanders," says Randa Slim, a Hezbollah analyst at the Middle East Institute, a Washington, D.C.–based think tank. "It's not easy for the party to find replacements quickly and easily."
But members of the party feel their sacrifices in Syria have finally paid off, not just by keeping Assad in power but because winning in Syria has solidified Hezbollah's standing in its own country. "Who can stand against Hezbollah in Lebanon?" the commander asks.
One reason for his confidence: politics. In October, Lebanon elected Michel Aoun, a Hezbollah ally, as its president, the first time someone has held that office in two years. Though the Party of God's involvement in the Syrian war initially hurt its popularity, as the rebels became increasingly radicalized, many began to see groups like ISIS as the bigger threat. Hezbollah morphed from needless aggressor to the only entity standing between Lebanon and a fundamentalist Islamic state. "On a political level, the war helped Hezbollah secure a position as strong as ever on the domestic scene," says Aurelie Daher, a scholar at the University of Oxford who studies the group. "The election of Aoun to the presidency and the ministers chosen for the new government are good illustrations of that."
The commander in Dahiyeh agrees. "Our wins in Syria will reflect positively on Lebanon because now Hezbollah is in communication with all the different parties in the country," he says with a tense smile. "Suddenly, we're friends with everybody."
Despite its high death toll, the group also benefited from the war militarily, Daher explains. Not only did Hezbollah gain valuable battlefield experience; it also preserved its pipeline of weaponry coming from Iran through Syria, which is likely the main reason the group entered the war.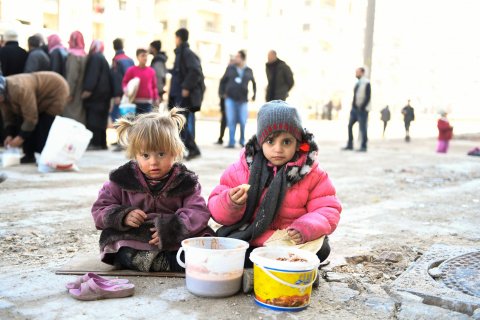 But all that came with a cost—one that went beyond loss of life. Hezbollah members now say there is tension between the Shiite group and the regime in Damascus. In his hideout, Ali, the Hezbollah fighter, snorts when asked about his feelings on Assad's government. "We and the Syrian regime often shoot at each other," he says, laughing. "We don't give a damn about the Syrians. We have no intention of giving up most of the territories we control in Syria. We are not in Syria because we're in love with a person named Bashar al-Assad for his good looks. If you come to us and tell us tomorrow that the Syrian regime is coming back to [invade] Lebanon, we would fight them. We would kill them all. Fuck those sons of bitches. We're only there for our own benefit. We're defending our interests."
Slim says Hezbollah's antipathy toward the Syrian government has been building for some time. "It is no secret that Hezbollah's military leaders are not impressed by the Syrian army's capacity and the discipline of pro-regime militias," she says. "I don't think that Assad and his army have the interest and the means to contest their presence in the near future."
Ali's grizzled friend seems to agree. "Assad is just a figurehead," he says. "He has no real power. We won this war, not the regime."
'We're Going to Surprise the Whole World'
For Lebanese Sunnis, Assad's victory means Hezbollah will continue to dominate their country—and some aren't taking it well. Mohammad, a Salafi sheikh who maintains a small militia in the Tripoli neighborhood of Bab-al-Tabbaneh, runs his little fiefdom from a shop he owns. Mohammad, who asked Newsweek not to print his real name because he fears retribution from the Lebanese government and Hezbollah, is in his mid- to late 30s, with a trademark Salafi beard. He says he was fighting in Syria with Jabhat al-Nusra and spent some time in Aleppo. "We will return and fight again," he says, "and keep fighting until we bring down this brutal regime."
Mohammad is passionate about the plight of the Lebanese Sunni community—and he blames what he calls their inferior standing on Hezbollah and Iran. "Sunnis in Lebanon are weak," he says. "They don't have much power because Hezbollah controls the government. The Sunni population is left all alone on the battlefield, being slaughtered by these people. We have to do something to defend ourselves, and we will defend ourselves, even inside Lebanon."
Hezbollah is rightly concerned about the radicalization of Lebanese Sunnis like Mohammad. There have been many attacks by Islamists in Hezbollah territory, the most recent of which killed 43 people, in November 2015. And the threat hasn't subsided, says the Hezbollah commander in Dahiyeh. "When the terrorists put car bombs in Dahiyeh, Hezbollah told the Lebanese government, 'Either you do your job, or we'll do it for you,'" he says. "And we've had to do their job sometimes when they were unable to. We've caught hundreds of attempted terrorists trying to carry out attacks in Lebanon. No matter how hard we try or how many we catch, there's always a possibility that one or two might sneak in."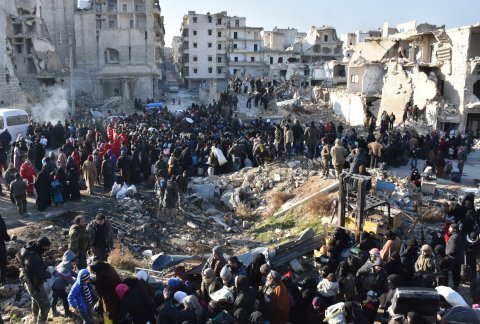 In his Tripoli shop, Mohammad smiles grimly when asked how he plans to react to Hezbollah's victories. "We're going to surprise the whole world with what we're going to do in Lebanon," he says. "We have a plan, and we're going to make a comeback."
'1,100 Pounds of Explosives'
Despite the threat of attacks on its home turf, Hezbollah's success in Syria means the group can finally shift its focus back to its neighbor to the south, Israel. "When it comes to Israel," the commander in Dahiyeh says, "we never sleep. We have our eyes on them always."
It's been more than a decade since war erupted between the two sides, and many think a new conflict might soon arise. Hezbollah put up an impressive fight against Israel in 2006, and since then, the group has become far better armed. Israeli leaders seem increasingly concerned about the Shiite group's arsenal and recent battlefield experience. Hezbollah is said to possess GPS-guided short-range ballistic missiles that can hit Tel Aviv with 1,100 pounds of explosives, as well as Russian-made anti-tank, anti-ship and cruise missiles. In July 2016, the Israeli ambassador to the United Nations claimed the group's missile arsenal is now larger than those of the European Union's NATO states combined. "Our Christmas day is when the Israelis come for a ground invasion," the commander in Dahiyeh boasts. "Israel is just a big fuss for nothing. It is weaker than a spiderweb."
Despite his bravado, the Shiite group seems in no hurry to return to the battlefield against its nemesis. In January 2015, for instance, Israel hit one of the group's weapons convoys in Syria with targeted airstrikes. Hezbollah retaliated by launching an anti-tank missile at an Israeli convoy, killing two soldiers, but the group immediately announced it had no desire to escalate the fight. More than a year later, in November 2016, Israel again struck a Hezbollah weapons convoy, only this time the group didn't respond. And perhaps with good reason. Israel has a far more powerful army than Hezbollah, and the consequences of a war would be severe for the group—and its home country. So it seems the strategy of "mutual deterrence" on both sides will continue—for now.
When that changes, however, Ali, the Hezbollah fighter, says and he and his comrades will be ready. As he speaks, he smiles confidently. "The Israelis have been losing this game since 2006," Ali says. "Because we are with God, and we don't think of anything else."