Health and Human Services Secretary Alex Azar announced Wednesday morning that the Trump administration plans to allow Americans to legally import prescription drugs from Canada in an effort to reduce prices.
"Today's announcement outlines the pathways the Administration intends to explore to allow safe importation of certain prescription drugs to lower prices and reduce out of pocket expenses for American patients," Azar said in a statement.
The secretary did not announce a formal timeline or when patients could see results.
The initiative marks a shift from Azar's policies when he was a drug industry executive: During his time as CEO of Eli Lilly, the global pharmaceutical company repeatedly increased the price of insulin. In the five years Azar was president, the U.S. list price of the company's best-selling insulin drug doubled.
Azar detailed two different "pathways" for importing prescription drugs to American patients: The first would let states, wholesalers and pharmacies get approval from the Food and Drug Administration to import medications that are already sold in the U.S. The second initiative would make the FDA work on safety measures for drug manufacturers who want to bring the drugs they sell in foreign countries to the U.S.
The programs would be "particularly helpful" for people with high cost prescription drugs, according to the administration. Drugs that will potentially be lowered in price include those used to treat diabetes, rheumatoid arthritis, cancer and cardiovascular disease.
"For too long American patients have been paying exorbitantly high prices for prescription drugs that are made available to other countries at lower prices," Azar added, crediting President Trump for pushing the idea of importing drugs from overseas.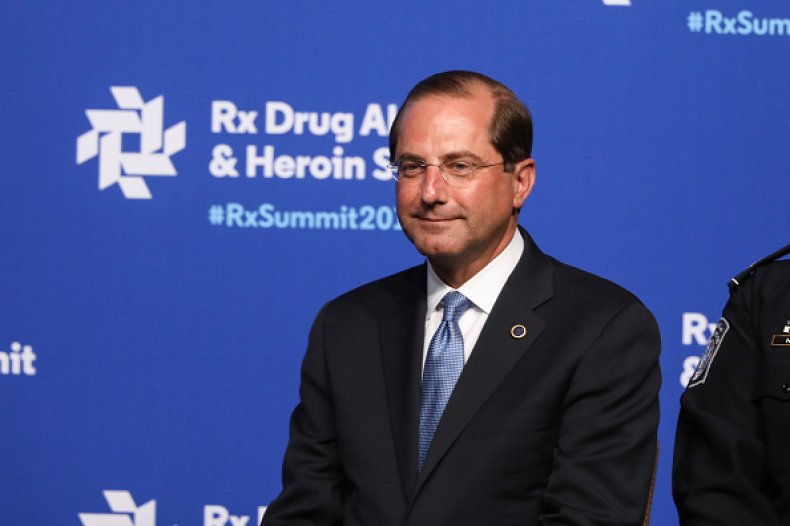 The initiative comes as the pharmaceutical industry faces a firestorm of consumer complaints over high drug prices. According to a poll conducted by the Kaiser Family Foundation earlier this year, one in four Americans taking prescription drugs says it's difficult to afford their medicine.
Azar was appointed to lead the HHS by Trump in November 2017. During his confirmation process, he faced a grilling by a Senate committee about his time as a pharma CEO, though the White House continued to defend him as a "outspoken longtime advocate for lower drug prices."
Between 2011 and 2017, Eli Lilly doubled the list price of Humalog insulin from $123 per vial in January 2012 to $255 per vial in early 2017—which was when Azar left the organization. That same year Eli Lilly was hit with a lawsuit for overpricing insulin and concealing behind-the-scenes arrangements to drive up the price.
Insulin for Type 1 diabetes costs about $340 per vial in the United States, roughly 10 times the price in Canada. Costs have skyrocketed so much that Americans are traveling across the border in large groups to buy the prescription drug.
Earlier this month, 2020 Democratic hopeful Bernie Sanders traveled with one such caravan. Sanders told CNN that "people are dying" because of the "unbelievable greed" of the pharmaceutical industry. "One out of four people are rationing their insulin, and people are dying," he added. "That is unacceptable in the United States of America."
Sanders opposed Azar's nomination as HHS Secretary, citing his record as a drug executive.
"During Mr. Azar's tenure at Eli Lilly, this multi billion-dollar corporation dodged taxes while charging Americans outrageously high prices for life saving prescription drugs," Sanders said at the time.