HHS Denies Slashing COVID Vaccine Shipments, Says States Expected More Doses Than Allocated
Federal officials responsible for overseeing COVID-19 vaccine distribution addressed reports that states' shipment sizes were smaller than anticipated on Thursday, calling them as "incorrect" and clarifying what seemed to be a series of miscommunications.
According to the Department of Health and Human Services (HHS), which helps manage vaccine deliveries through Operation Warp Speed, all previously agreed upon shipments will be sent to states as planned. However, the wave of announcements from governors and health departments, referencing scaled-down dosage figures, suggests some discrepancies between expected vaccine quantities and finalized numbers.
The government confirmed three separate rounds of vaccine allocation with states over the past month, and in some cases, official dosage volumes differed from those discussed initially.
"Operation Warp Speed allocation numbers locked in with states have not been changed or adjusted," an HHS spokesperson told Newsweek on Thursday. The spokesperson explained that formal allocations were determined for two preliminary vaccine shipments, from Pfizer and Moderna, respectively, as well as an additional round of shipments from Pfizer.
"Those are the only allocation numbers that have been provided," the spokesperson said.
They explained that states where upcoming vaccine shipments appeared to be reduced by half would receive the latter 50 percent within three weeks of receiving the first, since both immunizations require two installments spaced 21 days apart to provide full protection against COVID-19. In other states where additional shipment sizes contained 30 or 40 percent fewer doses than anticipated, the spokesperson said deliveries will take place over several days until all scheduled vaccines are distributed.
Operation Warp Speed will offer weekly updates regarding vaccine availabilities and subsequent allocation numbers, according to the HHS spokesperson, who said it is "on track" to vaccinate roughly 20 million Americans with initial immunization doses before January.
Earlier Thursday, government and public health authorities in a number of states, including Illinois, Iowa, Texas and Washington, voiced concern and surprise over what they described as reductions in their upcoming vaccine shipments.
Washington Governor Jay Inslee recounted correspondence between state leaders and the Centers for Disease Control and Prevention (CDC) on Twitter, saying the agency "has informed us that WA's vaccine allocation will be cut by 40 percent next week—and that all states are seeing similar cuts."
"This is disruptive and frustrating. We need accurate predictable numbers to plan and ensure on-the-ground success," Inslee continued, adding, "No explanation was given."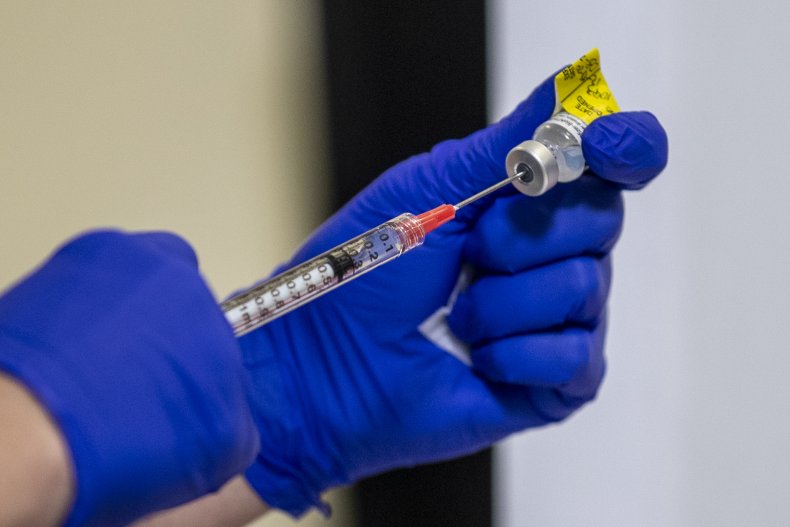 Pfizer, the pharmaceutical corporation that partnered with German biotechnology company BioNTech to develop the first COVID-19 vaccine approved for emergency use by the U.S. Food and Drug Administration, responded to the reports from states shortly after they surfaced. The company affirmed any changes to vaccine shipments were not rooted in production or distribution challenges, and noted that 2.9 million doses were dispensed to states this week per federal instruction.
"We have millions more doses sitting in our warehouse but, as of now, we have not received any shipment instructions for additional doses," Pfizer's statement read. The corporation said it remained "confident" in its ability to fulfill its intended shipments totaling 50 million doses worldwide by the end of the year.
Moderna, the biotech company behind a second COVID-19 vaccine candidate in talks for emergency use approval at the FDA, similarly indicated its production plans were proceeding on schedule in additional comments to Newsweek on Thursday afternoon.
"Distribution decisions are in the [U.S. government's] hands," a Modern spokesperson said. "We remain confident of our expectations of providing approximately 20 million finished doses in the U.S. this month, and between 85-100 million doses in U.S. during the first quarter."
Newsweek reached out to the CDC for comment but did not receive a reply in time for publication.