No More Migrant Children Being Held at Troubled Homestead Facility in South Florida, Government Says
All unaccompanied migrant children being housed at a troubled, government-contracted shelter outside Miami have been released to the custody of sponsors or state-licensed facilities, the Department of Health and Human Services (HHS) announced on Saturday.
"HHS closely monitors referral numbers adjusting bed capacity to respond to changing levels of need," department spokesperson Evelyn Stauffer said in a written statement. "As such, today we are announcing that all [unaccompanied migrant children] sheltered in the Homestead facility have either been reunified with an appropriate sponsor or transferred to a state-licensed facility within the ORR network of care providers as of August 3, 2019."
Homestead, a temporary influx shelter, is the only facility for unaccompanied child migrants run by a for-profit entity (contracting with the federal government to provide custodial services) and is the largest such facility in the country for children.
Through the department's Office of Refugee Resettlement, the federal government assumes custody of unaccompanied migrant children after they are first screened by U.S. Customs and Border Protection upon their arrival at the U.S.-Mexico border.
In February, the Homestead facility was housing 1,600 unaccompanied children, out of a total capacity of 2,700. Doctors who have toured the shelter said that its prolonged detention of children was causing "unnecessary and potentially long-lasting harm."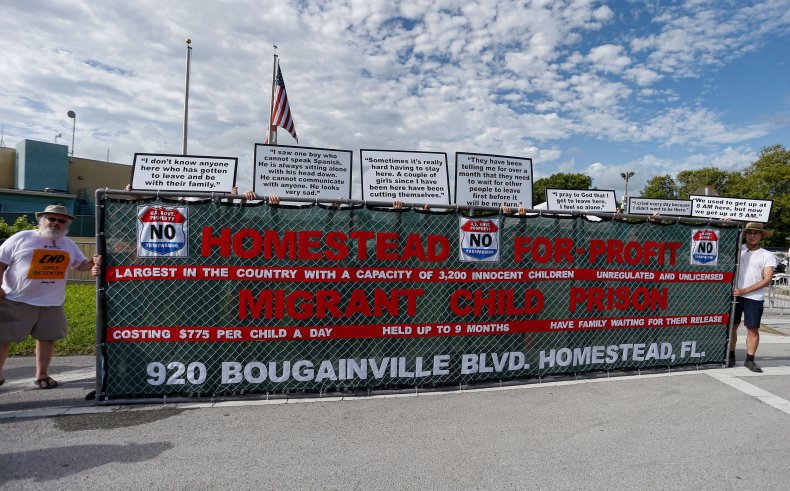 "Sometimes it's really hard having to stay here," one teenage girl from Guatemala who was detained for five months said according to a legal filing. "A couple of girls since I've been here have been cutting themselves... I have spent a lot of time crying and the other girls too."
Inspectors who visited Homestead wrote that the "unsanitary condition of the bathroom area and the deafening noise of the fan are clear health hazards."
Part of the criticism results from the fact that, because the facility is on federal property, it is not subject to the scrutiny of Florida state regulators.
A delegation of federal lawmakers went to Homestead in February after reports had documented health and safety concerns. Democratic Representative Debbie Mucarsel-Powell, who represents parts of South Florida in the U.S. House of Representatives, described a troubling experience touring the complex.
"As a mother, it was very difficult to walk through the center," she said. "It has a prison-like feel."
Democratic candidates for president protested the facility during their visit to Miami in late June for the first primary debates of the 2020 election cycle.
The government's announcement on Saturday comes as the American Civil Liberties Union alleged in a court filling this week that immigration officials are still separating migrant children from their parents — more than 900 since June 2018 — despite a federal judge declaring the practice unlawful.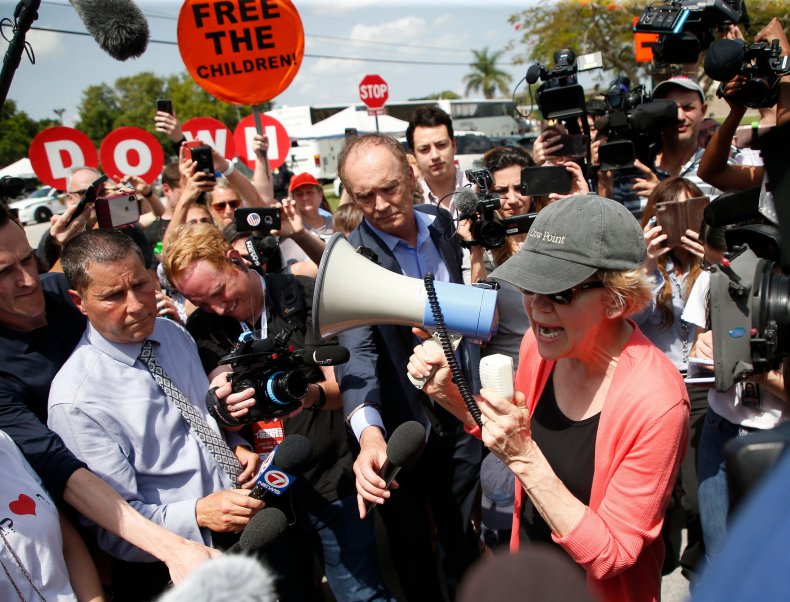 A loophole in U.S. District Judge Dana Sabraw's ruling apparently gave the Trump administration cover to continue separations on technicalities or for largely inconsequential reasons, such as for failing to change a diaper or for driving without a license.
The Department of Homeland Security's inspector general, who has oversight jurisdiction of the federal immigration agencies, last month released a scathing report documenting inhumane and squalid conditions at processing facilities along the U.S.-Mexico border, raising several points of concern about the way migrant children were being treated.
Children in these facilities were being held for much longer than federal law allows, and many children had no access to showers, hot meals or a consistent supply of fresh clothes, the July report found.
According to Stauffer's statement on Saturday, HHS plans to keep the Homestead facility on standby, at reduced capacity, "in the event of increased referrals or an emergency situation." The government said that no new children have been placed there since July 3.
"At this time, retaining bed capacity at the Homestead influx facility is necessary to provide care and services to [unaccompanied children] as mandated," the statement explains. "We anticipate an uptick in the number of referrals made to HHS this fall, based on historical trends. We will continue to keep Congress, local officials, and stakeholders abreast of future plans pertaining to the Homestead site."