HHS Official Wanted Fauci to Not Promote Masks for Children, Claims 'Zero' Evidence Children Spread Virus, Emails Show
Paul Alexander, a Trump administration appointee at the Department of Health and Human Services, attempted to adjust the messaging Dr. Anthony Fauci, the director of the National Institute of Allergy and Infectious Diseases (NIAID), was offering with regard to children's ability to spread the new coronavirus.
Having served every president since Ronald Reagan, Fauci's been the expert opinion during the new coronavirus pandemic. A data-driven and science focused mind, Fauci's comments and outlook on the situation have, at times, put him at odds with the messaging and opinions put forth by the administration.
One such time was on Tuesday, when Alexander, a senior adviser to Michael Caputo, the Health and Human Services assistant secretary for public affairs, asked Fauci's press team to strongly advise him to not recommend children wear masks in school, according to an email obtained by Politico.
"Can you ensure Dr. Fauci indicates masks are for the teachers in schools. Not for children," Alexander wrote in an email. "There is no data, none, zero, across the entire world, that shows children especially young children, spread this virus to other children, or to adults or to their teachers. None. And if it did occur, the risk is essentially zero."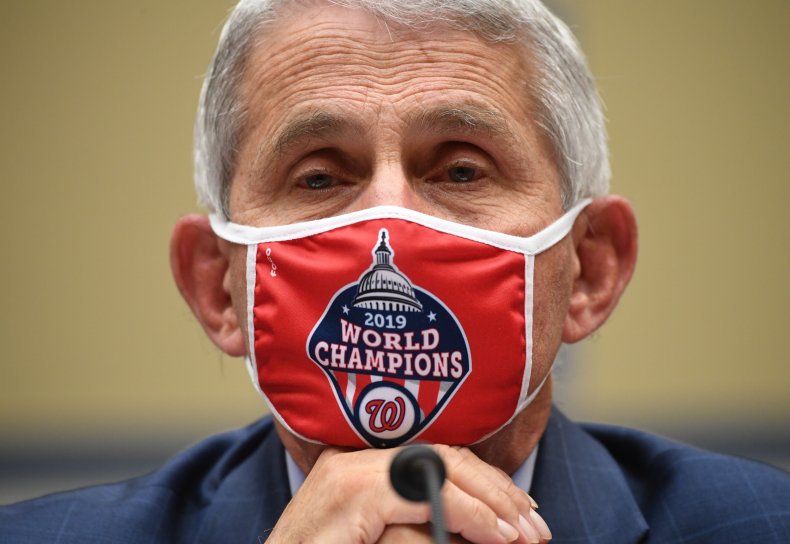 The new coronavirus poses greater risks to older people than it does to children and the Centers for Disease Control and Prevention (CDC) acknowledged data on transmission among children are limited. Data from France, Australia and Ireland suggest students are not as likely to transmit the virus to other students compared to household contacts, but the CDC said more research is needed.
It wasn't the first time Alexander talked to Fauci's team about the risk children pose to those around them. In late August, Andrea Lerner, a medical officer in the Office of the Directors, sent an email to Alexander saying she didn't feel it was correct to say there is "no evidence, zero, that children spread this virus to children in schools or to adults," Politico reported.
Lerner pointed to a study conducted by the CDC into an outbreak at a Georgia summer camp. After a teenage staff member tested positive, the camp shut down and 76 percent of attendees tested were found to have the new coronavirus. Researchers acknowledged that some cases could have been from before or after attending camp but said the findings show children may play an "important role in transmission."
During the email exchange with Lerner, Alexander said it could be "traumatic" for children to wear masks.
In line with the CDC, Fauci recommended universal mask wearing for people attending in-person classes this fall, telling ABC News in August, it's "one of five or six things that are very important in preventing the surge in infections." The NIAID director told Politico his staff didn't instruct him to minimize the need for children to wear masks.
"No one tells me what I can say and cannot say," Fauci told Politico. "I speak on scientific evidence."
Caputo told Politico in a statement that Alexander advises him on pandemic policy and was "encouraged to share his opinions with other scientists."
Newsweek reached out to the Department of Health and Human Services for comment but did not receive a response in time for publication.