HHS Secretary Alex Azar Calls Governors' Vaccine Rollout Criticism 'Completely Misleading'
Secretary of Health and Human Services (HSS) Alex Azar fired back at governors who accused the Trump administration of failing to provide a promised stockpile of new vaccine doses this week.
"The letter and assertions of several Democratic governors are completely misleading and are a debasement to the exceptional partnership the President, Vice President, and I have built with the nation's governors," Azar tweeted Saturday.
Azar's comments come after several governors on Friday accused the HHS secretary of deceiving them about how many vaccine doses they could expect in the near future.
On Tuesday, Azar told states that the government was releasing a stockpile of new doses to increase inoculation efforts, leading governors to believe that meant it would be a boost in weekly supply shipments.
In reality, the stockpile consisted only of vaccines meant as second shots for people who had already received their first dose, which the government began releasing at the end of December.
Once states realized these shipments were only for second doses, and would not help expand vaccination efforts to new groups of people, the criticisms followed.
"States will not be receiving increased shipments of vaccines from the national stockpile next week, because there is no federal reserve of doses," Oregon Governor Kate Brown, said Friday on Twitter.
"I am shocked and appalled that they have set an expectation on which they could not deliver, with such grave consequences," she tweeted. "This is a deception on a national scale."
Michigan Governor Gretchen Whitmer, Wisconsin Governor Tony Evers, and Minnesota Governor Tim Walz wrote a letter to Azar late Friday calling the Trump administration's rollout "botched."
"It has become abundantly clear that not only has the Trump administration botched the rollout of the safe and effective COVID-19 vaccine, but also that the American people have been misled about these delays," the governors wrote.
The governors went on to urge Azar to give them permission to directly purchase vaccines from a supply of "millions of doses" that Pfizer has on hand.
"If you are unable or unwilling to give us that supply, we urge you to grant permission for us to directly purchase vaccines so we may distribute them to the people of Michigan, Wisconsin, and Minnesota as quickly as possible," they said.
"Without additional supply or authorization to purchase directly, our states may be forced to cancel plans for public vaccination clinics in the coming weeks, which are expected to vaccinate tens of thousands," they added.
In defense of these criticisms, Azar tweeted Saturday that the administration's efforts were "completely clear and transparent," and accused the governors of distracting "from their own distribution failures."
Azar, who submitted his resignation from the government to go into effect on Inauguration Day, has previously applauded the Trump administration and blamed states for the slow rollout of vaccines.
On Tuesday, he accused states of obstructing "speed and accessibility of administration," by limiting eligibility of those who can receive the shot.
"There was never a reason that states needed to complete vaccinating all health care providers before opening vaccinations to older Americans and other vulnerable populations," he said.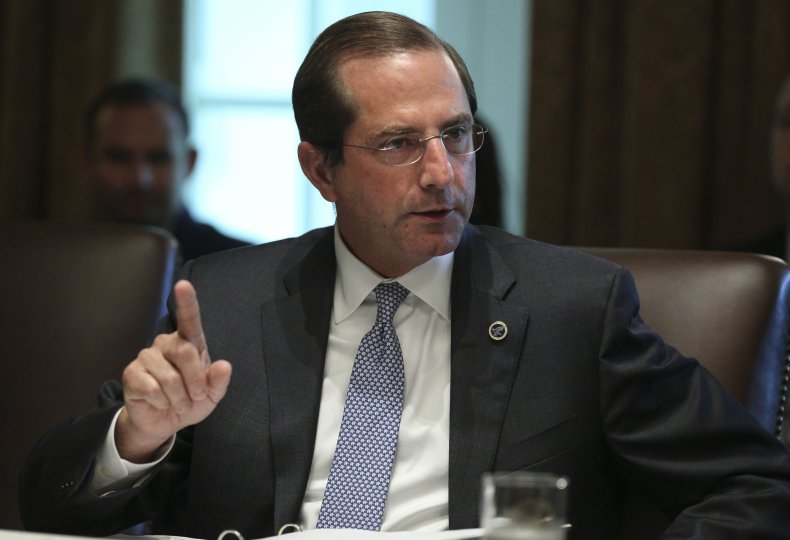 As of Thursday morning, 11.1 million vaccine doses of the 30.6 million distributed in the U.S. had been administered, according to the Centers for Disease Control and Prevention (CDC).
Health care experts told Newsweek that so far, vaccine rollout in the U.S. has been "extremely poor."
"The COVID-19 vaccine roll-out has been much slower than needed in the midst of a terrible pandemic and needs to be urgently scaled-up," said William Moss, director of the International Vaccine Access Center Executive at the Johns Hopkins Bloomberg School of Public Health.
The Trump administration aimed to deliver 300 million COVID vaccine doses, and have at least 20 million Americans vaccinated by the end of January—a number that has fallen massively short.
Newsweek reached out to Azar for additional comment, but did not hear back in time for publication.