HHS Secretary Says It's 'Safe' to Go Back to School, if We Put Our Mind to It
Department of Health and Human Services Secretary Alex Azar on Wednesday suggested that it's "safe" to get back to school, if Americans can set their mind to it.
During a recent appearance on CNBC's Squawk Box, Azar was asked by co-host Joe Kernen how schools across the country will be able to "thread the needle" and continue to reopen with a combination of the new coronavirus and the upcoming flu season in the fall and winter.
"Listen, we believe it's safe to get back," Azar said, while adding comments from Centers for Disease Control and Prevention Director Robert Redfield who encouraged the return of children to schools. "Being in a physical school environment is vital for our kids, for their physical well-being, their emotional and mental health and also nutrition services."
Azar continued, "It could be done, we just have to set our mind to it," before outlining the "three W's of public health," which include washing hands, watching distance to others and wearing a protective face mask.
"We've got guidance out for schools on how to set up the school environment for social distance, how to rotate the teachers instead of the kids, bring food to the kids instead of having them congregate in cafeterias, cohort the kids, cohort transportation," Azar said. "This can get done, we can keep our kids safe, we can keep our teachers safe."
Azar also noted that while there are a number of mitigation efforts and guidelines in place to combat the virus, Americans should continue to assess their own vulnerability, "but we believe we can be back to school, we can be back to work, back to health care, if we just practice basic common sense of public health."
Azar's comments come as schools across the nation continue to reopen, either conducting in-person classes, online instruction, or a hybrid of both options. According to data compiled by Edweek.org, only four states have ordered in-person instruction, while a majority have left the decision up to their local school districts and health authorities, on whether to proceed with online instruction or hold in-person classes.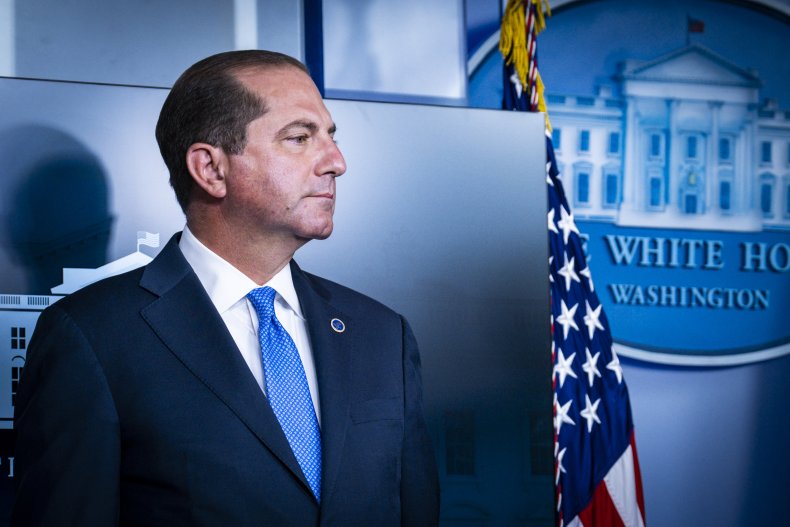 A number of colleges have also reopened across the country, and a new study shows that reopening these higher education institutions for in-person classes has led to over 3,000 coronavirus cases per day.
The study, which was conducted by researchers at the University of North Carolina at Greensboro, Indiana University, the University of Washington and Davidson College, found that resuming in-person classes at colleges led to a minimum of 1,100 new cases per day and a maximum of 5,300. This study has yet to be peer reviewed but has been submitted to JAMA.
Newsweek reached out to the Department of Health and Human Services for comment but did not receive a response in time for publication.