Health and Human Services Secretary Alex Azar defended America's decision to evacuate its citizens from Wuhan, China, because of the coronavirus outbreak, despite the World Health Organization's (WHO) disagreement with the move.
"We will take all steps we feel necessary to protect American citizens," Azar said during a press conference Tuesday.
To prevent the spread of the novel strain of coronavirus, officials closed off transportation into and out of Wuhan, where the virus originated. Along with Chinese citizens, foreign nationals were locked inside the city, prompting at least three countries to consider making arrangements for their extraction.
Located within the confines of Wuhan is the U.S. Consulate General, and on Tuesday personnel and their families, as well as a limited number of private citizens, were set to be evacuated on a single flight to San Francisco.
During a meeting with authorities in Beijing, WHO Director-General Tedros Adhanom Ghebreyesus said he didn't support the evacuation of foreign nationals, according to Reuters. He explained that he was confident in China's ability to control the virus' spread and urged people to remain calm.
When asked about Tedros' opposition to evacuation during a press conference on Tuesday, Azar said he wasn't aware of the critique from his "good friend." As for removing consulate personnel and their families, Azar told reporters the United States will do what's necessary to protect Americans.
"We have an excellent relationship with WHO. This is what we do, we work constantly together," Azar said. "I have great confidence in WHO and our constant collaboration together to deal with emerging infectious-disease threats."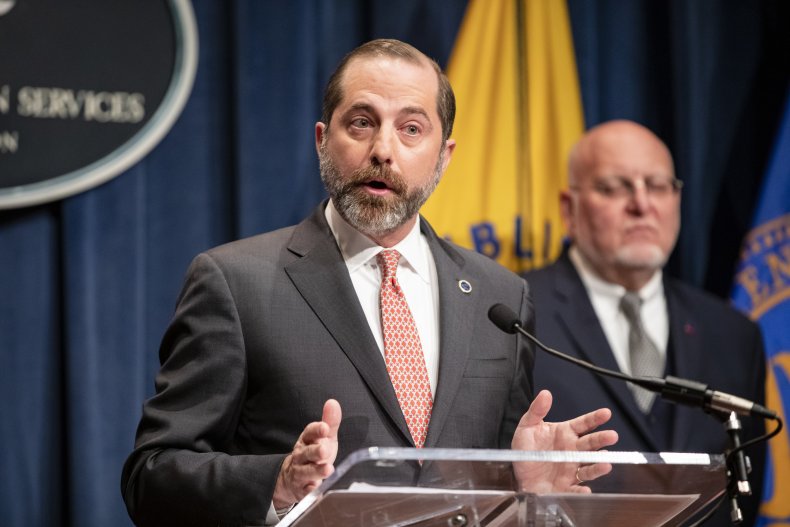 Newsweek reached out to the WHO and the Department of Health and Human Services but did not receive a response in time for publication.
Ahead of Tuesday's flight, the State Department said on Facebook it anticipated there wouldn't be enough room on the plane for every American citizen in Wuhan. Private citizens interested in the transport were encouraged to contact the U.S. Embassy in Beijing via email. Priority was given to personnel and their families, followed by private citizens who were at "greater risk" from the coronavirus.
Among the passengers on the plane will be Priscilla Dickey, 35, and her 8-year-old daughter, Hermione, according to the Associated Press. While she makes her way back to the United States, San Francisco native Doug Perez is remaining in China because his girlfriend, a Chinese citizen, wouldn't be able to secure a spot on the plane.
"A lot of foreigners are stuck here," Perez told the AP. "There is no way on earth many of us, including myself, are going to leave our loved ones."
Physicians were set to be on the flight from Wuhan to San Francisco, according to Azar, and once the passengers are back in the United States, measures will be taken to ensure they don't transmit the virus. Those measures will include putting them under consistent evaluation and screenings.
"We will be heavily engaged with that flight and the transport of those individuals," Azar said.
As of Sunday, there were five cases of the new coronavirus strain in the United States. Every case involved someone who recently traveled to Wuhan, and Azar urged Americans to manage their concerns.
Although it was a "potentially very serious public health threat," he said that Americans didn't need to "worry for their own safety" because of the lack of human-to-human transmission cases in the U.S.
"The risk to any individual American is extremely low. We're taking aggressive action, but to the individual American this should not be an impact on day-to-day life," Azar said.