Hideki Matsuyama Wins 2021 Masters Tournament With Late Round Drama
Hideki Matsuyama won the 2021 Masters on Sunday in a final round that never was that close until the very end, when there was a little bit of late drama on the final four holes. Matsuyama staved off a comeback by Xander Schauffle and eventually won his first green jacket by one stroke over American Will Zalatoris.
It's the first major win for Matsuyama, the Japanese golfer who won the low amateur division at Augusta National Golf Club 10 years earlier, and who had only five PGA victories heading into this year's Masters. He shot 1-over par 73 on Sunday, giving him 10-under for the tournament.
He became the first Japanese player to win the major title.
Matsuyama went into Sunday with a four-stroke lead over a quartet of players tied for second. Though the competition shuffled behind him, Matsuyama played his own game against the course, shooting an even par 72 in the final round.
Matsuyama bogeyed the first hole on Sunday, but then made birdie on the second to maintain his lead. He drained a par for a save on the fifth hole, narrowly missed a couple of birdie opportunities on the sixth and seventh and then made birdie on the eighth to stretch his score to 12-under.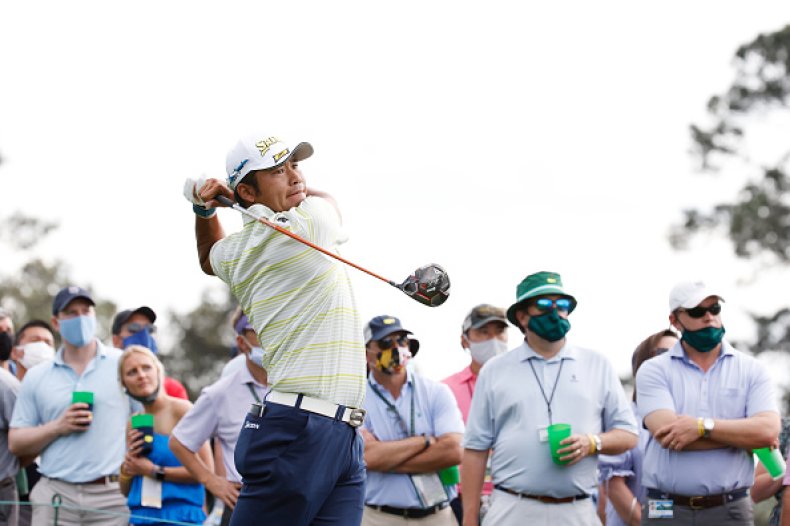 Xander Schauffle bogeyed the third and fourth holes, and then found himself in a mess on the sixth when his tee shot landed in some pine straw near some brushes, which made his second shot rather difficult. He skipped the ball away, maybe 40 yards or so. His next shot went into the bunker, and his fourth shot didn't leave the bunker either. He ended with a double bogey on 6, dropping him to 4-under par at the time.
Just when it looked like Schauffle was spiraling out of contention, he made birdie on the seventh and eighth holes to get back to 6-under, and within striking distance. He got hot, making birdie on holes 12, 13 and 14 to get back to within four strokes of Matsuyama with four holes remaining.
On the 15th, Matsuyama drove his second shot into the water while Schauffle hit a bunker. After getting a drop, Matsuyama nearly made it to the green. He two-putted for a bogey, which brought him back to 12-under. Schauffle's bunker shot nearly sank, and he made birdie to bring him to within two shots of Matsuyama.
Things reciprocated on the 16th hole as Schauffle's tee shot went into the water and Matsuyama's landed on the par-3 green. Schauffle shot again from the tee box, this time sending the ball through the green and into a crowd of seated spectators. Schauffle made triple bogey to bring him back to 7-under for the tournament and Matsuyama just missed a par, settling for a bogey and 11-under score and two stroke lead over American Will Zalatoris.
Zalatoris birdied on the 15th and 17th to get to 9-under, just three shots back from the lead at the time. He made a remarkable putt to save par on the 18th, which had him in second place when he finished and with Matsuyama two holes left to play.
Matsuyama then made bogey on the final hole. He gets his green jacket presented to him by Dustin Johnson, the 2020 winner who missed the weekend cut in 2021. Johnson is the 11th champion to ever miss the Masters weekend cut.
American Jordan Spieth had an up-and-down day, but he found rhythm in the back nine. He birdied on 10, 13, 14 and 17 to get back to 8-under for the tournament. He bogeyed the final hole, however, to finish 7-under and a fourth-place finish.
Britain's Justin Rose, who led after each of the tournament's first two days, shot 2-over par Sunday to finish at 5-under for seventh place. Spain's Jon Rahm shot 6-under par Sunday to finish 6-under for the tournament, tied for fifth with Australia's Marc Leishman.
Here are the final Masters 2021 top 10 results:
-10 Hideki Matsuyama (Japan)
-9 Will Zalatoris (USA)
-7 Jordan Spieth (USA)
-7 Xander Schauffle (USA)
-6 Jon Rahm (Spain)
-6 Marc Leishman (Australia)
-5 Justin Rose (England)
-4 Patrick Reed (USA)
-4 Corey Conners (Canada)
Full results