HidrateSpark Steel Review: Water Tracking Made Easy
In a moment of optimism, I downloaded a calorie tracking app to monitor the food and water I was consuming. I wanted to see what correlations there were between what I was eating and drinking and how I was feeling. That experiment only lasted a week. The results were interesting but less than the amount of effort it took to continually input the data. If you don't have health concerns that require constant tracking, the manual process of recording food and water is still just too time-consuming.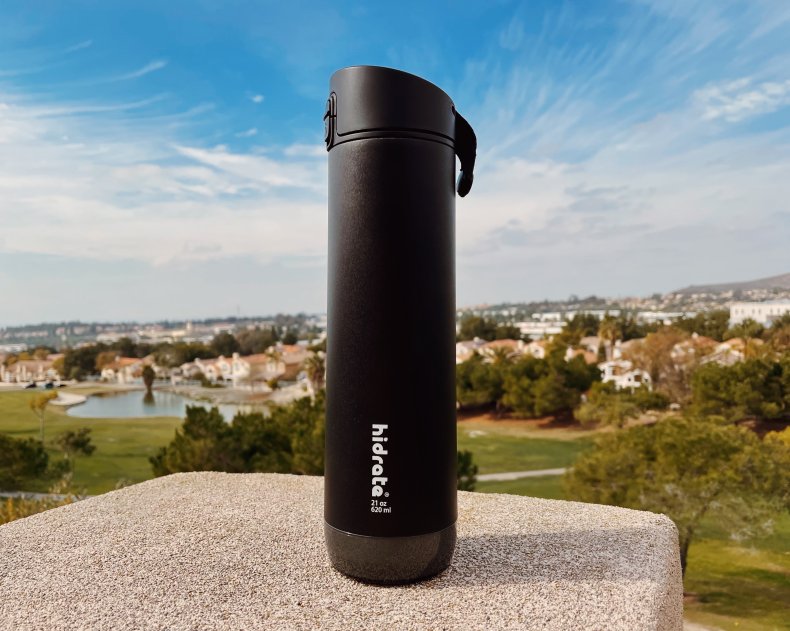 All hope was not lost in my endeavor, however. While there's not any way I know of to track food automatically, without constant input, there is a way to do so for water. The HidrateSpark Steel is the company's latest effort to help consumers become water aware and stay hydrated throughout the day.
For someone interested in tracking their consumption, I wondered whether this option would keep me engaged or whether it would turn into another job.
Setup and Design
The HidrateSpark Steel may have some superpowers in water tracking, but it looks like any other regular water bottle. The promotional pictures tend to show it lit up and shining its light, but most of the time, the water bottle doesn't draw much attention to itself. That's a good thing.
I've used a fair amount of water bottles over the years, and the Spark Steel compares pretty well. It has an easy on and off lid, which only needs a half turn to lock on. The chug-style lid has a good-sized opening. Unfortunately, the water bottle itself still has a few flaws. The push-button to open the lid is very easy to accidentally slide into the lock position. Plus, the rubber bottom where the battery goes makes it a little wobbly. The flaws are minor, but it just means that without the smart tracking, this bottle is not worth the $60 to just drink water out of.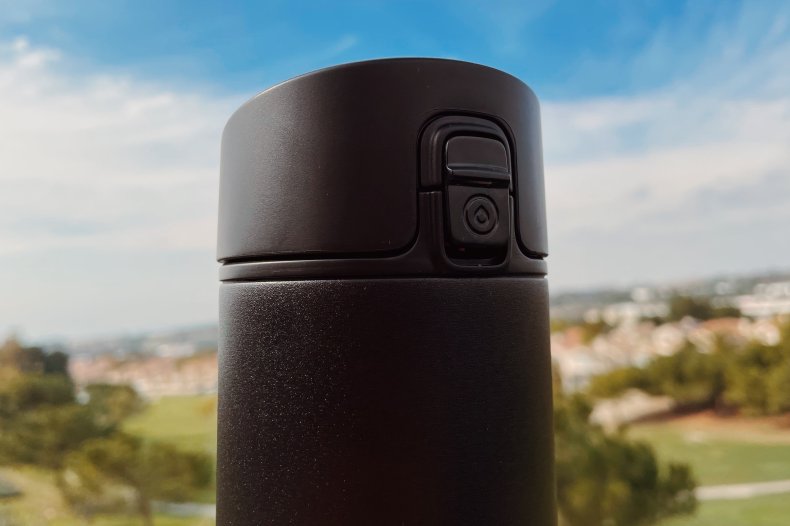 Compared to the other HidrateSpark 3, the Steel edition adds insulation, so the water stays colder for longer, an advertised 24 hours. The Steel also adds a rechargeable battery instead of using a coin cell battery.
Setting up the Steel was fairly straightforward and only took a few minutes. The setup included inserting the battery into the bottom, downloading the app, connecting the bottle, and calibrating it. (You also need to rinse and wash the bottle before using it the first time, but that's true of any water bottle.)
Features and Specs
HidrateSpark's advertised specs:
Sensor puck tracks water intake, syncs via Bluetooth
HidrateSpark App for iOS and Android
Rechargeable Battery with included fast charging cable
Stainless Steel vacuum insulated keeps drinks cold for up to 24 hours
BPA Free
Sizes: 17 oz / 500 ml or 21 oz / 620 ml
Clinically proven accuracy (within 3% of manual readings through Mayo Clinic trials)
Straw or chug lids interchangeable between bottles
Lids are dishwasher safe (All bottle bodies are hand wash only)
Performance
The HidrateSpark Steel performed just fine as a water bottle. As expected, there was no exterior sweating from cold water, and the water stayed chilled. Of course, the Steel blinks regularly to get you to drink throughout the day, so you might not have a chance to test if it can actually keep water cold for 24-hours. The real value here is not the bottle itself; it's the smarts baked in to track your water consumption.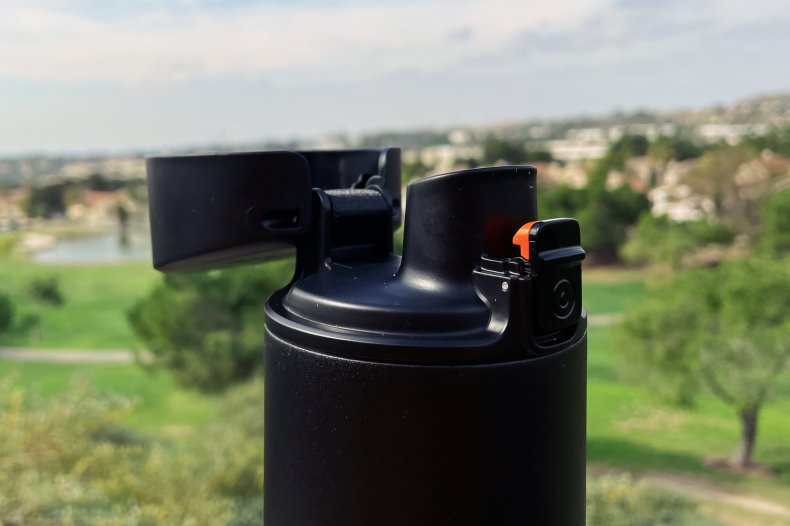 After setup, the Steel began syncing water consumption right away. It takes about 5-10 seconds between gulping water and when the amount you've drunk shows up in the app. HidrateSpark also has an Apple Watch app that can display your progress right on your wrist — it's great.
The app's design leaves something to be desired, but it functions just fine. The focus in the app is each day's target amount. It also highlights how long your streaks are going. You can change the color that the bottle glows and see battery life. One improvement that would be nice to see is a bigger battery indicator. Right now, it's pretty hard to tell whether the icon means you have one day of battery life left or four days. Battery life is rated somewhere around 12 days, and I found that to be true.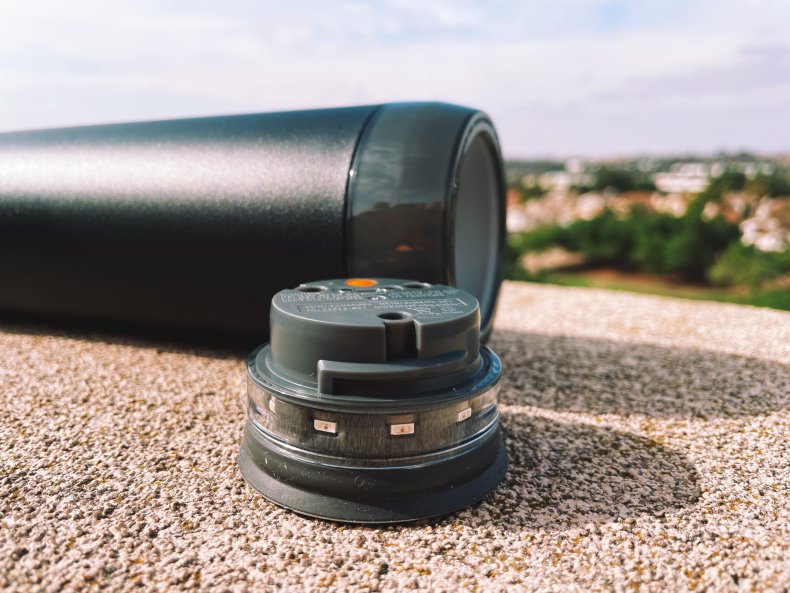 I tried the app's friend tracking with my wife, and it was neat, but overall I'm not sure how many people will find themselves knowing a lot of people that also have a HidrateSpark bottle. The feature is likely to go unused. Instead, it would be nice to see more focus on education in-app for why getting to certain water milestones each day is important for health. I could also see better sharing of graphs and data in fun, Instagram-friendly cards might be a better way to focus on the social aspect.
In terms of gamification, there are a lot of digital trophies in the app, but there might be too many congratulations because I found myself ignoring those very quickly.
After the first week of tracking my water consumption, I discovered what I could have guessed ahead of time. I don't drink enough water. Admittedly, a lot of my dehydration has been a result of the inconvenience drinking plenty of water imposes. Not only do you constantly need to use the restroom, but you also need to continually fill up a water bottle.
The Spark Steel did ultimately end up helping me drink more water, but not enough to reach the recommended daily amounts. The bottle tries its hardest with the blinking light and app notifications on your phone, but as a casual water enthusiast, it got to be a little annoying.
What I have been impressed with is the actual tracking technology. The amounts were very accurate as far as I can tell, and it always synced quickly. As great as it is that the bottle tries to keep you motivated, I think the most compelling aspect is the actual water tracking. There aren't very many products on the market to do this, and so it's important that the ones that can do it work well. The HidrateSpark Steel works well.
Apple Watch will track your activity, heart rate and even sleep. There are connected scales. A lot of the pieces are in place to get an accurate reading on your personal health right from your home, and one key piece is knowing how much water you drink. It seems like that's the role the Steel can fill right now — and it does it.
Should You Buy A HidrateSpark Steel?
If you're serious about tracking your daily water intake — or at least semi-dedicated to it — the HidrateSpark Steel is a great buy. It's an easy way to work on your daily health without much effort.
The caveat is that, like any health tracking, it's not completely effortless. If you're not at least a little interested in tracking your water consumption, there's probably no product that can help you in this area. As easy as the HidrateSpark is to use, it still takes a little work. The Steel will need to be recharged regularly, and tracking water requires you to be tied to one water bottle all the time. But, for those that want a way to see their daily hydration, this is the one to get.
Buy at HidrateSpark, Staples and Amazon.
Newsweek may earn a commission from links on this page, but we only recommend products we back. We participate in various affiliate marketing programs, which means we may get paid commissions on editorially chosen products purchased through our links to retailer sites.