The High and Low of Sports in 2015 (Part 1)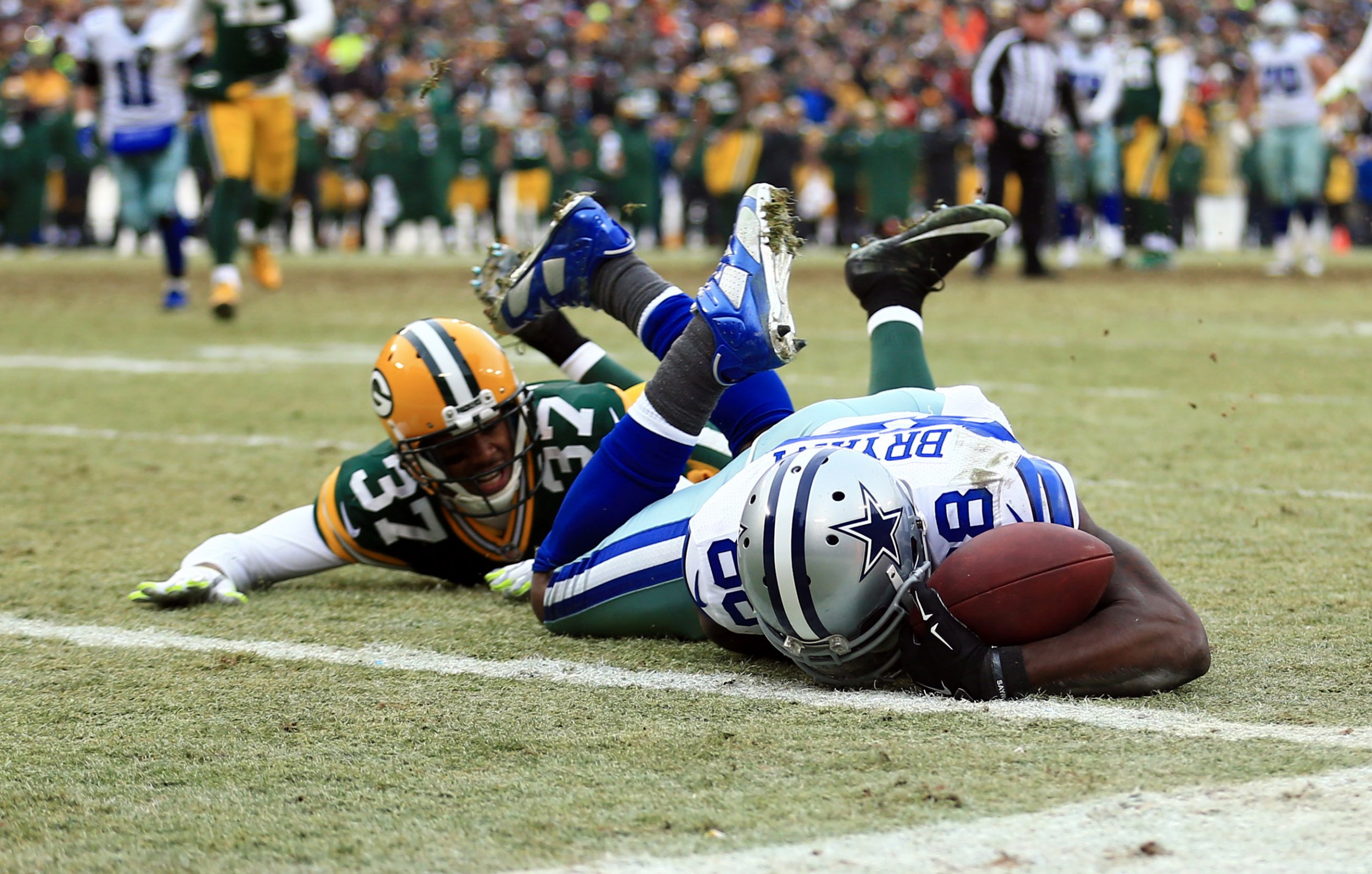 The only surprise remaining in sports is that we are continually surprised by what transpires. Man's—and woman's—constant quest to achieve victory and, in a sense, immortality on the fields of play leads to a panoply of bizarre moments. Behold: a roundup of the sublime and ridiculous in 2015 sport, Part 1.
January
The Round Mound of Touchdown
In the Cotton Bowl on New Year's Day, 6-foot-8, 403-pound Baylor offensive lineman LaQuan McGowan lines up at tight end and nimbly catches an 18-yard touchdown pass. The "Fat Guy Touchdown" puts the Bears up 41-21 after three quarters. Michigan State gets the last laugh, however, scoring the game's final 21 points to win 42-41.
The Woes Bowl
Playing at the same Pasadena venue where it had won a national championship 360 days earlier, Florida State implodes in the second half of the Rose Bowl against Oregon. The Seminoles commit four second-half turnovers, the most egregious of which is an unprompted fumble by former Heisman Trophy winner Jameis Winston that the Ducks return 58 yards for a touchdown. Oregon scores the game's final 34 points in a 59-20 win that ends the Seminoles' 29-game win streak.
What Is a Catch?
An otherwise thrilling NFC playoff game between the Dallas Cowboys and Green Bay Packers at Lambeau Field is marred by confusion over whether Cowboys wide receiver Dez Bryant actually caught this pass late in the fourth quarter. While fans think of a reception the way they do porn—they know it when they download it—the NFL Rules Committee is still figuring it out. Green Bay wins.
All Is (Not) Lost
Former Miami Dolphins running back Rob Konrad washes ashore in Palm Beach, Florida, claiming that he fell off his boat while fishing solo and survived more than 12 hours at sea. Is it a fish story? Can't be: He's a Dolphin, and dolphins are mammals.
All Is (Not) Lost, Part 2
In the third quarter of the NFC Championship Game, the Seattle Seahawks trail the Green Bay Packers 16-0, a deficit from which no team has ever recovered in a conference title game. The Seahawks score a touchdown on a fake field goal and then recover an onside kick when the Packers' Brandon Bostick whiffs when attempting to snatch it in midair (his job on the play was to block and let the ball get caught by a teammate with surer hands). Seattle wins in OT; the Packers cut Bostick one month later.
Feat of Klay
He may only be the second-best guard on the Golden State Warriors, but Klay Thompson explodes for 37 points against the Sacramento Kings—in the third quarter. Thompson's NBA-record quarter includes 13 of 13 shooting from the field, and nine of those shots are three-pointers. He finishes with 52 points.
Quote-worthy
"I'm just here so I won't get fined." —Interview-averse Seattle Seahawk running back Marshawn Lynch, at Super Bowl XLIX Media Day
February
Left Shark Goes Viral
Super Bowl halftime performer Katy Perry is overshadowed by one of two dancing sharks behind her, who moves his dorsal fin to his own beat.
Pelican Briefly
The NBA season is an arduous, 82-game, 5½-month trudge. One outcome does not a season make. Still, the New Orleans Pelicans and Oklahoma City Thunder finished in an eighth-place tie at 45-37, but New Orleans advanced to the playoffs. What if Anthony Davis had not buried this buzzer-beating, double-pump three-pointer to beat OKC? We might have been treated to a first-round matchup between Stephen Curry and Russell Westbrook.
What's Dutch for 'Epic Fail?'
In baseball you can swing and miss twice before there are dire consequences, but not so in soccer. Particularly if you are the goalkeeper. Dutch keeper Mickey van der Hart whiffs on this clearance in the 88th minute of a 1-1 game between his team, Go Ahead Eagles, and Netherlands powerhouse Ajax. The game ended 2-1.
March
East-to-Westbrook
No one goes coast-to-coast quite like Oklahoma City Thunder guard Russell Westbrook. If the question is, Who's the NBA's most gifted athlete?, this video from a March 4 game against the Philadelphia 76ers may provide the answer.
Helicopter Tragedy
Two Olympians, swimmer Camille Muffat and boxer Alexis Vastine, are among eight French casualties when two helicopters collide in Argentina while filming the Survivor-inspired reality show, Dropped. Two-time gold medalist swimmer Alain Bernard steps off one of the helicopters moments before takeoff to avoid overloading it and is spared.
Viva la PSG!
Playing with just 10 men after striker Zlatan Ibrahamivoc is red-carded in the 30th minute, Paris St-Germain is more than equal to the task, ousting Chelsea in the UEFA Champions League round of 16. The Parisian club needed a draw in the second leg of the home-and-home series in order to advance. Twice, with four minutes remaining in regulation and with six remaining in extra time, they recover from one-goal deficits to pull even and ultimately advance.
Kyrie Explodes
In what is easily the most entertaining game of the 2014-15 NBA season, Kyrie Irving of the Cleveland Cavaliers goes off for 57 points against the San Antonio Spurs in a 128-125 overtime win. Irving scores nine points in the final minute of regulation, including a buzzer-beating fadeaway three to knot the score at 110-110, and 11 more points in overtime. TNT courtside commentator Charles Barkley says, "This is one of the best NBA games I've seen in person—ever."
Night of the Hunters
Fourteenth-seeded Georgia State upsets No. 3 seed Baylor in the NCAA hoops tournament as R.J. Hunter buries a game-winning three-pointer with 2.7 seconds remaining. Hunter's shot causes his coach, and father, Ron Hunter, to fall off his rolling stool. Why is the elder Hunter seated on a rolling stool? Because he tore his Achilles tendon one week earlier while celebrating Georgia State's victory in its Sun Belt Conference tournament final.
April
Wooden, You Know It
In his 10th trip to an NCAA championship game in women's basketball, Geno Auriemma leads the Connecticut Huskies to their 10th national championship under him. The only other college basketball coach to go 10-0 in national title contests? John Wooden of UCLA.
Spieth Easy
At Augusta, 21-year-old Jordan Spieth earns his first green jacket by shooting 18 under par, tying a record for the Masters tournament.
On Easter, Cristiano Rises
Real Madrid striker Cristiano Ronaldo celebrates Easter Sunday by scoring five goals in a 9-1 trouncing of Granada. Three of Ronaldo's five goals are scored within an 8-minute span, which borders on miraculous, but then Ronaldo is a soccer divinity.
What the F***?
Cincinnati Reds manager Bryan Price carpet F-bombs the media in a five-minute rant in which the infamous four-letter term is used 77 times. Price's fuster-cluck is aimed at a beat writer reporting that catcher Devin Mesoraco, who is injured, is not traveling with the team.
Big, if Not Easy
In Game 3 of a first-round NBA playoff series, Golden State trails New Orleans by 20 points to begin the fourth quarter. League MVP Stephen Curry leads the comeback, which includes burying a three-pointer from the corner that defies the laws of trigonometry, to force overtime. The Dubs win in OT as Curry finishes with 40.
Take Me Out of the Ballgame
In Baltimore, the Orioles host the White Sox in a weekday matinee for which the attendance figure is zero. The gates are not open to fans due to security concerns related to civil unrest in the wake of the death of Freddie Gray, but the contest still features the national anthem, scoreboard music and ball girls along either foul line to chase down foul balls. The Orioles win 8-2 in a game that lasts just 2 hours and 3 minutes.
And the Jets Select Adele Dazeem
With the second pick in the NFL draft, the Tennessee Titans select Heisman Trophy–winning quarterback Marcus Mariota. Except that NFL commissioner Roger Goodell pronounces it, "Marcus Marioto." Goodell phones Mariota 30 minutes later to apologize.
May
Mean Tweets
ESPN announces the termination of Bill Simmons, the most influential sports media figure of this millennium, via a tweet by New York Times media critic Richard Sandomir. The tweet appears at 7:21 a.m. PT on a Friday morning in California, where Simmons resides.
Early Checkout
The Milwaukee Bucks physically show up to play the Chicago Bulls in an elimination game in their first-round NBA playoff series, but their minds are elsewhere. Playing at home, the Bucks lose 120-66. It is the largest margin of defeat in an NBA playoff game in 59 years, when the St. Louis Hawks lost 133-75 to the Minneapolis Lakers in 1956,
Joyride
During practice at the Indianapolis 500, three-time Indy 500 winner Helio Castroneves touches the wall. Castroneves's car turns backward and then flips upside down, but the brazen Brazilian is unhurt—and relatively unfazed—when his vehicle lands on its tires.
LeBron Goes Jimmy Chitwood
With the score knotted at 84-84 and 1.5 seconds remaining in Game 4 of the playoff series between the Cleveland Cavaliers and Chicago Bulls, first-year Cavs coach David Blatt draws up a play…a play in which LeBron James inbounds the ball. "To be honest, the play that was drawn up, I scratched it," James will say minutes later after burying the game-winning shot. "And I just told coach, 'Just give me the ball.'"
Don Draper Revs Up
The opening scene of the series finale of Mad Men puts Don Draper behind the steering wheel of a 1970 Chevy Chevelle SS, taking the speedometer well past 100 mph on the Bonneville Salt Flats in Utah.
This Bird Has Flown
The world's most fearless and famous rock-climber and BASE-jumper, Dean Potter, plunges to his death in Yosemite National Park. Wearing wingsuits, Potter, 43, and Graham Hunt, 29, launch themselves from Taft Point, a 7,500-foot promontory, just before sunset. Both men strike a rocky ledge while attempting to navigate through a notch in the ridge line.
FIFA Fo Fum
In a scene out of a spy novel—or a Coen Brothers film—the annual meeting of FIFA, soccer's international governing body, at the Baur au Lac hotel in Zurich is interrupted by the arrests of seven of its officials. All face extradition to the United States. Jack Warner, a former FIFA potentate, will later proclaim his innocence while citing a story from The Onion to validate his claims.
Messi Mastery
In a month that sees Catalan soccer power F.C. Barcelona win both La Liga and the Copa del Rey, Lionel Messi scores a goal in the final of the latter that bends credulity. The impish Argentine, surrounded by four defenders, navigates through them and calmly strokes a shot into the net.
June
Allies Advance
A United States ground force enjoys its most triumphant week in Western Europe since World War II, as the U.S. men's national soccer team defeats both Holland and Germany on their respective home pitches. Bobby Wood, a 22 year-old from Hawaii who was not on the Yanks' 2014 World Cup roster, scores the game-winning goal in both matches.
Tiger, Tiger, Burning Blight
Tiger Woods shoots 80 in the opening round of the U.S. Open. It is the worst round Woods, a three-time U.S. Open champion, has ever shot at this tournament. It is also the third round of 80 or above Woods has shot this year. He entered 2015 having eclipsed 80 just once.
Dustin, Off
On the 18th green, in the final round of the U.S. Open at Chambers Bay in Washington, Dustin Johnson is just a 12-foot putt away from winning his first major. He misses. Fine. Johnson is still just a four-foot putt away from forcing an 18-hole Monday playoff with Jordan Spieth. He gaks that, too. Johnson's father-in-law, Wayne Gretzky, was much better in clutch situations.
He Was Our MVP
After All-Star teammate Kyrie Irving fractures his kneecap in overtime of Game 1 of the NBA Finals, LeBron James carries the Cavaliers on his sizable shoulders. King James led all players in points per game (35.8), rebounds per game (13.3) and assists per game (8.8), but he is denied the Finals MVP trophy—likely because the Warriors win in six games. James is the first player in NBA history to lead in all three statistical categories during an NBA Finals.
Mad, Max?
One out—check that, one strike!—away from a perfect game, Washington Nationals ace Max Scherzer uncorks a slider that sails slightly inside, off the plate, and Pittsburgh Pirates batter Jose Tabata makes no effort to avoid it. The pitch clips Tabata on the left elbow and he is awarded first base. One batter later, Scherzer gets the first no-hitter of his career, but not the 24th perfect game in Major League history.
Dad Bod, Meet Dad Hands
Father and Cubs fan Keith Hartley makes an incredible one-handed catch of a foul pop while holding his infant son, at Wrigley Field. Steve Bartman, take note: It's OK to interfere with fielders when the Cubbies are at bat.
Diddy Do It?
Rapper-mogul Sean Combs, alias P. Diddy, is arrested after a physical confrontation with UCLA strength coach Sal Alosi. Earlier Alosi had kicked Diddy's son, Justin Combs, out of practice due to a lack of effort. Diddy also allegedly swung a kettlebell at an intern (Note: Two months later Calvin Broadus, an incoming freshman for the Bruins and the son of rapper Snoop Dogg, will quit the team).