High blood pressure in a person's mid-30s has been linked to poor brain health decades later, according to scientists trying to find ways to prevent conditions such as dementia.
Researchers looked at data on 5,362 people who signed up to the Medical Research Council National Survey of Health and Development study. The participants were born in 1946 in the U.K. in the same week, and were evaluated 28 times from childhood. This included giving blood pressure measurements from the age of 36. Of the total, 465 participants who did not have dementia had brain scans and underwent cognitive testing at around the age of 70.
Professor Jonathan Schott of the UCL Queen Square Institute of Neurology who led the study published in the journal The Lancet Neurology told Newsweek: "We found that having higher blood pressure—and rising blood pressure—from the ages of 36 to 52 was the period that had most impact on brain health as measured using these brain scans—even in cognitively healthy individuals."
"Having higher, and rising, blood pressure influenced the amount of cerebrovascular disease (bloodvessel damage in the brain) and brain shrinkage, both indicators of poorer brain health. High blood pressure wasn't linked to the build-up of the core Alzheimer protein, amyloid, or changes in memory and thinking—but we need to study this further over longer periods," he said.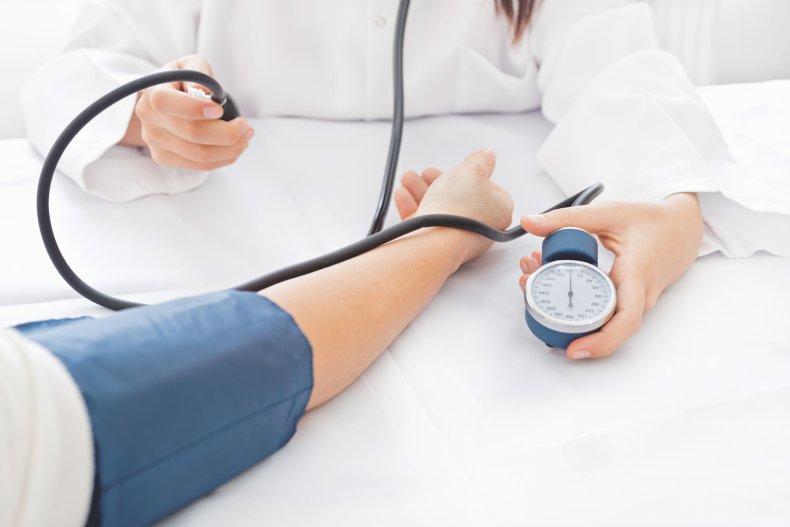 According to the World Health Organization, around 50 million people have dementia, with this figure predicted to hit 152 million by 2050. The term describes a condition where a person's memory, thinking skills and ability to perform day-to-day activities deteriorates. Alzheimer's is the most common form of dementia.
Schott continued: "Evidence suggests that around 30 percent of dementia may be preventable. We know that high blood pressure is a risk factor for dementia—and one which may be treatable. What is less clear is when during life having high blood pressure confers most risk and and how high blood pressure leads to dementia."
The findings suggest that higher blood pressure in mid-life can influence brain health four decades later. Targeting blood pressure from the age of 40 and perhaps even earlier "is important not just to prevent heart disease, but also to maintain cognitive function in older age," he said.
Paul Leeson, Professor of Cardiovascular Medicine at the University of Oxford who was not involved in the study commented: "We have known for some time that people who have higher blood pressure tend to have different brain structure in later life. What doctors have been debating is whether treating high blood pressure in young people actually prevents these brain changes. The alternative, which is what we tend to do right now, is wait until later in life to start to take high blood pressure seriously because we know that, by then, the more severe brain changes are definitely developing.
Critiquing the work, he said: "The group taking part is relatively small so it is difficult to make strong conclusions, and this new paper is not a trial, so we still do not know whether treating the high blood pressure when the participants were younger could have prevented these differences in the brain.
"However, the findings do support the idea that there may be critical periods in life, such as in your 30s and 40s, when periods of high blood pressure are accelerating damage within the brain."
Professor Tara Spires-Jones, U.K. Dementia Research Institute Programme Lead and Deputy Director, Centre for Discovery Brain Sciences, University of Edinburgh, commented: "This study is well conducted and adds to what we know about how blood pressure affects the brain during aging.
"This study does not directly support a link between blood pressure and Alzheimer's disease as the scientists did not see any associations between blood pressure and cognitive ability or the accumulation of Alzheimer's related amyloid pathology. However, this study does strongly support the notion that taking good care of ourselves in mid-life is important for maintaining a healthy brain during aging."
James Pickett, head of research at the Alzheimer's Society commented: "We know what's good for the heart is good for the brain, this research shows that it is never too early to start thinking about you can do to maintain healthy blood pressure – from eating a balanced diet to avoiding smoking and excessive drinking. Another good place to start the conversation for people over the age of 40 is with an NHS Health Check with a health professional every five years."
About the writer
Kashmira Gander is Deputy Science Editor at Newsweek. Her interests include health, gender, LGBTQIA+ issues, human rights, subcultures, music, and lifestyle. Her work has also been published in the The Independent, The Independent on Sunday, The i Newspaper, the London Evening Standard and International Business Times UK.