A new health insurance plan offered in Ohio through the Affordable Care Act exchanges (aka. Obamacare) provides a dramatic look at the pitfalls of the high-deductible health plans often aimed at lower-income families, revealing the financial barrier to actually receiving care.
In June, New York's Oscar Health, a tech-focused insurance company co-founded by Josh Kushner—brother to President Donald Trump's son-in-law Jared Kushner—announced plans to sell health insurance in expanded markets, including Florida, Arizona and Michigan, plus large metro areas in Ohio, Tennessee and Texas. While shopping for insurance coverage for himself, his wife and a 10-year-old child, Columbus-area web-comic creator Drew Fairweather, 39 and a nonsmoker, came across one of their new offerings on the exchange:
(A subsequent tweet corrected the claim that Oscar Health is a Jared Kushner company, correctly attributing it to Josh instead.)
With a sky-high deductible of $15,800, the plan could see families spending up to $24,488.84 before emergency room care or regular doctor's visits, even to a primary care physician, would be covered. The Oscar Buckeye State Simple Bronze plan uncovered by Fairweather was an outlier, but it was far from the only plan offering little coverage in exchange for a huge annual deductible.
The plan offers minimal coverage until $15,800 has been spent, though all Oscar Health plans include the ability to speak to a doctor for diagnosis over the phone, with the option to attach pictures of your symptoms. Newsweek has reached out to Oscar for comment.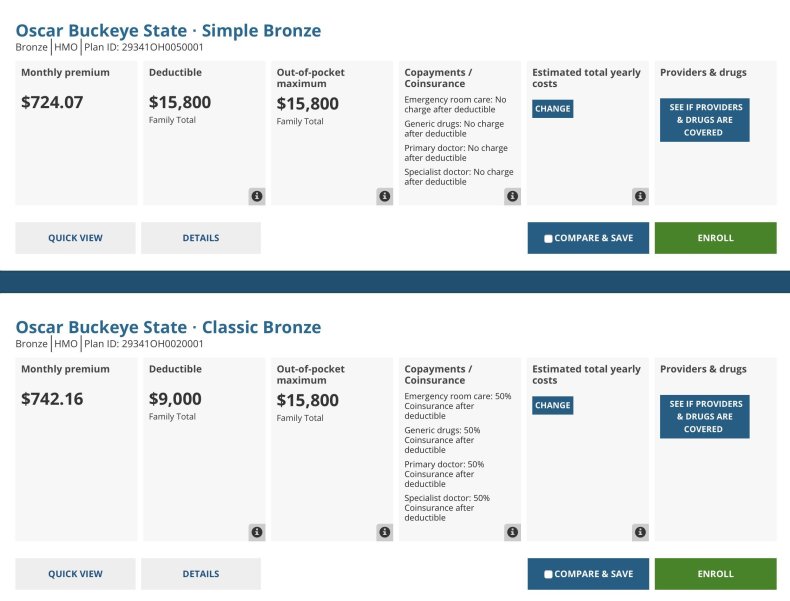 "I was just stunned by how awful that plan was and how expensive it was," Fairweather told Newsweek. "It's hilarious that politicians all claim to love small business, but if you're self-employed you're not only on the hook for Social Security and Medicare, but you have to pay through the nose for one of these ACA plans that, best case, still leaves you paying an enormous deductible if something actually happens to you."
After promising "extraordinary" "insurance for everybody" that will ensure "everybody's going to be taken care of much better than they're taken care of now" on the campaign trail, President Donald Trump's main healthcare initiatives have done the opposite, amending Obamacare by executive order to better benefit employers, eliminating required benefits and promoting high-deductible health plans with fellow Republicans.
But even before Republican intervention, the rate at which people have been forced to rely on high-deductible plans has gone sharply upward, according to the CDC—from 25 percent of people with private health insurance in 2010 to 43 percent in 2017. Thirteen percent of adults and five percent of children have no health insurance coverage at all.
UPDATE 10:20 p.m. EST: An Oscar representative described the above screenshot of their Bronze plan as "misleading" due to the formatting of healthcare.gov, "which only highlights the plan's family deductible and out-of-pocket (MOOP) amounts without an explanation of how they break down and without accurately showing all of the benefits that would be covered pre-deductible."
In addition to their telemedicine program, all Oscar plans also cover—pre-deductible—preventative care, screenings and immunizations, plus routine prenatal and postnatal care. Urgent care visits are covered, with a $75 pre-deductible copay.
The representative further characterized the plan as "in-line with similar plans from competitors" and urged members signing up on healthcare.gov to check to see if they qualify for a subsidized premium.
This article has been updated to include the response from an Oscar representative.