High-End Customizers Revising Vintage Land Rover Defenders to Fit Modern Luxury Lifestyles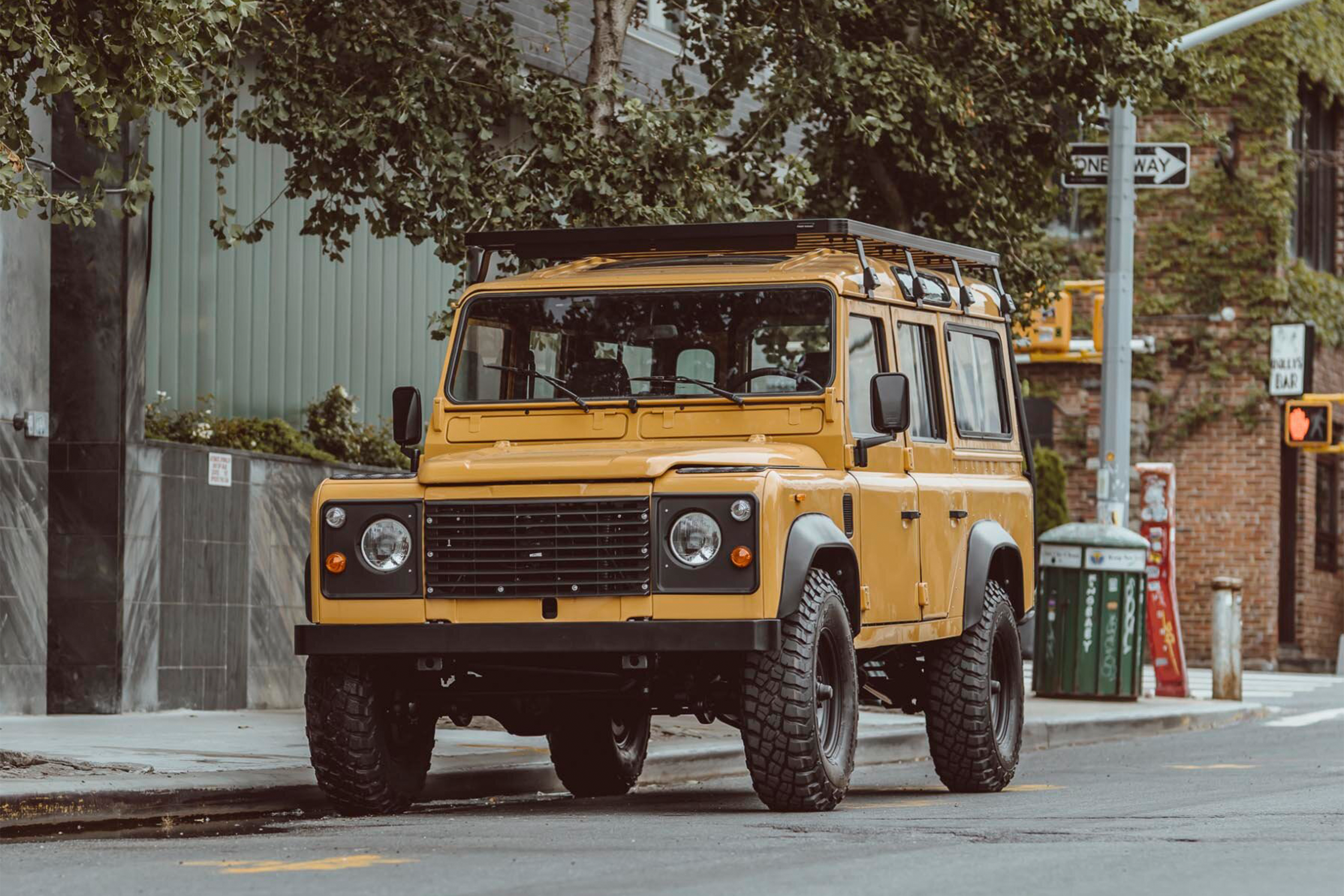 Automotive enthusiasts are going wild for square-bodied vintage models, even as new versions of the hallowed nameplates come to market. Restored and customized classic Land Rover Defenders, Toyota Land Cruisers, Ford Broncos, and Chevrolet Suburbans are going for record sums at auctions nationwide.
The Defender is among the more highly sought after models. Classic.com currently lists the top price paid at auction for a first-generation Defender 110 (1984 to 2016) as being $480,914 with an average list price of $58,741 for the six that are currently for sale on the site. Mecum Monterey recently brought the gavel down on a 1989 Defender 110 for $187,000.
Companies around the world are capitalizing on the hot market, offering to outfit vintage Land Rovers, and duplicate new models with high-end upholstery, bespoke jewelry and Magic Metal. These companies range from coachbuilders to retro outfitters to newly produced electric vehicles.
Heritage Customs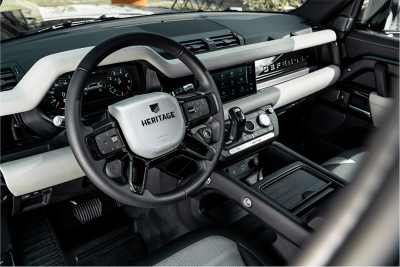 Netherlands-based coachbuilder, Niels Van Roij focuses his customizations on the uniqueness of his client. From a denim interior for a jean company to the details of a couple's first time meeting, each Land Rover Defender is carefully crafted to be special for the client.
"Some people might see a black car or a red car or a green car, but to [the client], there is this story where something in the paint tells a certain story about their lives, or where they met, or how they built up their company and what made them successful or anything like that," said Niels Van Roij, co-founder of Heritage Customs. "I would say, these are some of our pillars, we are very much designed focused, rather than engineering focused."
The company offers owners the option of Magic Metal, which is essentially metal that can be applied as paint and can be used and treated like a traditional metallic surface from polishing to patina.
Magic Metal allows the clients to customize their Defender to look as modern or as rustic as they wish with chemicals to accelerate then seal the metal's wear.
From the moment that the client contacts Niels Van Roij Design to the average time they take their new Land Rover Defender home is about six to eight weeks.
Twisted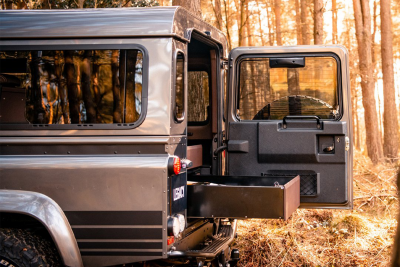 Two-decade-old Twisted Automotive specializes in new genuine parts with a focus on restoration.
The company says that their average clientele is looking to use the Land Rover Defender as more of an everyday vehicle than a showpiece. As the Defender was originally designed as a workhorse vehicle, the Land Rover must undergo a few construction modifications to be a daily driver-friendly vehicle.
Twisted's design and engineering team has fun with unique customizations but the company prefers the upgrades to serve a purpose. "We have a client at the moment that regularly travels, alone, and goes hiking and fishing. He runs a multimillion dollar business and he needs a mobile workspace that he can work out of when he's camping," said Tom Maxwell, managing partner and CEO of Twisted.
"So the vehicle in the load area of the vehicle, it's the long wheelbase one, ... we're building, ultimately, a mobile office ... [with] our phone and WiFi integration screens, as long as as long as it's got a purpose, and we're not just doing it for the sake of the aesthetic."
The Yorkshire, England based company has cultivated a strong relationship with suppliers in the UK where they are able to buy authentic parts directly from the Jaguar Land Rover manufacturer.
Typically a build takes about six months to complete but with the higher demand during the COVID-19 pandemic the timeline has stretched to be closer to a year.
Brooklyn Coachworks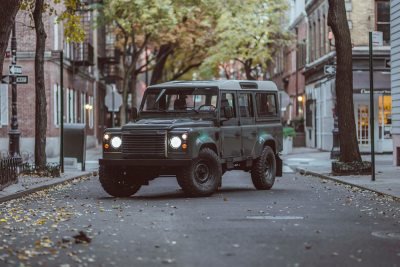 Maintaining the authentic legacy of the vintage Land Rover Defender is the main focus of Brooklyn Coachworks, a New York-based vehicle outfitter.
"We like to build them in the traditional sense of how Land Rover would have built them coming out of soil back in the day,"said Daniel Marcello, president of Brooklyn Coachworks. "We exclusively use genuine Land Rover parts, wheels and accessories. We use genuine Land Rover paints and we don't like to really bling our cars out."
The Defenders are modeled after examples from the 1970s, each equipped with carefully-sourced, period-correct additions such as pastel colorways, original badging, and thin tires on Rostyle wheels.
Most of the supplies are bought directly from Land Rover and reputable Land Rover suppliers, however Brooklyn Coachworks does their own in-house winch, bumper and suspension creation.
From initial contact to delivery, a build will typically takes two to three months.
Icon 4x4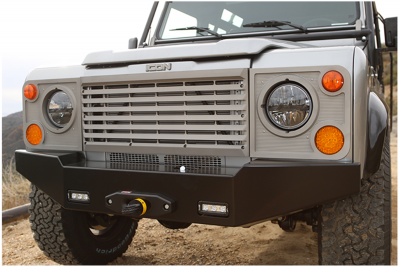 Icon 4x4 is one of the few vintage Land Rover Defender customizers that builds almost entirely in-house with a focus on American sourcing. Their facility is equipped with a machine shop, design engineers, mechanical and electrical engineers.
"I'd say about 90 percent of our content is U.S. based and a lot of our stuff oddly does not come from a supply chain," said Jonathan Ward, CEO and lead designer at Icon 4x4. "We use rail cars, military and marine aerospace architecture."
The company draws much of its inspiration from military designs, patio furniture and a material called chilewich which is made in Virginia and is a material primarily used placemats, trade show booths or wall coverings.
Icon 4x4 allows designers and clientele to "geek out" and add unique features such as sun visors that are the same ones used in Learjets and many military aircrafts.
"We kind of reinterpret and elevate all based around the premise of trying to get that to industrial design, for the sake of the design and longevity and utility." Ward said.
Himalaya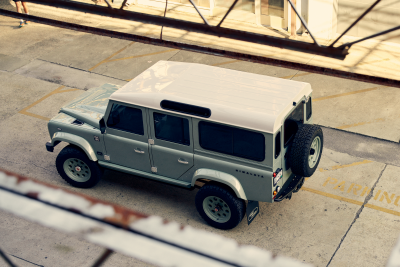 Greg and James Shondel founded Himalaya as a passion project having loved Land Rover Defenders from their youth. The company's focus is a modern vehicle platform where only the classic styling of the Land Rover Defender body remains.
"We've really tried to approach it from an engineering perspective," said Greg Shondel, president Himalaya. "We've completely re-engineered the suspension and drivetrain moving outside the engineering and Land Rover design from 30 plus years ago. So for us, it was power and performance but the big focus was serviceability."
Modern additions from the Himalaya 4x4 engineering team include custom fender flares, rock sliders, and power folding boards for easy vehicle entry and exit. Under the hood, the Hue 166 is powered by a new LT4 Corvette engine paired with an eight-speed transmission. The Hue 166 starts at $300,000.
"Each truck has a different personality, and they match the personality of our customers, which we love," Shondel said.
From the moment the client contacts them to the final product is roughly 16 to 18 months.