High Fuel Costs Put Damper on Trucker Convoy Encircling D.C.
Rising gas prices across the nation are making it difficult for the "People's Convoy," a group of truck drivers protesting COVID-19 mandates and currently encircling Washington, D.C.
The People's Convoy, similar to Canada's Freedom Convoy that cut off major supply routes to the U.S. while protesting COVID, left Southern California on February 23 for a cross-country trip to Washington, D.C. Republican Senator Ted Cruz visited the convoy in Maryland and claimed high gas prices were hurting the truckers' protest.
Cruz confirmed his visit and shared photos and videos with the convoy. He dubbed the truckers "patriots" and was seen riding in the passenger seat of the convoy's lead truck.
"Thank you to The People's Convoy for speaking out for freedom," Cruz tweeted. "Petty government tyrants shouldn't force people to make private health care decisions."
The convoy eventually stopped and Cruz held a short press conference.
He noted that high gas prices—which he blamed on President Joe Biden's administration rather than Russia's invasion of Ukraine—was hurting the trucker protest.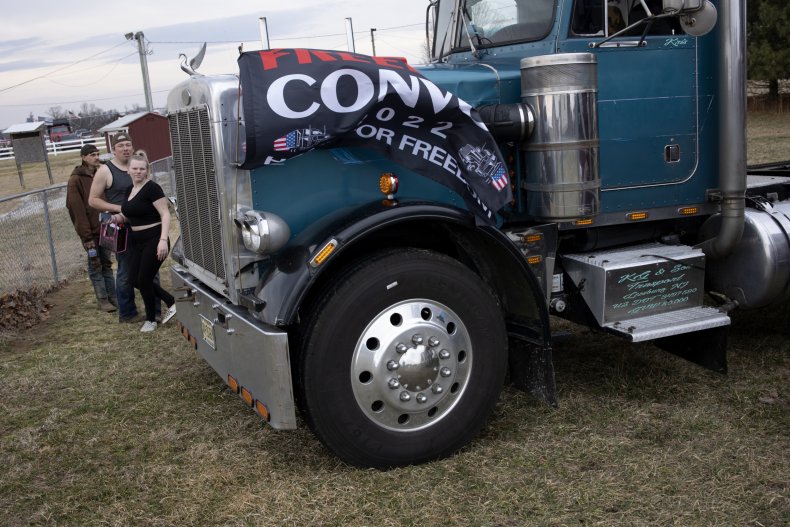 "Your voice is being heard," Cruz said to protesters. "What the men and women want here is for the government to leave you the hell alone.... That is the most American sentiment you could imagine."
Convoy organizer Brett Brase, a trucker from Ohio, said that if gas prices continue to rise as a result of energy market pressures from Russia's invasion of Ukraine, the group will find a "permanent" location to park with permits, according to the Texas Tribune.
The truckers are driving from the Hagerstown Speedway to the Capital Beltway via Interstate 70 and Interstate 720—roughly 67 miles each way, according to the convoy's website. The group planned to complete two laps around the 64-mile beltway, clogging traffic and bringing the total distance traveled over 260 miles.
Gas prices across the U.S. have reached all-time highs averaging at $4.318 per gallon. In Maryland, outside the Capitol, diesel fuel used in trucks is averaging near $5.256 per gallon, according to the American Automobile Association (AAA).
With semi-trailers averaging about 6.5 miles per gallon and using approximately 40.3 gallons each day the convoy runs their route, it's costing truckers over $210 to complete two laps around the beltway.
Newsweek reached out to the People's Convoy and Senator Cruz.