High-Growth Tech Stock Outlook Uncertain for 2021
The technology industry has seen unprecedented market growth in the year since the COVID-19 crash last March. Now, as coronavirus cases drop and vaccine distribution ramps up, these same tech stocks are experiencing increased volatility and large one-day drop-offs—and some believe the current market correction could affect these high-growth stocks for much longer.
The first quarter of 2021 in the stock market could be best defined by the enormous influx of IPOs and SPACs, with private companies hoping to capitalize on the high stock market growth of the last year by getting in on public shareholder support.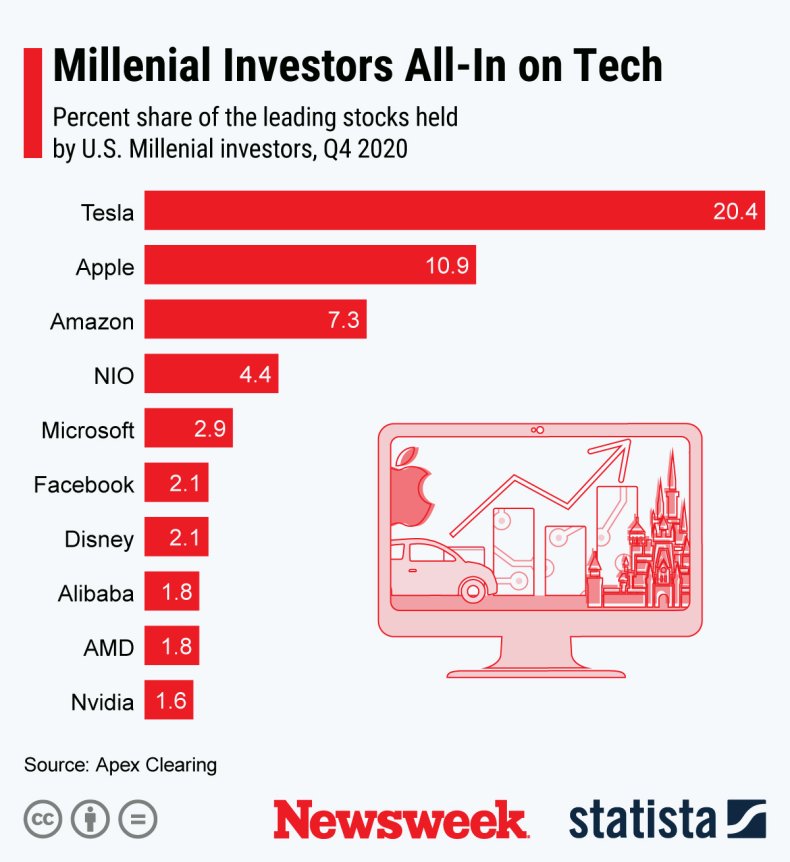 With the growth in technology stocks over the past year, more and more younger generations of Americans are entering the stock market in the hopes of catching higher gains for some of the top companies. In data collected by Apex Clearing, as of the fourth quarter of 2020, companies like Tesla, Apple and Amazon have all become favorites for millennial investors. For Tesla, a reported 20 percent of their stock shares are held by millennials, while roughly 11 percent of Apple's shares are held by the young investors. Other companies with a sizable share of millennial investment include the Chinese electric car company NIO, along with Microsoft, Facebook and Disney—all popular high-growth tech stocks over the past year.
The growth in tech stocks has also correlated with a boom in other assets, most notably bitcoin and cryptocurrencies. In a huge sign of faith, Tesla recently announced the purchase of $1.5 billion worth of bitcoin for the company along with plans to accept the cryptocurrency as payment sometime in the future.
Growth in the tech sector has spurred many to rush for public offerings provided by IPOs or SPACs. In data collected by the Wall Street Journal, 2021 has already seen a sizable increase in the already booming industry of IPOs and SPACs following the market recovery last year. Many of these companies have had initial valuations of over $1 billion, with the Wall Street Journal reporting 32 such IPOs and SPACs worth more than that amount already during the first quarter of 2021.
With the recent market correction, however, technology stocks are showing their vulnerability to bond yield increases and fears of rising inflation. The quick surge over the last year could be in jeopardy of an even further correction ahead of a COVID-19 stimulus package presumably passed in March. And even after the stock market reins in ongoing volatility, the ever-present fears of a longer global recession could keep high-growth tech stocks down for the foreseeable future.