'High Probability' Belarus Agents Torturing Journalist Nabbed From Flight, Says Opposition Leader
There is a "high probability" that Roman Protasevich, the journalist detained in Belarus after Sunday's plane diversion, is being tortured, the country's opposition leader said.
"We are really afraid not only for his freedom, but for his life," Svetlana Tikhanouskaya said during a Monday press conference. "We do not know where he is and in what condition. There is a high probability that at this very moment he is being tortured by the secret service staff."
Tikhanouskaya was the main opposition candidate during last summer's Belarusian presidential election. She fled to Lithuania following the election, which declared incumbent Alexander Lukashenko the winner despite allegations of widespread electoral fraud.
On Sunday, Lukshenko personally ordered an MiG-29 fighter jet to intercept a Ryanair flight travelling from Greece to Lithuania and force it to land in Minsk. The passenger plane was carrying 26-year-old Protasevich, who co-founded opposition platform NEXTA and was charged last year with "organizing mass riots and group actions that grossly violate public order."
The blogger was detained upon the plane's forced landing. He had allegedly told fellow passengers that "a death sentence" was awaiting him upon their descent to Belarus, according to The Independent.
On Monday, a video of Protasevich was released on social media in which he claimed to be in good health and admitted he was behind "civil disturbances" in Belarus.
"The attitude of the [Interior Ministry] employees towards me has been as correct as possible and in compliance with the law," the journalist said in a video posted a pro-government social media channel.
Supporters believe the video was made under duress, noting that it had all the features of a forced confession.
"This is how Roman looks under physical and moral pressure," Tikhanouskaya tweeted shortly after the first remarks from Protasevich surfaced.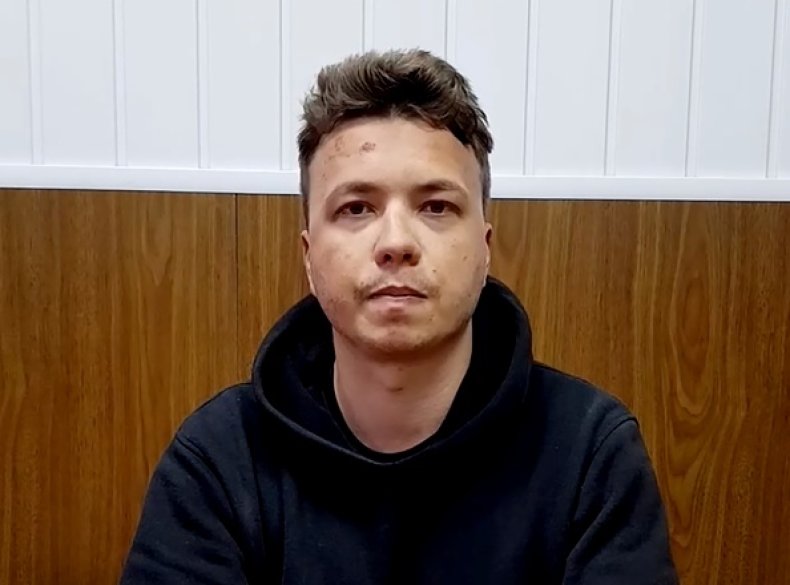 On Monday, Protasevich's father, Dmitry, told CNN: "We are very worried as we expect that tortures and physical abuse can be applied to our son, although we hope that won't happen. But knowing the KGB methods of work, they even resort to tortures and abuse."
"We understood very well that the authorities will stop at nothing," Dmitry said. "We feared that we, as Roman's parents, could become hostages and through us, they could put pressure on him."
His parents left the country following the 2020 presidential election out of fear they would face repercussions due to their son's activism.
Sunday's plane diversion has drawn international backlash. After various world leaders condemned Lukshenko's actions, a number of European flights were banned from Belarus airspace as several nations responded to the incident by issuing new sanctions against the country.
Newsweek reached out to Lukshenko's office for comment, but did not hear back before publication.