'High Probability' Murder of George H.W. Bush's Former Doctor in Houston Was a Targeted Attack
Houston Police Department Chief Art Acevedo announced on Thursday that he believes there is a "high probability" that the murder of Dr. Mark Hausknecht, a cardiologist who treated former President George H.W. Bush, was a targeted attack.
Hausknecht, 65, was shot while riding his bike outside the Texas Medical Center in Houston on Friday. The Houston Police Department tweeted Thursday morning that Acevedo believes it wasn't a random killing.
"There is a high probability the doctor was targeted," the tweet explained, adding that no other information was available due to the ongoing investigation.
On Friday, around 9:00 a.m. Central time, Hausknecht was riding his bike to work when another man also on a bike rode past him, turned around, and fired two shots before fleeing the scene on his bike. The doctor was taken to the hospital, where he died of his injuries. On Sunday, the police department released a sketch of the suspect, who was described as a white male, "thin but fit," about 5 feet 9 inches tall and in his 30s.
In the sketch, the man was wearing a hat and glasses, which was confirmed in surveillance footage released on Monday. The Houston Police Department initially believed the suspect to be wearing a gray warm-up jacket, but the surveillance footage clarified that he was wearing a blue, short-sleeve shirt instead.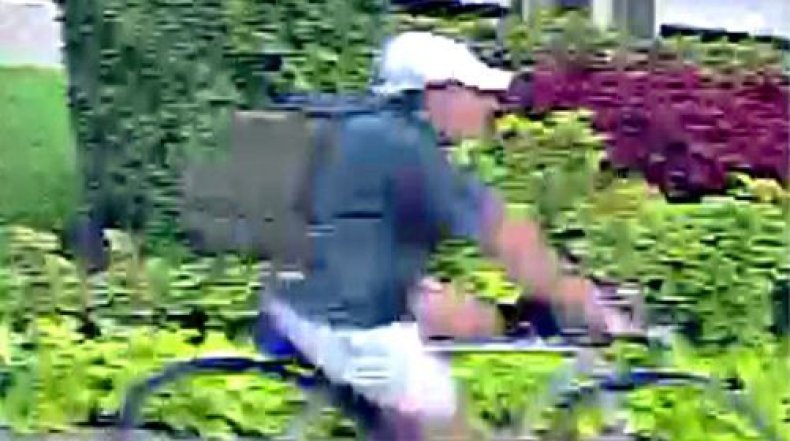 "Suspect is now described as wearing a blue, short-sleeved polo shirt (not a gray warm-up suit), a khaki ball cap and khaki shorts. He has a large, fully-loaded, olive green backpack," police tweeted.
Hausknecht's wife, Georgia Hsieh, an emergency medicine doctor, told CNN that her husband enjoyed doing yard work and cooking and was often in bed by 9:00 p.m., Central time. In the wake of her husband's death, Hseih asked residents to use their vote to affect gun control.
"So many have asked what can be done to help. While law enforcement has given you their focus on finding the criminal, I am asking you to use your vote and your voice to stem the tide of this growing public health epidemic," she said in a statement to CNN. Hseih added that her husband "loved this city" and to honor his memory people should "work hard, be responsible, patient, tolerant and compassionate."
Following the shooting, police asked anyone with information about the shooting to come forward and share what they knew, and officials reiterated that request on Thursday in a tweet. Hausknecht worked at Methodist Hospital and Memorial Hermann Hospital, both located in Houston, as a private doctor.