High-Risk Inmate Released From Jail Over COVID-19 Fears Says Other Prisoners Should Be Freed Before 'People Start Dying'
Before Elaine White was released from The Center for Women incarceration facility in North Carolina, she had been spending her weeks living in fear, worried about the possibility of the coronavirus making its way into the correctional facility.
As someone with diabetes, White was particularly vulnerable to COVID-19 and, having recently undergone surgery for carpal tunnel syndrome, feared if the virus ever did make its way into the facility, her life could be at risk.
"It was starting to get really scary," White, who had been incarcerated for a decade after being arrested for drug crimes, said. "There was no way to socially distance. It was just all of those people together. It was scary."
However, days after the American Civil Liberties Union launched an ad campaign highlighting White's story and demanding that she and other inmates vulnerable to COVID-19 be released from incarceration, White was one of several North Carolina inmates allowed to leave.
Instead of having to share a cell with another inmate and eat, shower and use recreational facilities in crowded conditions, White is now living with her sister in Charlotte.
She is confined to her sister's house and is not allowed to work or be in possession of identification, but she said she feels immense relief at being out of The Center for Women.
"I was in a room with another person and we were not six feet apart. We ate together and all shared the same bathroom," she said.
"Scary" is how White repeatedly describes what it was like to be incarcerated amid a pandemic.
"Especially when I found out it was killing African Americans at a much higher rate than the rest of the population, I was really, really scared," White, who is black, said.
Now, White and her family are joining calls for others incarcerated across the country to be released from prisons, jails and detention centers.
"You can't wait for things to happen, you've gotta get ahead of the situation," she said. "You can't wait until people start dying."
Already, there have been cases of outbreaks at prison facilities and detention centers in states across the U.S.
David Fathi, the director of the National Prison Project at the American Civil Liberties Union (ACLU) said the ACLU has already launched around 20 lawsuits demanding the release of inmates and detainees at prisons, jails and detention centers.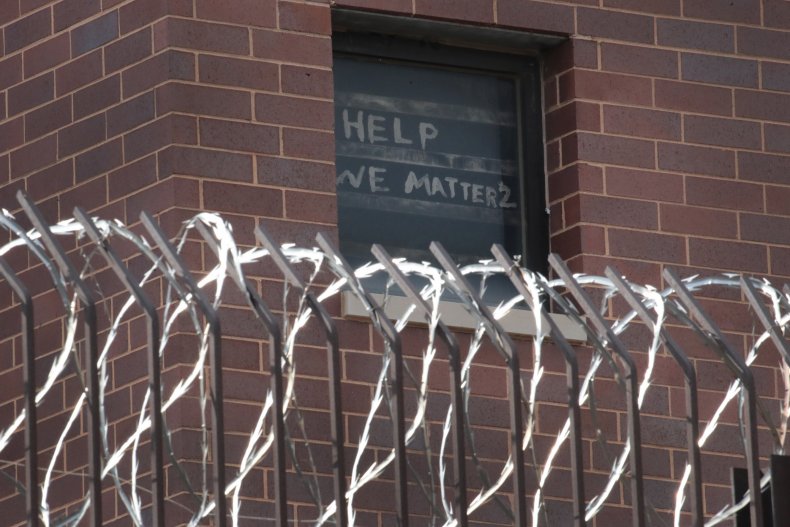 "Almost immediately, when the scale of the COVID-19 pandemic became apparent, it was obvious that it was going to hit very hard in prisons and jails and detention centers. Any congregate facilities where large numbers of people live close together in close proximity is going to be essentially the perfect environment for rapid spread," he said.
For people like White who are particularly vulnerable to the virus, incarceration "puts them at serious risk of severe illness or death," Fathi said.
Those who are vulnerable, he said, "if they get the virus, they have about a 15 percent chance of dying from it, so that's basically the same odds as Russian roulette, one in six. So, it's an extremely great risk to large numbers of people."
Fathi said that the goal was to see vulnerable inmates and detainees released from incarceration, while also working to lower the numbers of people detained at facilities across the U.S.
Those who are serving time for violent times, Fathi said, may not be eligible for release "and it's appropriate obviously to consider public safety when deciding to let someone out of jail."
However, he said, "we need to think about public safety more broadly. It isn't only threatened by crime; public safety is also threatened by a highly contagious and deadly disease."