High School Assistant Principal Reassigned After Comparing Vaccine Cards to Nazi Stars
An assistant principal at a Tennessee high school was reassigned after posting a comment on social media comparing COVID-19 vaccination cards to the yellow stars Jews were forced to wear during Germany's Nazi era.
District officials confirmed with local media outlets on Tuesday that the employee was still working for the district but would no longer hold her previous position as Houston High School's assistant principal.
"Janna Matykiewicz is no longer an administrator at Houston High School, she has been reassigned as Homebound Teacher/Interim Liaison Teacher," Germantown Municipal School District (GMSD) Communications Coordinator Kate Crowder told Newsweek.
Part of the district's investigation into the incident is ongoing, Crowder added.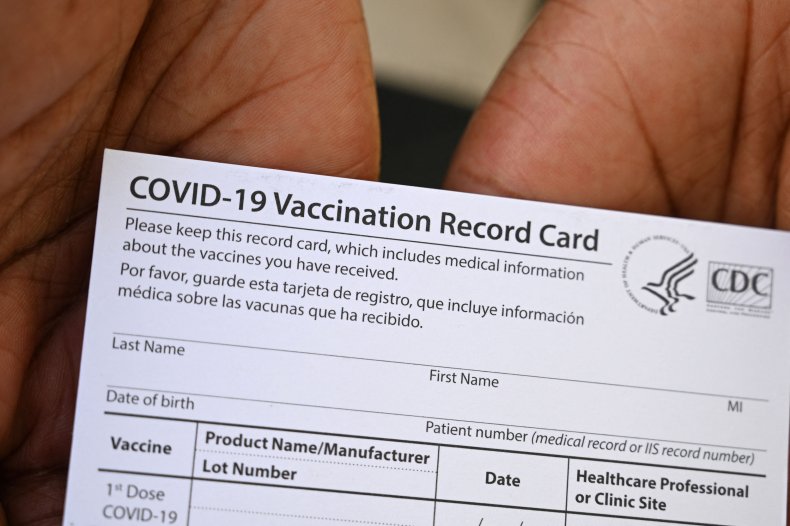 After the Facebook post surfaced, GMSD students in Germantown, Tennessee, were initially trying to rally support for Matykiewicz's firing by circulating a Change.org petition. The petition, which gained more than 2,500 signatures toward its 5,000-signature goal by Wednesday, featured a screenshot of the post.
"What's the difference between vaccination papers and a yellow star? 82 years," Matykiewicz's post said.
The individual behind the petition self-identified as a Jewish student within the district and said in the petition's description that Matykiewicz's post was "completely anti-Semitic."
"Comparing a vaccine to one of the most tragic genocides in history is baffling," the student wrote. "As a Jewish student in the student body, I wouldn't feel safe and accepted as I'm sure many others would with a person of power making anti-Semitic statements on Facebook."
The student called for the high school to "do better" and "start making changes."
"If Matykiewicz were to stay involved in the school or any other school in the district, count me out as being a part of GMSD schools," the student added.
The district told The Commercial Appeal earlier this month it was investigating the Facebook post and comments added to the original post, but did not immediately identify who was under investigation. In a statement about the investigation initially shared with members of the district community and later sent to Newsweek, the district said it "does not condone the misappropriation or misuse of the Jewish past for political purposes."
"The trauma of the Holocaust should not be taken lightly, or diminished in any form or fashion," the district wrote. "Any behavior that perpetuates the pain and hurt of one group of people has no place in our schools."
The district said it planned to partner with the nonprofit Facing History and Ourselves, which aims to confront bigotry in schools by taking a close look at events through history, to "provide professional development for our staff."