High School Basketball Team Pulls Out of MLK Game Following Trump 2020 Flag Controversy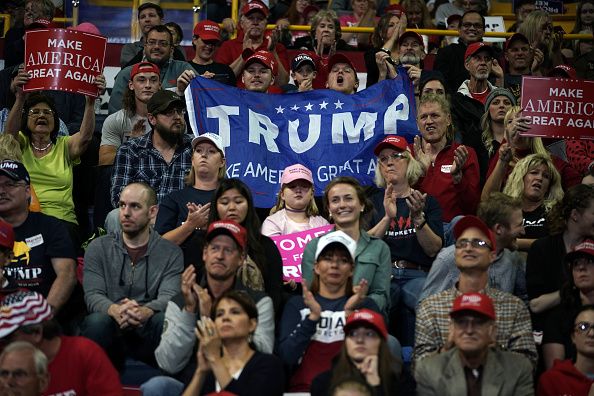 A basketball team from a high school in Minnesota did not play during an invitational event a few days after some fans in the stands displayed a "Trump 2020" flag during a game.
In an emailed statement to the Minneapolis Star Tribune, Jordan High School District Superintendent Matthew Helgerson said the school's basketball team would not play during an event on Martin Luther King Jr. Day.
"Given recent events, we believe the participation of our team in the event will detract from the hard work of the athletes and the upbeat focus of the MLK Showcase," Helgerson wrote in a statement to the publication on Sunday. "After discussion with the MLK Showcase event coordinator, a decision has been made to pull out of the MLK Showcase game on Monday, January 21st. We do not want our presence at the event to detract from the athletes. We will continue to work with the Minneapolis School District … to move forward in a positive direction."
The pro-Trump flag was displayed during a recent basketball game between Minneapolis Roosevelt High School and Jordan High School. The flag read: Trump 2020: Keep America Great!, according to a photo posted to Facebook by Roosevelt coach Michael Walker.
In his post, Walker questioned the flag's presence on Facebook and wondered if it was "appropriate."
"I coach a predominantly black inner-city high school team," he wrote in the Facebook post on Wednesday along with the photo. "We go out to a rural area in Jordan, [Minn.] and this is there. Please explain how and why this is appropriate at a high school basketball game?"
Bridget Kahn, one of the mother's whose son was holding the flag, said it was part of a planned USA-themed night, according to the Minneapolis Star Tribune. Kahn told the publication the boys were only wearing red, white, and blue and brought the flag to the game to support their president.
"They don't have a racist bone in their body," she told the publication.
In March, a student from a Minneapolis high school was assaulted for carrying a Trump flag outside of the school while other students were participating in a moment of silence during a National School Walkout Day protest. Two students confronted the student with the flag when the attacked occurred at Southwest High School in Minneapolis, WCCO-TV previously reported. Six additional students were also involved in the fight, according to the news station.