High School Cheerleaders' 'Privilege' Sign Painted in White Prompts Outrage
Parents in North Carolina expressed outrage after a group of cheerleaders held up a sign that read, "Sniff sniff. You Smell that? Privilege" during a high school football game.
The sign, with the word "privilege" painted in white and flanked by dollar signs, was held up Friday by cheerleaders from Butler High School during the game against Charlotte Catholic, implying that the students who attend the opposing school are privileged, local news station WBTV reported.
One parent, Melissa Swanson, told the Charlotte-based station that she thought the sign was mean-spirited and "disturbing."
"The thing that was so disturbing was it was children," she said. "Whether they are high school, elementary school or middle school—they're children. The administration, the coaches, the athletic director—they had to know it."
She said she interpreted the sign to mean, "Here we are at a rich white high school and they are all lucky. We have it hard. They don't."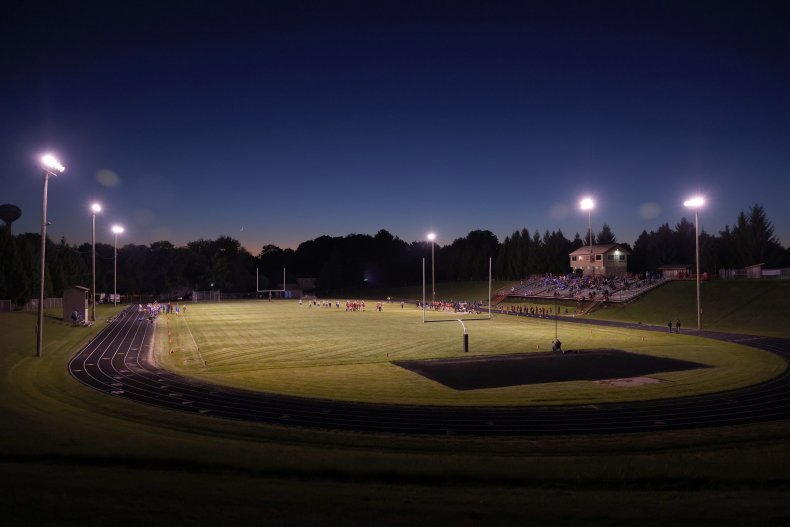 "And that's not the case by no means. I am a single mom and I raise my son on my own and we pay for that school and work hard to be there," Swanson said.
Other parents defended the sign, including Alford Terry, a parent of a student who attends Butler High School.
"It's reality," he told WSOC-TV, another Charlotte news station. "I mean, you can get upset as a parent, but kids, they have a mind of their own and they see things as what they are. We have to listen to what they have to say."
Charlotte-Mecklenburg Schools said in a statement that the cheerleaders and adults responsible for oversight will face consequences.
"Butler High School cheerleaders have sent an apology letter to counterparts at Charlotte Catholic. Soon there will be a meeting between the schools' cheerleading squads to facilitate goodwill and understanding," the statement said, according to WSOC.
Charlotte Catholic Principal Kurt Telford wrote in a statement: "We understand how emotions surrounding sports events can sometimes result in actions that do not represent an organization's values."
He added, "It is our hope that everyone will learn from such moments because at the end of the day we are all one community."
Newsweek reached out to Butler High School for comment.
This is not the first time there has been outrage related to race during a high school sports event.
Earlier in October, a high school football quarterback in Iowa was called a racial slur by a member of the opposing team. After he complained to a referee, he was thrown out of the game.
In July, cheerleaders from California were called racial slurs and told they were "on the wrong side of town" during a football game.