High School Football Bucking Trends: Florida to Play, California to Delay
High school football made headlines from coast to coast in the United States on Monday, with California declaring it will wait until December or January to start its season, and with Florida saying let's kick off the season right away. Both decisions were announced Monday.
Now the other elephant in the room is on watch. So, Texas, you're on the clock.
The California Interscholastic Federation (CIF) stated Monday it plans on resuming all sports late this year or early in 2021.
"It is anticipated that most Section start dates will commence in December 2020 or January 2021," the federation stated.
Meanwhile in the Southeast, the Florida High School Athletic Association said everything will go as planned this fall.
The University Interscholastic League (UIL), which governs public high school sports in Texas, is expected to make its announcement later in the week. The Texas High School Coaches Association's annual Coaches School and Convention began this week, all virtually.
For the rest of the higher football ranks—specifically to college football's ACC, Big 12 and SEC—you're next.
The spread of coronavirus has led to the postponement of sports across the country and the world. Football in America hasn't been ruffled by all the hubbub until now, despite having more than than four months to prepare.
The NFL will have no preseason games, and even the 2020 season is in jeopardy.
College football conferences have voiced varying opinions, with some playing a conference-only schedule while others delaying their seasons until spring of 2021. The three Power 5 conferences—ACC, Big 12 and SEC—that haven't announced their intentions are expected to make their decisions this week, next week at the latest.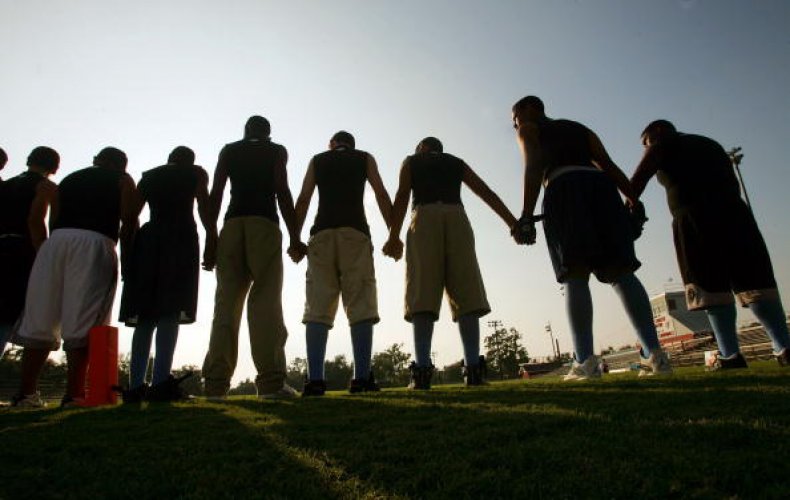 The recent surge in COVID-19 cases has states across the Union voicing their own varying opinions on how to handle the upcoming school year, while also dealing with the fact of whether or not high school football will be played.
It's a decision already made by some states, like New Mexico and Virginia, that have already declared there will be no sports this fall. Pennsylvania has suspended sports through the fall. But for other states like Texas, Louisiana and others across the Sun Belt rich in preps football tradition, the decision may come down to a last-second Hail Mary.
High school football coaches and athletic directors now grapple with a decision they've never seen in a playbook, nor while breaking down game film. As for now, it's a coin toss as whether to kick or receive—receive the bad news and cancel the season, or kick the naysayers to the curb and try to play it anyway.
Alabama's largest school district, the Mobile County Public School System, announced Thursday it will only hold virtual classes that start Sept. 1 because of the state's rising number of COVID-19 cases. Meanwhile in Mississippi, the Magnolia State has said it will delay all high school activities for two weeks.
In Louisiana, football activities can't be done until the state moves into Phase Four of reopening, according to Gov. John Bel Edwards. Currently, Louisiana is only in Phase Two, and there are no signs of a blitz into Phase Four. Right now, they are hoping to make it to Phase Three.
The Virginia High School League (VHSL) announced last week there would be no high school football this fall. That means the football-fertile Hampton Roads area of Norfolk and Virginia Beach, and towns all across the Commonwealth, won't get to see their next rising stars.
On Monday, North Carolina announced it would have fall sports in it private schools for 2020, including football.