High School Football Team Celebrates Boy With Autism's Birthday After Only One Person RSVPs To His Party
Christian Larsen's ninth birthday party was set to be a disaster when only one of his friends agreed to attend. But the day was saved when a local high school's football team showed up to celebrate.
Christian attends Hillsdale Elementary in Meridian, Idaho. At the end of the school year, he invited his classmates to his birthday party due to take place June 4. He passed out invitations to the class, but the family only got one response.
He asked again at the end-of-the-school-year picnic, but only one student said she'd attend. The rest refused or just ignored him — as did some of the parents at the picnic.
On May 31, Christian's mother Lindsay wrote a Facebook post about the situation. Christian has autism, and she said he had tried his best to bond with his classmates.
"At first, I was just hoping that with the end of the year chaos, that the invitations were overlooked. But, after seeing the personal interactions, I'm thinking maybe there is more. The hardest thing is, I do understand. It can be uncomfortable to try to be a friend with someone who has had outbursts and cried in class," Lindsay wrote.
"I'm so excited and grateful for the one girl who will be coming. We will make it a great party. I didn't plan activities until I could get an idea of the number of kids, but I think with a small group, we'll definitely be making our own pizzas, decorating cupcakes, and do a science experiment/art craft," she added.
Lindsay's friend Blythe Ben-David saw the post, and though she lives in south Texas, she wanted to help make Christian's party special. Ben-David sent a message to Dan Holtry, her friend who was the football coach at Nampa High School, about 10 miles away from Meridian.
Holtry texted his team, who immediately wanted to attend the party.
"Instantly I wanted to do it, and I know these guys did too! Right away we texted back yeah, let's do it, we're in!" Donovan Estrada, a member of the Nampa High football team, said to KTVB.
"I was amazed how much they wanted to participate in this and take care of Christian," Holtry told the station.
The day of the party, it initially looked like it would be a small affair with a few of Christian's classmates, some neighborhood kids and family friends. Christian was still having a good time, but the party became amazing when the team showed up chanting his name.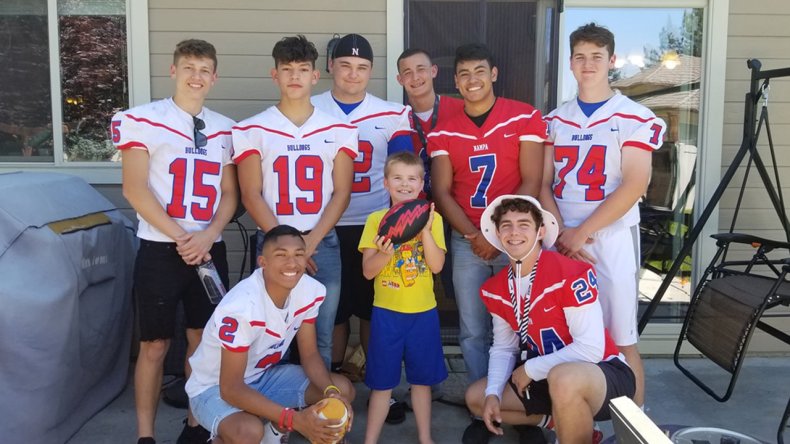 "He just looked so happy to see us! We were all so excited to be there!" Estrada said. "He just wanted to play football with us, showing [off] the presents that he got. He wanted us to stay for cake and stuff like that."
"The energy became electric and it was amazing to see how they all came together," Lindsay told CNN. "Christian often plays alone, or wanders off, but with the players there helping organize games, he became part of the action. He was playing alongside his peers, as well as the football players. I think it helped the other young children interact with Christian, too."
Christian was overjoyed. He told KTVB, "This is probably the best birthday ever, I have lots of best days in my life, and this might be one of them."
The team has also adopted Christian as an honorary team member, and their connection with the boy won't end with the party.
"We want to get him out here for a few games, get him out on the field pre-game, just have fun with him," Estrada said.