Cast of 'High School Musical: The Musical: The Series' Season 4 Tease Big Twist
In the words of Sharpay Evans (played by Ashley Tisdale), High School Musical is about to get even more "fabulous."
The Disney+ series, which is a spin-off to the original Disney channel original movie, has just finished airing its third season and saw a new generation of Wildcats attend summer camp, where they are tasked with putting on a production of Frozen the Musical.
The Disney metaverse does not stop there, as the songs this time around not only feature High School Musical classics as well as original songs and Frozen the Musical bangers but there are also hits from the Jonas Brothers and Demi Lovato's 2008 movie, Camp Rock.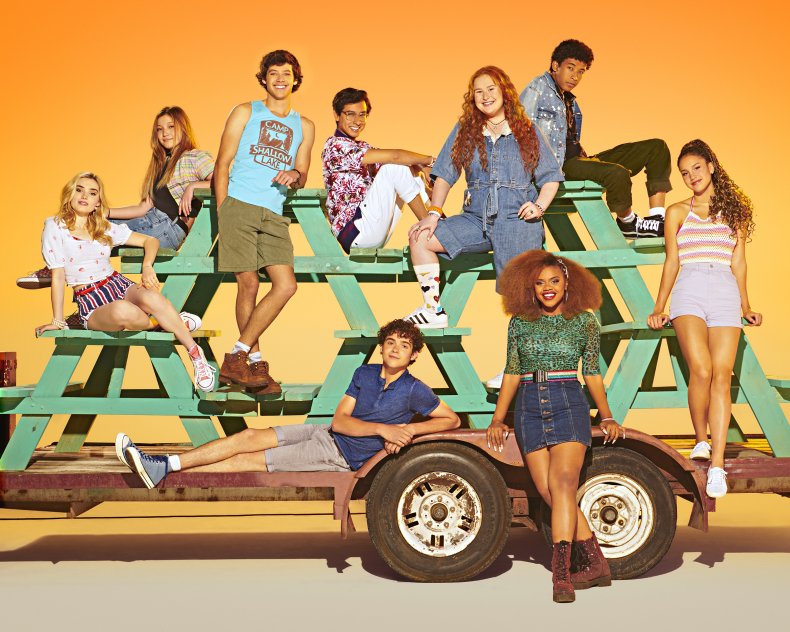 Already, details for Season 4 of HSMTMTS have been revealed and it features an exciting twist.
After a summer at Camp Shallow Lake, the Wildcats will be heading back to East High to put on a performance of High School Musical 3: Senior Year, the third film in the High School Musical franchise which was released in 2008.
However, Season 4 will be like no other as the students of East High will also be starring as extras in the long-awaited High School Musical 4: The Reunion movie, the cast shared whilst speaking at Disney's Epic Entertainment Showcase: The Musical: The Extravaganza!
Joe Serafini, who plays Seb, said: "It's so exciting to be going back to East High in Salt Lake City. It just gets bigger and better every time."
The majority of the HSMTMTS cast will be back for Season 4, including Joshua Bassett, Sofia Wylie, Matt Cornett, Dara Reneé, Frankie A. Rodriguez, Joe Serafini, Julia Lester, and Larry Saperstein.
Unfortunately, three-time Grammy winner Olivia Rodrigo who starred as Nini in the first three seasons is unlikely to appear, after stepping down to a guest-role capacity for Season 3.
Speaking to People about one of Rodrigo's final performances on the show, HSMTMTS creator Tim Federle shared that Nini's song, "You Never Know," is a "poignant grace note to Olivia Rodrigo's remarkable run on our series."
He said: "The song is all about how unpredictable a young person's future is—and how thrilling that can be, too. I cry when I hear it, and I smile when I think of how lucky we are to know Olivia. Bon voyage, Nini. Wildcats forever."
At the moment it is unclear if the original High School Musical cast—Zac Efron, Ashley Tisdale, Vanessa Hudgens, Corbin Bleu, Lucas Grabeel, and Monique Coleman—are set to make an appearance in the fourth season.
Bleu and Grabeel have already starred in the show as versions of themselves and Monique Coleman also expressed her interest to People she would "love" to make a guest appearance, so it is fair to say, the door is most likely open for the original cast to make a return again.
Hudgens and Efron have not explicitly discussed appearing in HSMTMTS, but one month apart, the two actors posted individual photographs outside East High, sparking a whole sense of nostalgia for millennials.
Efron did share that in May he was open to a High School Musical reunion in conversation with E News! sharing: "Seriously, having the opportunity in any form to go back and work with that team would be so amazing. My heart's still there. That would be incredible. I hope it happens."
At the moment, a release date for HSMTMTS Season 4 has not been announced by Disney+ but filming is set to begin in September 2022.
In the meantime, fans can watch the High School Musical movies and the first three seasons of HSMTMTS on Disney+ now.
High School Musical: The Musical: The Series Season 4 is coming soon to Disney+.