'High School Musical' Series Release Date, Cast, Trailer, Plot: Everything You Need to Know
High School Musical fans, get your head in the game—the movie trilogy is getting its own Disney+ show. The absurdly-titled High School Musical: The Musical - The Series will be released all at once on the new streaming service and has an all-new plot and all-new cast replacing original stars like Zac Efron, Vanessa Ann Hudgens and Corbin Bleu.
When is the High School Musical series out on Disney+?
High School Musical: The Musical - The Series' first episode will be available on Disney+, the release date of which is Tuesday, November 12. This comes after Freeform, Disney Channel and ABC simulcast the first episode of November 8 to promote the new series.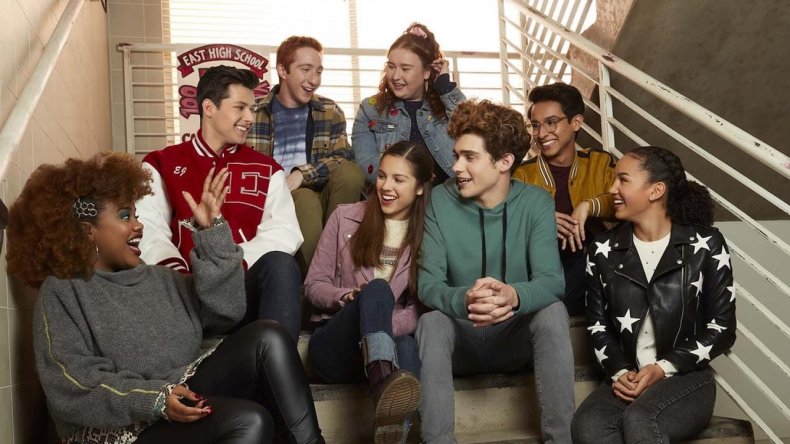 Though Disney+ will launch with the first episode on Tuesday, subsequent episodes will air on Fridays on the new streaming service, with Episode 2 coming on November 15 and the remaining eight of the 10 episodes coming in the following weeks.
Season 2 of the series has already been commissioned and is expected in 2020.
Who is in the cast of the High School Musical series?
While the original cast members of High School Musical will not appear in the Disney+ show, the series sees another high school putting on a version of the original High School Musical, meaning that cast members will be both playing themselves and versions of original characters like Troy (played by Zac Efron), Gabriella (Vanessa Anne Hudgens) and Sharpay (Ashley Tisdale).
Playing Troy and Gabriella in the in-universe version of High School musical will be Nini and her class clown ex-boyfriend Ricky, who auditions for the musical in order to try and win her back. They will be played by actress Olivia Rodrigo from Disney's Bizaardvark and Grey's Anatomy actor Joshua Bassett.
Other characters include E.J (played by Matt Cornett), described by Deadline as, "Nini's new love interest, the type of ambitious entrepre-nerd who brings homemade props to auditions," while Julia Lester of Mom plays Ashlyn, whose "mouthy attitude covers 'new kid' self-doubt." Also appearing in the show are Sofia Wylie as Gabriella understudy Gina, and Larry Saperstein as Ricky's wingman Big Red.
What will happen in the High School Musical series?
Disney's logline for the series reads: "The students from the school where the High School Musical films were shot stage a musical production based on the franchise."
Showrunner Tim Federle told Entertainment Weekly: "I was always thinking about the original fans, whose childhood I promise I'm not trying to ruin. Every episode should contain Easter eggs and callbacks and references to the original, whether it be with a wink to a prop that pops up on screen or a cameo from an original cast member — which I can confirm happens, I just can't say who or when! But it's a fresh start and brand-new cast, and I want to tell stories that went totally outside the High School Musical universe and engage people in a new way."
High School Musical: The Musical: The Series airs on Fridays on Disney+.