'High School School Musical the Series' Season 2: Will There Be Another Season of the Disney+ Show?
After 10 weeks of teen drama, Disney+'s first season of High School Musical: The Musical: The Series is about to come to an end, with Episode 10 airing on Friday, January 10. With the final episode of the High School Musical spin-off due to show the end of the musical the teens have been working on, viewers are wondering whether there will be a Season 2, and if so what it will be about—whether it will follow the same cast, perhaps putting on a production of High School Musical 2, or whether it will focus on another school trying to put on production.
Will there be another season of High School Musical: The Musical: The Series?
In October 2019, a month before Disney+ released the first season of HSM:TM:TS, the streamer revealed they had given the green light to Season 2 of the show. This was announced via a Disney+ YouTube video that showed the streaming service telling the cast that they were about to watch a new trailer, only to surprise them with the news that the show had been picked up for another season.
This also confirms that the mockumentary will also be returning to East High School for its second season rather than moving to a new school, meaning that characters like Nini (Olivia Rodrigo), Ricky (Joshua Bassett) and E.J. (Matt Cornett) will all be back for more.
In a statement, Disney+'s president of content and marketing Ricky Strauss said: "We are incredibly excited to bring the next chapter of High School Musical: The Musical: The Series to Disney+. Tim [Federle, executive producer] and this talented cast have delivered a first season that is uplifting, funny, touching and relatable across generations. We are confident that the world, like us, will want much more of these characters, incredible songs and moments of joy."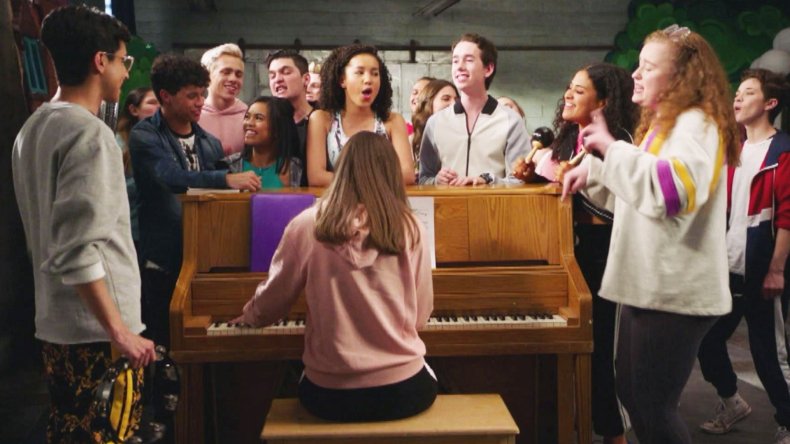 Hinting at what fans might expect from Season 2, Rodrigo told Playbill: "Tim was asking me about some experiences that I had with growing up in creativity and he said that he was going to have Nini experience that in Season 2."
At the start of January, Rodrigo and Bassett told Entertainment Tonight they would start shooting Season 2 of High School Musical: The Musical: The Series in Salt Lake City, Utah in a few weeks. This is roughly the same production schedule as the first season, meaning the release date of HSM:TM:TS should be around the same time as the first in fall 2020.
Rodrigo said of Season 2 to ET: "Season 2, I think, is going to bring a whole lot more drama. I'm excited to read in the script; I think I'm going to grow a lot as an actor and as a musician. I know I did in Season 1. If Season 2 is half as good as Season 1 is, I'm going to be in for the ride of a lifetime."
High School Musical: The Musical: The Series is coming soon to Disney+.