High School Yearbook Rejects Photo of Senior Who Used U.S. Flag as Prop
A high school senior in Spokane, Washington, had her portrait rejected by the yearbook, because she had an American flag draped around her, and the school's policy doesn't allow props.
Sierra Athos, a student at Lewis and Clark High School, posted on Facebook on Monday that she received an email from the yearbook committee asking her to submit another photo. The photo shows Athos sitting on a ledge with the American flag wrapped around her and the soles of her shoes show red and white stripes, which resemble those on the flag.
The email that she shared a screenshot of detailed the policy: "Photos should be of you and only you. No family, friends, pets, watermark or props. Photos with those items will not be accepted."
In a public Facebook post, Athos complained about the photo not being accepted, thinking that it had to do with the American flag. "The fact that I can't have my senior picture in the yearbook because it contains the American flag in it amazes me. Are you kidding me right now? If the American flag offends you effing leave," she wrote.
Athos told local CBS affiliate KREM that in a difficult year, she'd been disappointed that she couldn't use the photo she wanted. "This year is already crappy enough because there is no prom, no homecoming, no dances, no in-person classes, no sports games, no seeing my friends everyday, no any normal high school things. I at least wanted my senior picture of choice in the yearbook, but apparently that was too much to ask," she said.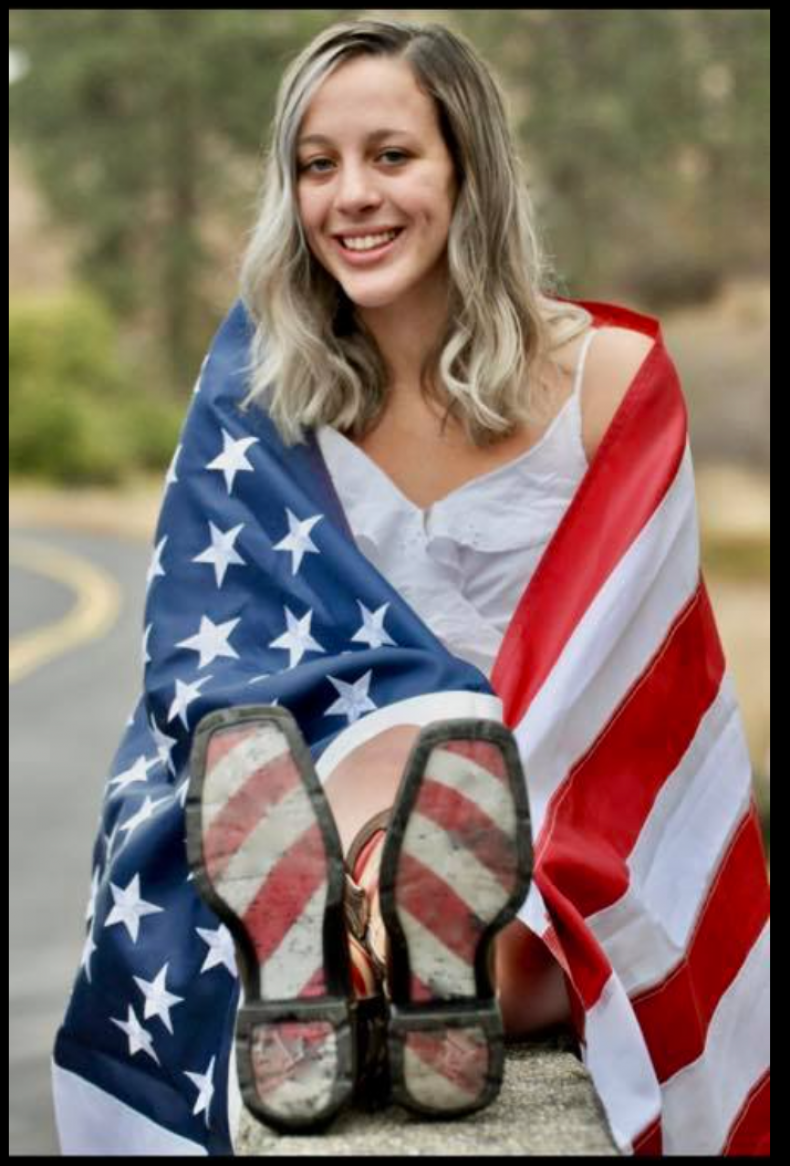 Lewis and Clark's principal referred Newsweek to a statement posted on the school's Facebook page on Wednesday, explaining why Athos' photo was not accepted and that the school doesn't discriminate against the American flag. She also told Newsweek that she met with the yearbook adviser, Athos, and the student's family to figure out another photo that can be submitted The full statement can be found below:
Quick point of clarification regarding senior pix. We do not and have not banned the American flag from inclusion in photos. In the past we have celebrated students who have enlisted in the military by using senior photos highlighting their branch of service - student in uniform and US flag displayed behind them. It's been an honor to portray our seniors in this way.
We have rejected a photo this year in which our American flag was displayed in a way not sanctioned by Title Four, US Code, Chapter One.
We say the Pledge daily during school, we have our flag displayed in accordance with Code guidelines on our stage during all school events and we even have one of the largest US flags in this area in our gym - it is celebrated during the playing of our National Anthem prior to athletic competitions held there. We respect our flag as much as any school in the area and were concerned that in the photo submitted it was being used as a prop in the photo and was not being afforded appropriate regard.
We continue to work through the matter with the student. Thank you.
In another public Facebook post, Athos defended her use of the flag in the photo, saying it wasn't touching ground nor was she was sitting on it. She also said that if she was using the flag as clothing, it shouldn't be considered a prop.
In the new photo that Athos submitted, the flag is clearly displayed along with the student, but she isn't holding it. She wrote to Newsweek in a Facebook message that she believes the school should update its policy regarding props in yearbook photos. "[M]y goal was not 'an exception' just for me, but rather the rules be consider[ed] and revised by the school in hopes of a new possibility being 'no props such as weapons or leud [sic] items, not no props period," she wrote.