High School Senior Reads Duke University Acceptance at Mom's Gravesite in Bittersweet Video
Skylar Hughes made sure that both her parents were present when she opened her acceptance letter from Duke University earlier this month. In a bittersweet video, the 17-year-old reads the acceptance email from a laptop while at her mother's gravesite, with her father by her side.
"Grab the tissues! 17-year-old Skylar Hughes waited more than half a day to open her acceptance email from @DukeU because she wanted to be able to share it with her mother at her grave," Fox 5 Atlanta reporter Janice Yu tweeted on Monday evening, alongside the video.
Hughes received the email—which contained an update for her Duke application—on the evening of December 18, according to Fox 5 Atlanta. But she waited until she could open it at her mother's grave to share the moment with Rasheda Hughes, who died in 2016 after a brain aneurysm.
"I was very nervous when I opened it and I knew I wanted to open it with my mom at my mom's grave," Hughes told the Gwinnett Daily Post. "But at 7 p.m. (Friday), it was pitch-black outside, so I decided to wait until the next morning and we got up early and drove down there and even then it took me another 10 minutes to click the button, because I was so nervous."
In the brief video, Hughes and her father can be seen kneeling at her mother's grave with a laptop open to read the email. When she finds out that she's gotten into the esteemed North Carolina school, Hughes screams with joy, saying, "Yay! I got in!" She then embraces her dad and starts crying, overwhelmed with emotion.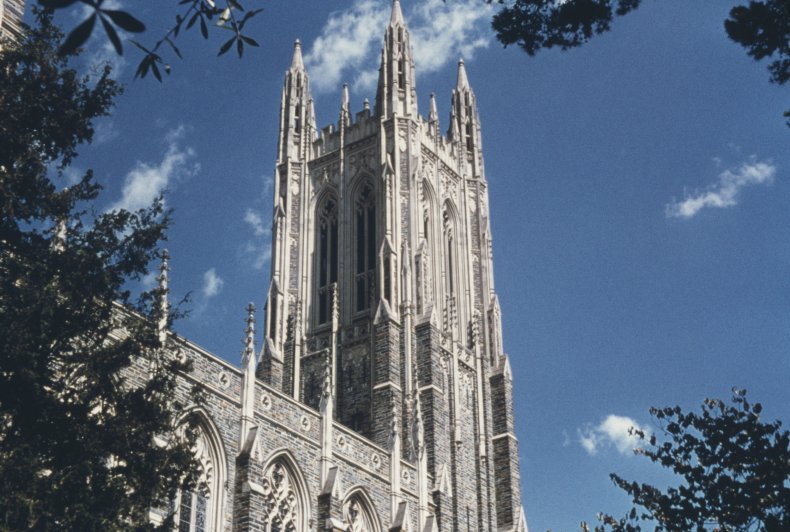 "I knew that it was important for me to share this moment with her, even if I got deferred or denied. College was really important to both of my parents so I knew that it was important for me to share it with her," Hughes said to Fox 5 Atlanta.
According to the Gwinnett Daily Post, Hughes was very active during her time at Georgia's Grayson High School. She maintained a 4.1 grade point average, held two part-time jobs and interned at Yellow River Wildlife Sanctuary. Additionally, Hughes participated in community service and devoted time to the DoSomething Club, which, per the local paper, "facilitates community-wide initiatives regarding mental health awareness and Black Lives Matter issues."
"I have Duke posters in my room and Duke memorabilia and I've toured the campus, so it's my dream school," Hughes gushed to the Daily Post. She said that she chose the school for its highly ranked marine labs. Hughes plans to become a marine biotechnologist.
Her father, James, is also ecstatic over his daughter's acceptance. "Skylar is one of those people where when she sets her mind to it, she's going to tackle it," he said, via Fox 5 Atlanta. "She excels in whatever she decides to do. She jumps on it and tackles it full force. I'm just so proud of her and I know her mom is looking down so proud."