High School Soccer Match Turns Ugly With Students' Racial Slurs
High school officials are investigating after two soccer players competing in a regional championship were taunted with animal noises by students in what's being described as racial harassment.
The incident occurred Saturday at the regional Division 1 girls championship game between two high schools in northern California, and follows a report of students being similarly subject to racial insults at a match between two other high schools. Both incidents come as schools nationwide have become increasingly politicized over racial issues.
In a video obtained by KFSN-TV, monkey noises can be heard while a Black soccer player from Buchanan High School approaches the ball to attempt a penalty kick. The station reports that a student in the bleachers on the side of Oak Ridge High School, which was competing against Buchanan, made the noises. Previously during the same match, someone was barking like a dog while a Hispanic player made her kick.
"We were amazed, shocked, saddened, disgusted, angry, like all of those words come to mind when you're sitting there trying to figure out how to protect your kids," James Gambrell, Buchanan's athletic director told the station.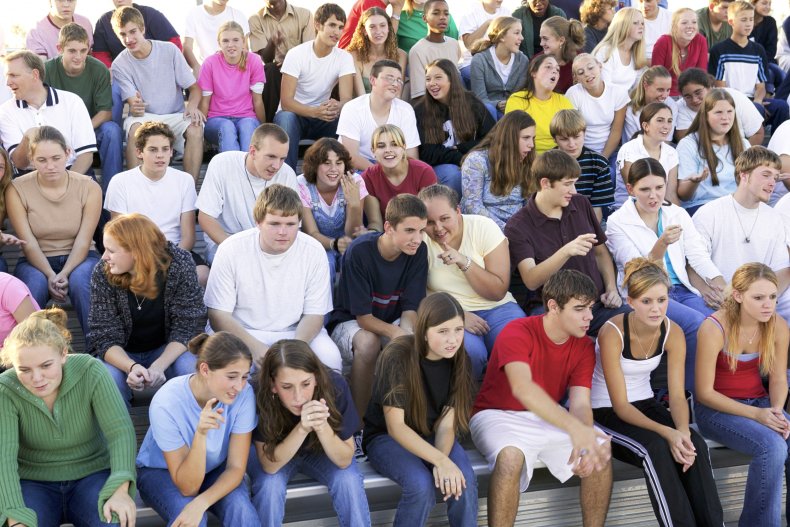 The Clovis Unified School District, which oversees Buchanan, told Newsweek in a statement it has lodged a complaint with the California Interscholastic Federation and is working with the group to send a message that "that racial harassment will not be tolerated: period."
The federation told Newsweek in a statement that the administration of both high schools are in touch regarding the incident, and Oak Ridge High is investigating "to determine which spectator engaged in the inappropriate behavior."
The federation said it prohibits discrimination and condemned the harassment, saying it detracts "from all the hard work the student-athletes have put forth to participate in a championship event."
Oak Ridge High is outside Sacramento, in El Dorado Hills, which Census data shows is whiter and more affluent than the rest of the state. Buchanan is in Clovis, in the Fresno area, and is less affluent, with whites as a minority in its population.
The El Dorado Union High School District, which includes Oak Ridge High, told Newsweek in a statement that "a completely unprovoked and unacceptable outburst was made by one individual in the Oak Ridge side of the stands as the game went from overtime to penalty kicks."
"This individual's conduct does not represent the values of our school, district, or community, the district said in a statement. "This explicitly racist action has taken the focus away from two outstanding teams of young women athletes."
The district said the incident is being discussed in classrooms, and the school will take full disciplinary action, labeling the behavior as "hate speech."
Last week, a similar incident occurred during a soccer match between Sanger High School in the Fresno area and De La Salle High School in the Bay Area, reports KFSN-TV. During the incident, parents of De La Salle students insulted and mocked the Latino heritage of the Sanger students.
Rick L. Callender, president of the California Hawaii NAACP, told Newsweek in a statement that the incidents "signal that racism is deeply embedded in society, and that the work of civil rights organizations is more important now than ever."
"To see multiple acts of racial hatred take place in spaces directly related to our public and private schools is disgusting and embarrassing," said Callender.