A North Carolina high school student was denied his diploma Thursday after he draped the Mexican flag over his graduation gown.
The 2021 graduate of Asheboro High School walked up to the stage with his classmates during their graduation ceremony. When his name was called, he walked across the stage to shake the principal's hand and receive his diploma holder. The ceremony was being live-streamed to Facebook, and the student can be seen wearing the flag of Mexico across his shoulders.
The video shows the graduate reaching for his diploma holder before being stopped by a school administrator. She hesitates to give him the holder and can be seen talking back and forth with the student. The announcer can be heard continuing to read off the names of graduates as the student and administrator spoke about the flag. The student then begins to take off the flag, but he struggles to remove it. He stops when she eventually handed him the diploma holder.
After the ceremony when the student went to pick up his actual diploma, the school allegedly refused to give him the document and asked him to apologize for disrupting the ceremony, WDTN reported.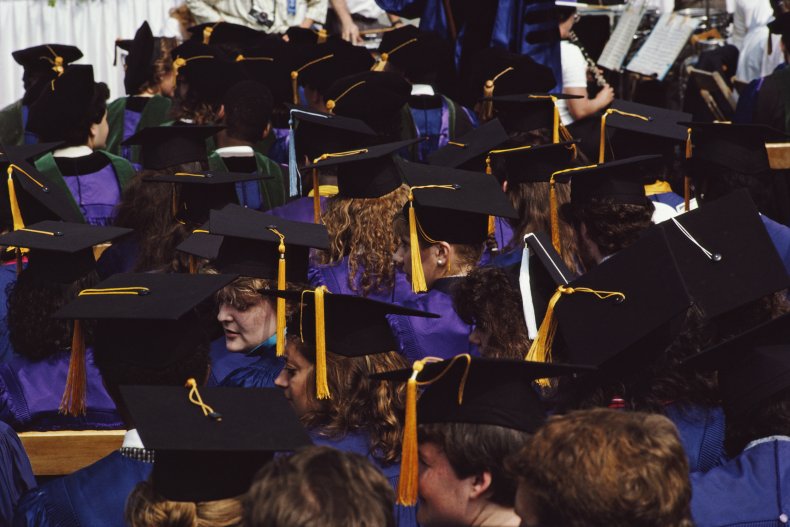 In a statement from Asheboro City School, the school said the student had violated the strict dress code set for the graduation ceremony.
"Our graduation dress code is clearly shared with students ahead of time, and the wearing of a flag of any kind is a violation of the dress code," it said.
The school began allowing students to decorate the tops of their graduation caps in the past few years to celebrate their creativity and individuality. The statement added that this form of decoration is the only approved addition to the student's graduation garb.
When the live-streamed video was posted to social media, viewers accused the school administrators of being racist, WXII reported. The statement from the school addressed these allegations.
"We strongly support our students' expressions of their heritage in the appropriate time and place," it said. "The accusations being made about our school and district are disheartening. We work with each student daily to ensure they receive rigorous instruction, equitable opportunity, and compassionate care in a safe and inviting learning environment. Across our school and district, we are passionate about seeing all students succeed."
The Asheboro High School commended the student for his hard work and achievements during his time at the school. The district said they are working with the student and his family to make sure he receives his diploma.
Newsweek reached out for comment to Asheboro City Schools but did not hear back before publication.