New Hampshire High School Students Sing Pro-KKK Christmas Song to Tune of 'Jingle Bells'
A high school in Dover, New Hampshire, is facing backlash after a video surfaced showing students singing about the Ku Klux Klan in a song that features the line "let's kill all the blacks."
Students in an 11th grade history class at Dover High School were instructed to make a song about post-Civil War history, The Hill reported, citing Foster's Daily Democrat. The teenagers reworded "Jingle Bells" to sing about the white supremacy group, eliciting laughter from other students.
The school said it was investigating the incident.
"We are deeply concerned that an event such as this could occur and understand the emotion and concern this event will create for our students, families and staff," a statement published on the Dover School District's Facebook page read, calling the incident an event of "extreme racial insensitivity."
"We can assure you that Administration from DHS and District are working with students and the school community to respond immediately and effectively to this racial insensitivity. Families and school community members will be updated as we create opportunities to come together and discuss, process, and plan as a community to address both the immediate situation and long-term implications of racial insensitivity and implicit bias."
Administrators did not respond to Newsweek when asked whether similar incidents had occurred previously or if the students involved would face any discipline.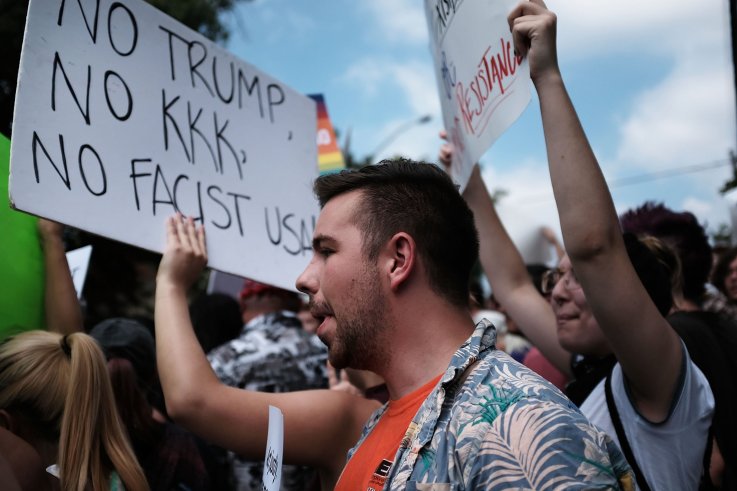 A number of racist incidents involving references to the KKK have recently provoked national backlash.
A Missouri teacher was suspended last month after allowing a high school student to dress up as a KKK member for a presentation about the 15th Amendment, which made it illegal to prevent a citizen from voting due to "race, color, or previous condition of servitude."
In Mississippi, a man was kicked out of a Halloween party at a bar for donning a KKK costume while carrying a state flag.
And in August, a 75-year-old man was arrested in Florida on hate crime charges for threatening to lynch a local NAACP chapter president. Police said Ronald Morris Wadford identified as a KKK member and called the NAACP leader approximately six times and threatened to "hang" her, The Gainesville Sun reported.
The preceding month, Virginia police discovered bags filled with KKK recruitment pamphlets at the end of driveways.
The incidents take place against a backdrop of rising hate crimes. FBI hate crime data released last month noted a sizable uptick in hate crimes in 2017, the third consecutive year that bias incidents have increased in the country.
New Hampshire High School Students Sing Pro-KKK Christmas Song to Tune of 'Jingle Bells' | U.S.