High-Speed Crash Leads to Arrest of Alleged Human Smuggler Transporting 12 People
A high-speed car chase led to the arrest of an alleged human smuggler, who was transporting 12 people, after the vehicle crashed in front of a house in a residential neighborhood of McAllen, Texas.
The chase began when officers with the Texas Department of Public Safety (DPS) attempted to conduct a traffic stop of a Lincoln SUV on Saturday morning.
"The driver of the Lincoln failed to yield and evaded from law enforcement as he was driving recklessly through traffic. The Lincoln struck another vehicle, and the driver failed to stop and render aid as it continued to evade law enforcement," DPS spokesperson Christopher Olivarez said in a statement sent to Newsweek.
The pursuit of the red SUV went on for roughly 40 minutes before the driver was arrested by Texas State Troopers and Border Patrol agents, Fox News reported.
"The Lincoln crashed into a residence, and the driver fled from the scene but was apprehended minutes later. The driver of the Lincoln was transporting 12 undocumented individuals," Olivarez wrote.
DPS officials say they apprehended the driver, accusing him of evading arrest and human smuggling. The 12 undocumented passengers in the vehicle were referred to Border Patrol.
The driver, identified as 28-year-old David Hernandez, allegedly admitted to smuggling and transporting each undocumented individual for $300 each, totalling $3,600. Hernandez was taken to Hildago County Jail, Olivarez said.
DPS has seen an increase in human smuggling pursuits this year, with more than 370 incidents occurring in Texas since March.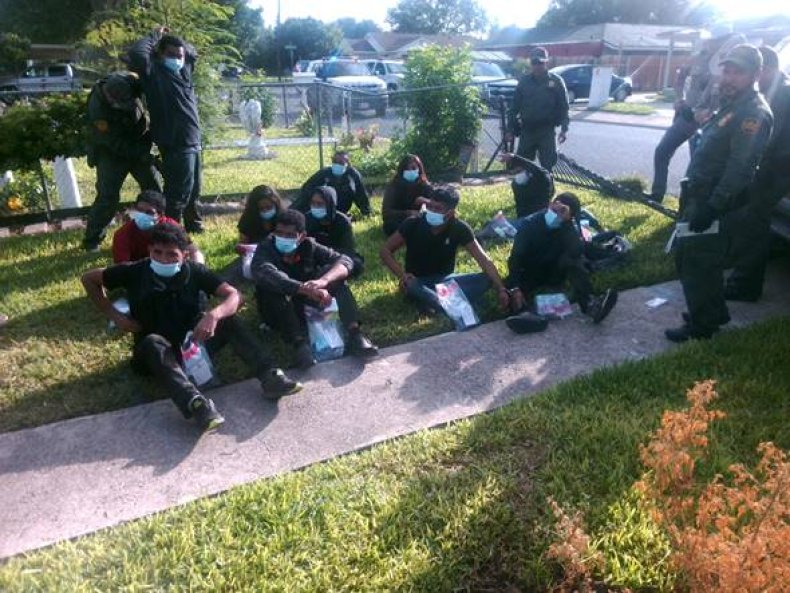 Officials have seen a surge in migrants this year and although many of those coming across the border have tried it alone by climbing over the 30-foot wall, human smugglers have continued to draw a steady stream of business.
Last month, a 20-year-old Austin man was arrested and charged with transporting undocumented immigrants after crashing a truck carrying 10 people who entered the country illegally, according to the Department of Justice.
According to the complaint, the truck rolled over with the passengers in the vehicle. One woman was rushed to the intensive care unit of a local hospital with head injuries and two men were hospitalized with serious injuries.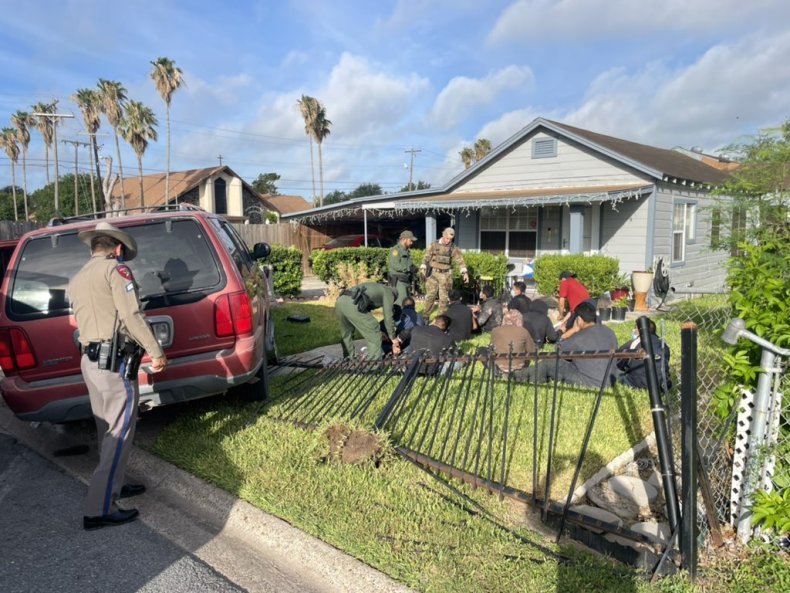 Despite the associated dangers, many asylum-seekers take the risks of using smugglers who have had a history of successfully bringing other undocumented immigrants across the southern border.
"If people know that that smuggler has been very good and has really made the dreams of many people come true, then he's going to be trusted," Guadalupe Correa-Cabrera, a political science professor at George Mason University who studies human trafficking in Latin America, previously told Newsweek.
Customs and Border Protection (CBP) has reported that smugglers charge prices ranging from a hundred to a few thousand dollars for Mexican nationals, from $8,000 to $10,000 for Central Americans, and from as high as $15,000 to more for those coming from Brazil or Ecuador.
"These criminal organizations do not care about the safety and well-being of the people they are smuggling; they care only about the money," a CBP spokesperson previously wrote in a statement to Newsweek. "The cartel-affiliated human smuggling organizations send their recruiters to other countries and convince vulnerable people and their families to pay large sums to be smuggled illegally."
Newsweek reached out to CBP for further comment but did not hear back before publication.
Update 15/06/21 11:37 p.m. This story was updated with comments from Olivarez and an additional image, courtesy of DPS.