Higher Ed Needs Higher Tech | Opinion
In spring 2020, when I had to take in-person courses online, I was given the following instructions from my university department: "Here's a Zoom account. Good luck."
That's it. There wasn't much support or suggestions on how we could transition a semester's worth of content that's done in a classroom to an entirely "remote" experience. It illustrated the lack of innovation and investment in the college classroom that's been plaguing universities for years. Colleges have historically not invested in IT. One study indicated that less than 5 percent of an annual college budget goes to technology.
As an adjunct professor, I have been teaching for the past decade at universities such as Columbia, George Washington and Georgetown. My classes are about six hours long, sometimes stretching to eight hours, because they're typically one-day a week.
Try doing that entirely online—six hours in front of a screen.
Few elite universities are really thinking about learning in the future. And why should they? Applications are up this year at top tier schools. Plus, the elimination of SAT/ACT requirements have led to an even greater surge. If these universities want to maintain admission rates in single digits, and do the bulk of it in person, then how do we broaden access to a good quality education for everyone else and at a more affordable price tag?
When the pandemic hit, I was in a bit of a unique position. I was building a company called TechChange for the past decade where we create online courses on public health and international development. We taught students from far-off places like Sierra Leone and Libya to Cambodia. We knew how to do distance learning.
I quickly looked at the existing roster of options for online learning in my classroom—Canvas, Blackboard and Zoom—and was frustrated. They were two-dimensional. You put up a slide and students stare at it. You give a lecture and students sit there listening to you, or try to at least.
On TechChange, we did everything from case studies and simulations to a full-blown virtual shark tank pitch competition. This was not staring at a screen. Students had to be awake and engaged. As one of my master's students put it, it was "three-dimensional learning."
As the year progressed, I saw some of my colleagues adapt, learn how to do breakout rooms in Zoom. But I also saw many struggle. The goal was to get students back on campus, not reconsider how we teach students altogether. I kept seeing op-eds by university heads, arguing that the best learning was always done in person and this would just be a temporary disturbance.
Instead of using this time to innovate, redesign the modern-day classroom, or simply invest in better technology and training for professors, universities focused on how quickly they'd be able to bring students back to campus.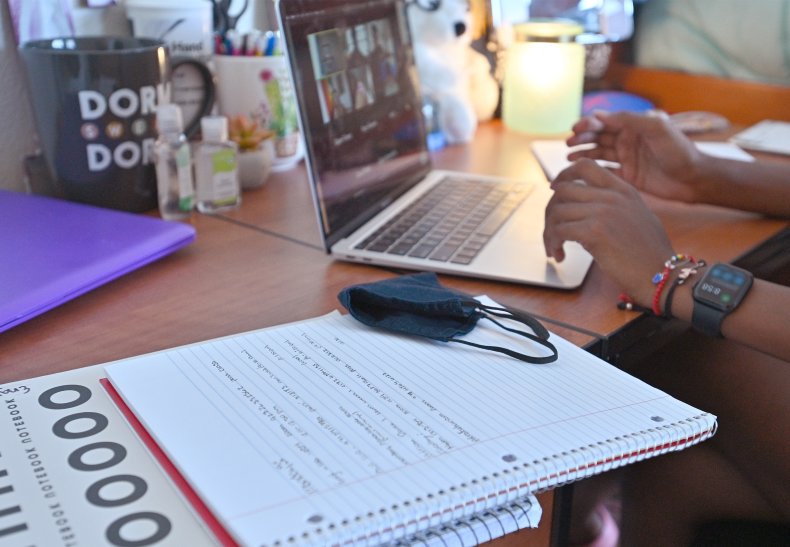 There's an underlying reason for that: money. The crème de la crème of universities in America rely on hefty charges per semester. The average cost of tuition at a private university is $35,000 per year. That doesn't include books, housing, food, or transportation. A student, or her family, is easily spending at least $200,000 for a four-year undergraduate degree. Yes, there are some in-state schools that are cheaper, and if you can get into them, that's one way to save costs.
Operation Varsity Blues, a new Netflix documentary on the admissions scandals, speaks to how elite schools became exclusive luxury brands that make them desirable, but also susceptible to corruption. Is this model sustainable?
In tech, we've seen students do an online course for $10,000 on how to code, and then be able to qualify for a job that pays $90,000. But when students shell out $200,000 for a humanities degree, that equation doesn't work out the same way. New data by think tank New America in Washington, D.C., found that 57 percent of students surveyed questioned the cost of their college education.
There has to be a shift. Universities are not putting all that wealth toward admitting more students, making education more affordable, IT infrastructure, or even back into their staff and teacher training. Where is that money going? And why are we continuing to accept the status quo as the only path forward?
There were some exceptions, thankfully, of schools open to innovation. Georgia Tech started an online master's program in computer science that comes at a very modest price tag: $7,000. More than 10,000 students signed up for it last fall.
Last year also saw an upswing in venture capital funding for edtech companies targeting postsecondary education. The first six months of 2020 fetched $4.5 billion in VC investment. By 2025, it's estimated that online learning will be an $117 billion industry (up from $45 billion in 2019).
This is the time for universities to figure out if their tuition is still relevant in an increasingly digital world, and if they are going to stick to the game of exclusivity, then what are they doing to adapt to the current need for better technology in the classroom? Universities missed this opportunity during the pandemic. Yet, if they're keen to compete in the future, they'll need to make investments in teacher training, IT and think beyond the traditional structure of a brick-and-mortar campus.
The pandemic gave us a chance to rethink the higher ed experience. When students return to "campus" in the fall, let's not waste it.
Nick Martin is a leading educator, technologist and social entrepreneur. He is the founder and CEO of TechChange, an award-winning Washington, D.C.-based social enterprise that provides online training on a variety of technology and global development topics. The TechChange model for virtual training has been featured in The New York Times, Forbes, Economist, Fast Company and more.
The views expressed in this article are the writer's own.