Which Celebrities Earn the Most? Only 16 Women (Zero Film Actresses) Made Forbes's List of the 100 Highest-Earning Entertainers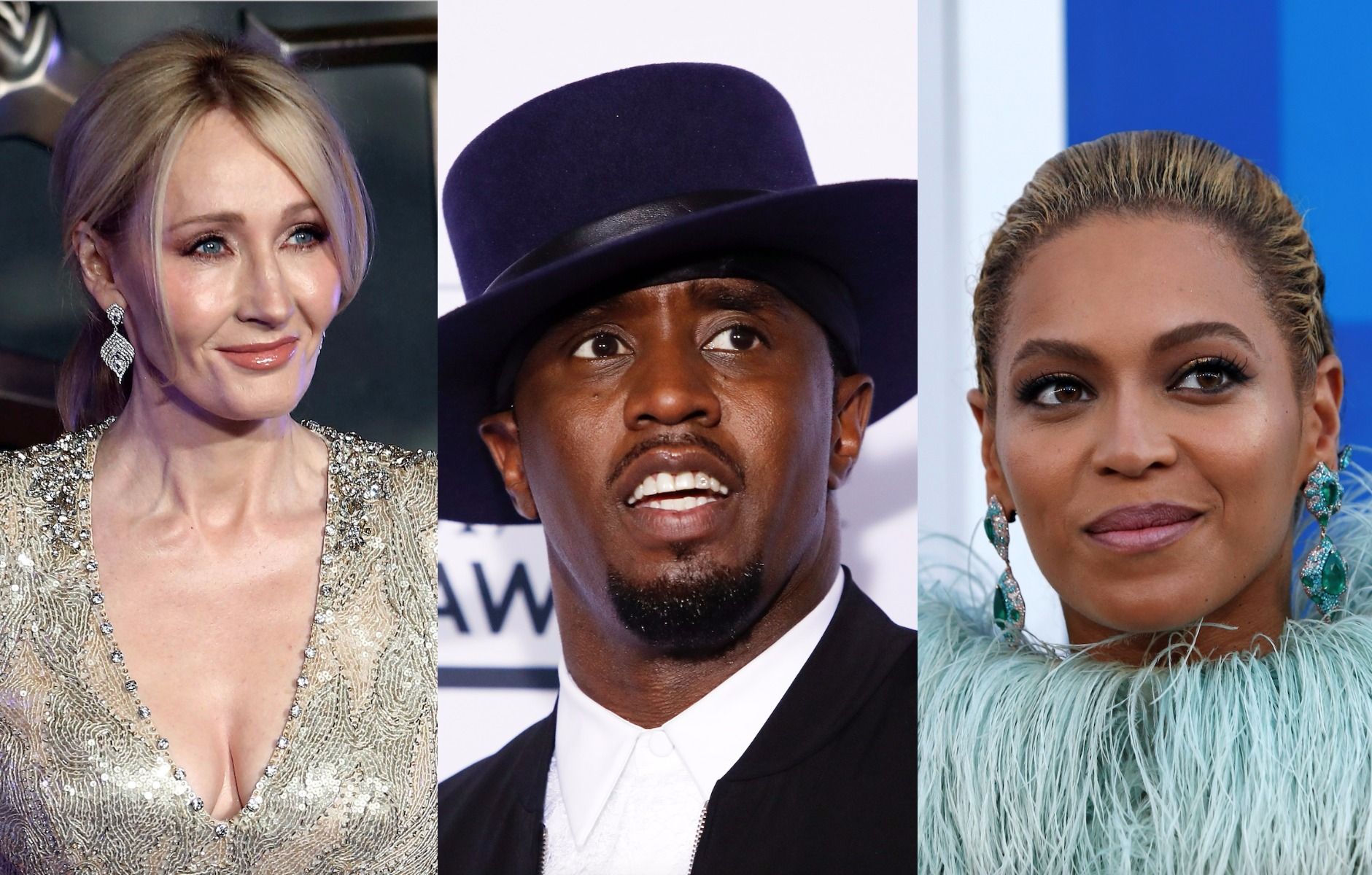 Lists of the richest celebrities are always weird because their earnings don't necessarily correlate with their fame. Is Diddy the most famous celebrity in the world? No, but according to Forbes's newly released list of 2017's highest-paid celebrities, he's earned $25 million more than any other entertainer in the past year, mostly from his clothing line, his vodka and the Bad Boy Family Reunion Tour. Is J.K. Rowling more popular than Drake? Maybe not, but she earns more than he does. James Patterson, the writer, will earn more than LeBron James, while Rush Limbaugh, the conservative radio talk show host, will earn more than Justin Bieber. Believe it.
Related: Ariana Grande returning to Manchester, with Justin Bieber, Coldplay, others
Diddy sits atop the list at $130 million, followed by Beyoncé ($105 million), J.K. Rowling ($95 million), Drake ($94 million), Cristiano Ronaldo ($93 million), The Weeknd ($92 million), Howard Stern ($90 million), Coldplay ($88 million), James Patterson ($87 million) and LeBron James ($86 million).
At 19, Kylie Jenner is the youngest person on the list (No. 59, $41 million), while 74-year-old "Judge" Judy Sheindlin (No. 43, $47 million) is the oldest.
The list includes 37 musicians, 30 athletes, 13 "personalities," 10 actors, six comedians, two authors and one magician: David Copperfield, who comes in at No. 24 with $61.5 million.
For some reason, Forbes lists Sofia Vergara by herself in a separate "Television Actresses" category, rather than including her with the other 10 actors.
Beyoncé is one of only two celebrities to crack $100 million, and there are only 16 women on the list of 100. One reason for this is the presence of athletes on the tally, all 30 of whom are men. Only nine of the 37 musicians are women, and none of the actors are, save for Vergara—who, again, Forbes did not distinguish as an actor.
The lack of actresses on the list isn't surprising when one considers Forbes's list of the highest-paid actresses of 2016. The combined yearly income of the 10 highest earners that year—who included Jennifer Lawrence, Scarlett Johansson and Melissa McCarthy—was less than half that of the 10 highest-earning male actors.
Several actresses have spoken out about the issue. In 2015, Lawrence wrote an essay for Lena Dunham's Lenny Letter about how much less she makes than her male counterparts, especially for the 2013 film American Hustle. Lawrence wasn't even aware of the discrepancy until the Sony hack revealed the film's payroll.
"I didn't want to seem 'difficult' or 'spoiled,'" Lawrence wrote. "At the time, that seemed like a fine idea, until I saw the payroll on the Internet and realized every man I was working with definitely didn't worry about being 'difficult' or 'spoiled.'"
Other actresses to speak out about the wage gap include Meryl Streep, Viola Davis, Natalie Portman, Charlize Theron and Rooney Mara.
Despite the public attention the issue has received in recent years, the entertainment industry is still paying men far more than women. As great as Beyoncé is, it's about time she had a little more female company at the top of the Forbes list.