The Highest-Earning Celebrities in the World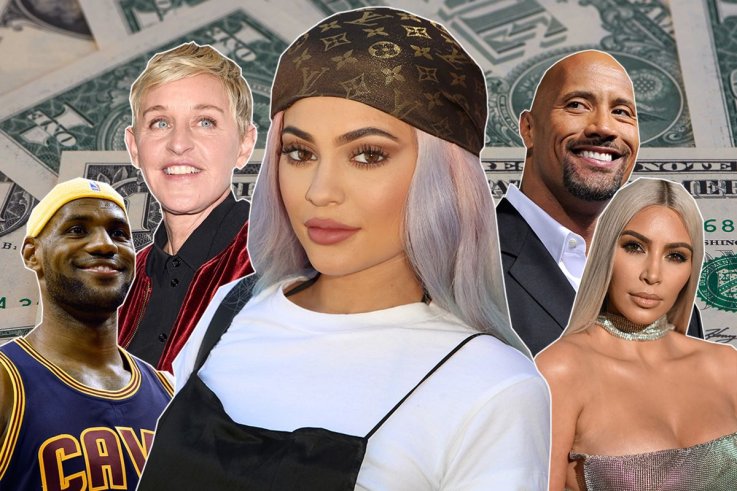 What a year it's been for Kylie Jenner. The youngest of the Kardashian-Jenner clan gave birth to her first child Stormi Webster, then wiped $1.3 billion off Snapchat's market value with a throwaway tweet and caused a splash with a pair of jewel-encrusted sunglasses.
Now Forbes has named her the highest-earning female celebrity of the past year, and predicts her $900 million net worth is growing so quickly that she will soon become the youngest self-made billionaire ever. And she's not even old enough to legally drink.
As many people on social media pointed out, the "self-made" label feels slightly inaccurate considering Kylie comes from such a rich and wealthy family.
However, most of her fortune comes from Kylie Cosmetics, the makeup company she founded in 2016, which she promotes through her huge social media dominance.
She's not the only celebrity to rake in earnings last year. According to Forbes, the world's highest-earning celebrities earned 22 percent more than in 2016.
Dwayne Johnson, the wrestler-turned-actor, became the highest-paid actor. Like Kylie, he has managed to leverage his social media presence into cash, negotiating extra money to promote his movies to a huge follower base.
However, there's still hope for the old school. Number four on the list is none other than Judy Sheindlin, known as the TV magistrate Judge Judy, who didn't even appear on camera until she was 52 and is truly a self-made woman.
She still rakes in a fortune with her decades-old TV show—and who could be surprised that she seems to have negotiated herself a decent cut of the profits.
The number one star may not be so surprising—he's not as publicity hungry as some of the others on the list, but he's been at the number one spot before in 2015. This champion has truly knocked out the competition—the man at number two earns almost $40 million less than he does.
Join us for the list of the highest earners in front of the camera, to find out which celebrity is making the biggest bucks of all.