Highland High School Shooting Live Updates: Shooter Reported in Palmdale, California
Update: 1:47 p.m. ET— No other threats were identified at the school, police confirmed Friday. The Los Angles County Sheriff's Department said the incident at Highland High School appears to be an "isolated shooting."
The victim was identified as a 14-year-old male student of the high school and the suspect is also a 14-year-old male student. No names have been released. Authorities said that a rifle was recovered off campus.
Highland High School Principal Chris Grado said the Sheriff's Department had lifted the school lockdown and has released students to parents and guardians.
"Please go to Avenue P-12, and deputies will let parents through individually," Grado tweeted. "This may take a while, so your patience is appreciated."
Update: 12:46 p.m. ET— A dispute between two students led to a shooting at Highland High School in Palmdale, California, authorities said Friday. One person was shot in the arm and is in stable condition at a local hospital, Los Angeles County Sheriff officials confirmed.
"That student is going to be OK," said Captain Darren Harris, a spokesman for the Los Angeles Sheriff's Department, according to The Los Angeles Times.
Authorities said that a 14-year-old Hispanic male was detained and a weapon was recovered, the Associated Press reported. The suspect was detained in a nearby parking lot, Sheriff's Department spokeswoman Nicole Nishida told the Los Angeles Times.
Los Angeles County Sheriff Jim McDonnell said, "Reasonably sure threat is contained."
Jon Baird, a reporter with KNX1070 Newsradio, captured footage of the suspect at the back of a squad car at a shopping center about a mile from the high school.
In a brief statement on Friday, Palmdale Schools Superintendent Raul Maldonado described the suspect as an "active shooter."
"We are all concerned about the safety of our children. It has been confirmed that earlier this morning, there was an active shooter on the Highland High School campus. Apparently, the person was already apprehended," Maldonado said.
"I want to let you know that all of the Palmdale Elementary Schools were put on lockdown, and will stay on lockdown until the situation is confirmed as safe for our students, teachers staff and parents," he continued.
Highland High School Principal Chris Grado confirmed that a suspect had been detained and added that the school remained on lockdown.
"Bulldogs, at this time, there is no threat to Highland High School. The campus remains on lock down as we work with law enforcement to determine release procedures for students," Grado tweeted.
Nishida also confirmed that authorities had responded to another report of a shooting at Manzanita Elementary School around 7:30 a.m. The spokeswoman said deputies did not find signs of a shooting or victims there.
Update: 12:04 p.m. ET— Los Angeles County Sheriff's Department confirmed that Highland High School has been cleared by deputies. "Active investigation still ongoing," the department tweeted.
The Bureau of Alcohol, Tobacco, Firearms and Explosives said it was responding to a shooting at the high school, according to its official Twitter account.
Update: 11:31 a.m. ET— Los Angeles County Sheriff's officials confirmed to Newsweek that one suspect has been detained in connection with the alleged shooting at Highland High School. Deputies continue to search the campus, officials said.
The Sheriff's Department said it could not confirm any injuries. No other information was made available.
Original story: Authorities in California are responding to reports of an active shooter on campus at Highland High School in Palmdale, which is located about an hour northeast of Los Angeles.
Palmdale Police confirmed to Newsweek that there has been a shooting and that the high school is on lockdown. At least one person has reportedly been injured and drove him- or herself to the hospital, officials said, according to CBS Los Angeles.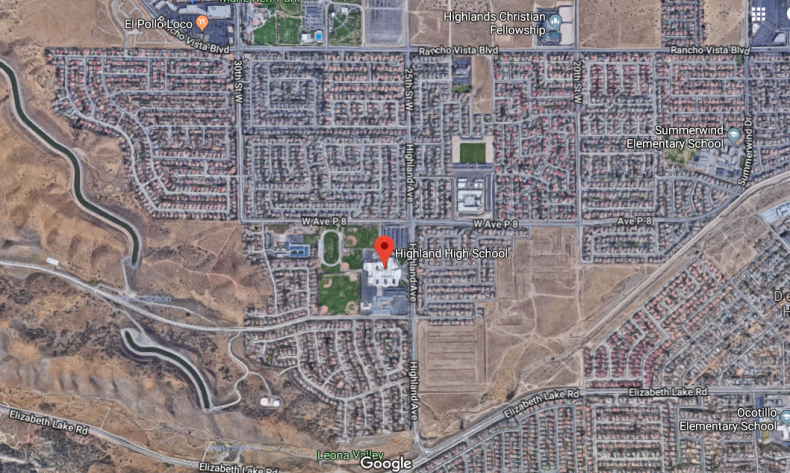 Los Angeles County Sheriff's officials said reports of the shooting came in around 7:05 a.m. from the campus, located at 39055 25th St. West.
Ricky Munoz, 23, told CNN that he dropped off his two brothers and a friend at the school this morning. "About a minute later, I get a call from them saying there were gunshots," he said.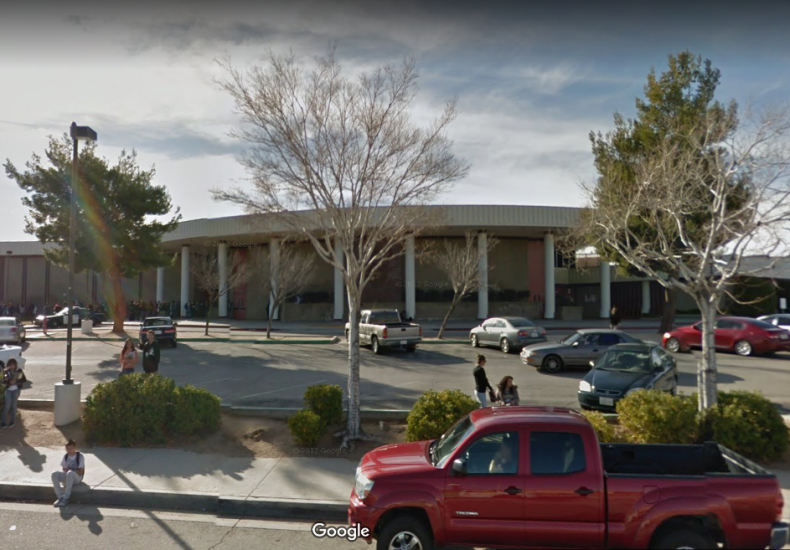 Three nearby schools, David G. Millen Intermediate, Cottonwood Elementary and Ocotillo Elementary are also on lockdown.
This is a developing story and will be updated as more information becomes available.