Highland Park Hospitals Bring in Over a Dozen Doctors Amid Parade Shooting
At least 20 additional doctors have been paged into a Highland Park facility to help treat the victims of Monday's mass shooting at an Independence Day parade in the Chicago suburb, according to NorthShore Highland Park Hospital spokesperson Jim Anthony.
Anthony told CNN that at least 26 individuals were transported to NorthShore Highland Park Hospital and that five others were transported to a level-one trauma facility, NorthShore Evanston Hospital.
He said that the "vast majority" of individuals had suffered gunshot wounds, although there were some injuries caused by the chaos that ensured after shots rang out.
At least six people have been confirmed dead and more than two dozen remain injured. Witnesses described people as "stampeding away" during the shooting.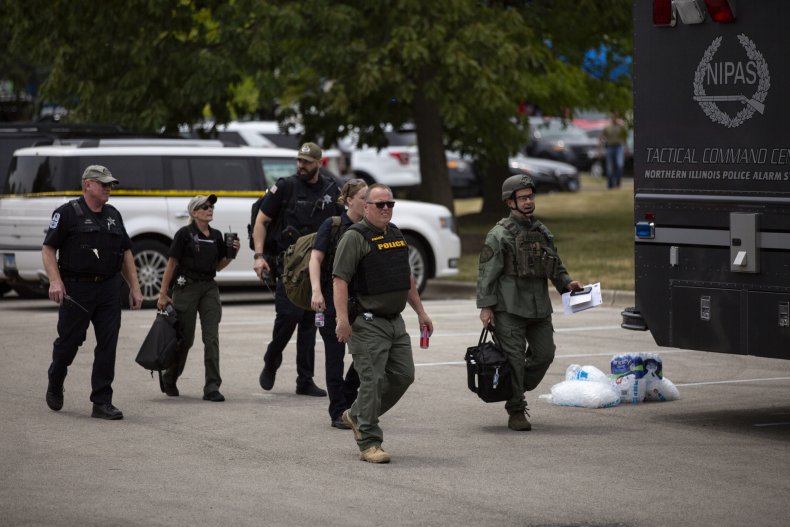 The suspect remains at large. Police have described the gunman to be a white male between the ages of 18 and 20. He reportedly has longer, black hair and a small build. Anyone with information is being asked to contact Highland Park Police at 847-432-7720.
Although a firearm has been recovered from the scene, authorities have cautioned that the suspect may still be armed.
"Numerous law enforcement officers are responding and have secured a perimeter around downtown Highland Park," the City of Highland Park said on its website.
Police believe the gunman was "shooting from a roof," but did not elaborate on which building specifically. Sergeant Christopher Covelli added that the shooting appears to be "completely random" and that only one shooter is involved.
"There are no words for the kind of monster who lives in wait and fires into a crowd of families with children celebrating a holiday with their community," Illinois Governor J.B. Pritzker said in a statement. "There are no words for the kind of evil that robs our neighbors of their hopes, their dreams, their futures."
At this time, there are "no known threats" to Chicago—which is 25 miles south of Highland Park, according to the City of Chicago's Office of Emergency Management & Communications.
Fourth of July events in nearby Evanston, Skokie, Deerfield, Morton Grove, Glenview and Glencoe have been canceled out of an abundance of caution.
"This morning at 10:14, our community was terrorized by an act of violence that has shaken us to our core," Highland Park Mayor Nancy Rotering said at a Monday press conference.
"On a day that we came together to celebrate community and freedom, we're instead mourning the tragic loss of life and struggling with the terror that was brought upon us," she added.
Update 07/04/22 3:14 p.m. This story was updated with additional information.