Five Highlights From Former Ukraine Ambassador Marie Yovanovitch's Testimony at Day 2 Impeachment Hearing
Former U.S. Ambassador to Ukraine Marie Yovanovitch testified for hours on Friday about being removed from her post and attacks on her from President Donald Trump as part of the House Democrats' ongoing impeachment inquiry.
Yovanovitch appeared before the House Intelligence Committee for a public hearing and was the third witness to testify to Congress this week about the Ukraine controversy. On Wednesday, diplomat William Taylor and State Department official George Kent gave damning testimony against the president.
Yovanovitch was appointed ambassador under several different presidents, both Republican and Democrat, and began serving in Ukraine in August 2016. In May 2019, she was abruptly removed from her post even though, she says, her bosses assured her she'd done nothing wrong.
The reasoning behind her dismissal has become a major focus of the House investigation of the president's conduct toward Ukraine. Yovanovitch told Congress that Trump and his personal attorney Rudy Giuliani had been engaged in a smear campaign against her since 2018 because she refused to let Giuliani use the U.S. Embassy in his attempts to obtain dirt on former Vice President Joe Biden.
Yovanovitch also testified on Friday that she had ever seen any president remove an ambassador "without cause, based on allegations that the State Department knew to be false" during her decades-long career in the federal government.
She added that her dismissal was a "terrible" thing to experience and was not the way she envisioned ending her long career in the foreign service.
"I mean, after 33 years of service to our country, it was terrible. It's not the way I wanted my career to end," she said.
Here are some of the top highlights from the hearing:
Witness tampering? Trump attacks Yovanovitch on Twitter during impeachment hearing
"Everywhere Marie Yovanovitch went turned bad. She started off in Somalia, how did that go? Then fast forward to Ukraine, where the new Ukrainian President spoke unfavorably about her in my second phone call with him. It is a U.S. President's absolute right to appoint ambassadors," Trump tweeted.
Notably, Trump did not attack the two men who testified on Wednesday.
House Intelligence Chairman Adam Schiff read out the tweet in the hearing and argued that the president's attacks could amount to witness intimidation. Representative Jim Himes, another Democrat on the committee, agreed that it was an instance of "clear witness tampering" that could form the basis of an article of impeachment against the president.
In response to Trump's tweets, Yovanovitch told the committee: "It's very intimidating."
Yovanovitch 'devastated' by Trump's disparaging comments
During his July 25 phone call with Ukrainian President Volodymyr Zelenskiy, Trump said Yovanovitch was "bad news" and would be "going through some things." Yovanovitch told lawmakers on Friday that his remarks "sounded like a threat" and prompted a physical reaction when she found out about them.
"The color drained from my face," she said during her testimony. "Even now, words kind of fail me.... I was shocked and devastated that I would feature in a phone call between two heads of state in such a manner."
During her testimony, Fox News host Chris Wallace commented that if the public wasn't moved by Yovanovitch's account, they have "no pulse." He also praised the former ambassador for giving the alleged Ukraine scandal a "human face."
'Crisis in the State Department': Yovanovitch appears to swipe at Mike Pompeo
Yovanovitch did not hide her disappointment in State Department leaders who didn't defend her from the president's attacks. She argued that it sets a dangerous precedent and devalues the integrity of the department's foreign service.
"At the closed deposition, I expressed grave concerns about the degradation of the foreign service over the past few years and the failure of State Department leadership to push back as foreign and corrupt interests apparently hijacked our Ukraine policy," she said on Friday. "I remain disappointed that the department's leadership and others have declined to acknowledge that the attacks against me and others are dangerously wrong."
She added that the attacks on U.S. officials from the president and his allies are "leading to a crisis in the State Department, as the policy process is visibly unraveling, leadership vacancies go unfilled, and senior and midlevel officers ponder an uncertain future and head for the doors."
While she didn't mention Pompeo by name, her words were a strong rebuke of how the secretary of state has overseen the agency.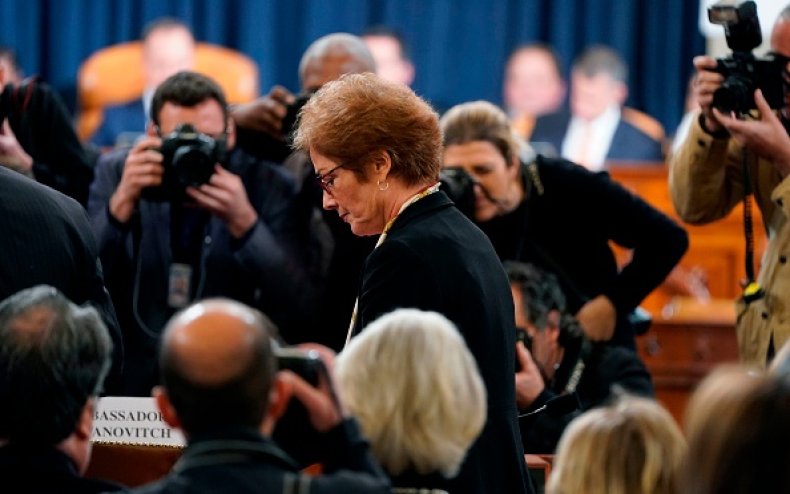 Republicans treat Yovanovitch's dismissal as 'employment disagreement'
Republican members of the House Intelligence Committee defended Trump's actions by pointing to the president's authority to appoint ambassadors as he sees fit. They also tried to downplay Yovanovitch as a witness because she was dismissed from her position in Ukraine before the infamous July 25 phone call.
"I'm not exactly sure what the ambassador is doing here today," said Representative Devin Nunes, the lead Republican on the panel. He added that this was an "employment disagreement with the administration" and that it was "more appropriate for the subcommittee on human resources at the Foreign Affairs Committee."
Later, during an exchange with GOP Representative Brad Wenstrup, Yovanovitch acknowledged that the president has the right to select his ambassadors.
"I don't disagree that the president has the right to withdraw an ambassador at any time. I do wonder why it's necessary to smear my reputation falsely," she said.
Yovanovitch was removed from her position in the middle of an anti-corruption event
Yovanovitch revealed that she was recalled from her post as ambassador to Ukraine while in the middle of an event honoring an anti-corruption activist.
"We thought it was important that justice be done, for her and for others who fight corruption in Ukraine," she said.
Yovanovitch explained that during the event she received a call from Carol Perez, the director general of the State Department's foreign service, who warned her that there were problems with her serving as ambassador. Five hours later, Perez called again and told her she "needed to come immediately and get on the next plane."